Four years ago, a certain attitude towards vodka was bubbling beneath the surface in the NYC bartending industry. Whether or not this attitude was spoken out loud, many craft cocktail menus did the talking by offering underwhelming vodka drinks or omitting the spirit as a base altogether. The message was clear; vodka is the spirit of the unimaginative, and when weaving liquid stories within a complex concoction, what possible purpose could it serve?
The provenance of this notion is understandable. For a cocktail bartender—especially one in the first flush of learning—the back bar is a spice cabinet bursting with potential. Any spirit may hold the key to the drink that launches a thousand flavor epiphanies and proves the true talent of a novice mixer. This ideal of gestalt—that the whole is greater than the sum of its parts—is achieved in a drink by masterfully balancing the very distinct voices within a choir of ingredients. But what could a neutral spirit possibly add to this equation? No big botanicals or esters to speak of; just a polite distillate that contributes little to the conversation.
It's possible that this misstep of understanding comes from having never observed Vodka in its natural habitat. Like a wild animal only seen at the zoo (caged, in this metaphor, by copious amounts of mixers like ginger-ale or grapefruit juice that repress the spirit entirely), all sense of context is lost for a distillate that evolved to thrive in a very particular setting: Vodka was made for food.
It may be that Zakuski, the Russian term denoting a variety of tapas, originated as a way of ensuring respite for guests traveling over long distances. By preparing a sideboard of small dishes served cold, guests could be welcomed whenever they arrived and treated to refreshments while the main course was prepared. These plates, served as a buffet while guests remained standing, were always accompanied by shots of vodka to warm the belly and cleanse the palate. Zakuski became a tradition that could vary in its elaborateness (sometimes replacing the main course entirely) but never varied in its focus on social engagement. Today, whether seated around a table with family or grabbing a bite in a zakusochnaya, or stand-up bar, vodka and food combine in a celebration of life and circumstance. No contemplative sips here; to drink is to cheers each other's health, and you never do it alone.
When lunching in the oceanside town of Brighton Beach in Brooklyn, a mecca for immigrants from the former Soviet Union, a traditional protocol is happily observed. Upon the arrival of pickled mushrooms served in a delicate crystal bowl, you are instructed to lift a chilled shot of vodka. After toasting heartily, you exhale deeply, take your shot, then eat a bite of the mushrooms before inhaling. The temperature of the liquid creates a clean and bracing sensation; the bite of briny and earthy mushrooms sharply punctuating the maneuver and a deep breath imparting a surprisingly delicate sense of euphoria – like riding a merry-go-round on a breezy day.
This push and pull of savor and sweet, high-tone and low…these are elements that many cultures have incorporated into their culinary rituals, and always with the help of a stimulating spirit.
The Nordic Smörgåsbord buffet, for instance, exhibits many parallels, trading out vodka for aquavit which enhances eau de vie with savory herbs, such as caraway and star anise. In this part of the world, an individual country may enhance a banquet with regional specialties, but pickled fish, vegetables, and savory seasonings are ever-present. When enjoying such bold flavors, it makes perfect sense that a delicately-flavored distillate would offer the ideal pairing, tempering intensely expressive food and opening up concentrated seasonings.
Though you may not find yourself bellying up to a buffet of savory and pickled delicacies on a regular basis, what is the point of venturing to a cocktail bar if not to enjoy the company of friends and ceremoniously drink spirits presented to create delight? Even when food isn't part of the mix, the culinary inspiration can remain, creating the same sense of euphoria promised by an oceanside Brighton Beach lunch.
Luckily, disdain for Vodka is most often over-ruled these days with a growing appreciation for its ability to support an endless array of flavors. Here are three cocktails inspired by classic Russian Zakuski dishes, created with an eye towards Vodka's past and its persisting potential to offer any bartender new avenues of inspiration (even when using brethren eau de vie such as Aquavit or Gin).
To your health!
Salat Olivier
By the height of Russian Imperialism, Czar Nicholas II employed a slew of highly-trained French chefs that would forever imbue Russia's culinary heritage with notes of classic French cooking. The presence of mayonnaise in many dishes is a testament to this, and none are more beloved than Salat Olivier. A combination of carrots, potatoes, cucumbers, and pickles—to name only a few ingredients—this salad is tossed in mayonnaise and vinegar and seasoned with dill.
By interpreting this dish as a variation on a Ramos Gin Fizz, we acknowledge the mayonnaise by hanging on to the egg but replace gin with vodka. A little Reisetbauer Carrot Eau de Vie is able to have a large presence here because vodka is used to magnify, but not overwhelm, the flavor. The result is a savory but delicately-flavored meringue.
1.5 oz Square One Cucumber Vodka
.25 oz Helix Vodka
.75 oz fresh lemon juice
.75 oz simple syrup
1 egg white
1 oz heavy cream
.5 oz Dr. Brown's Cel-Ray Soda (club soda can be substituted)
Combine all ingredients except for the cream and soda and dry shake to incorporate. Add 2 ounces of crushed or chipped ice and shake until the ice is almost entirely melted, then add cream. Shake vigorously until all of the ice is melted and a meringue begins to form. Pour without straining into a collins glass and let settle until the top of the meringue is firm. Slowly top with soda until the meringue rises over the lip of the glass. Garnish with a sprig of dill.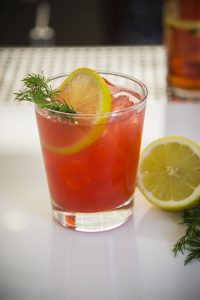 Summer Borscht
Recipes for this classic, beet-driven dish vary depending on family tradition, but lighter styles often employ apples. Using Neversink Gin, which uses apple distillate as a base, and Contratto Aperitif, which is naturally colored with carrot and beet, creates an easy and refreshing Spritz that maintains the fruity bitterness indicative of the classic cocktail while nodding gently at a vegetal sweetness. Beets can be juiced fresh for this recipe but grabbing a bottle of fresh-pressed juice from a local shop is an easy alternative. Many are supplemented with apple and celery juice that lend additional complexity to the cocktail.
Build all ingredients in a double rocks or wine glass filled with ice. Stir lightly to incorporate. Garnish with a lemon wheel and sprig of fennel.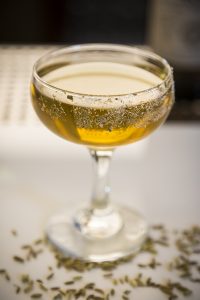 Black Bread
Traditional recipes call for a tantalizing combination of rye, chocolate, caraway, and espresso—a recipe tailor-made for translation into a stirred aquavit cocktail. Brennevín Aquavit with its infusion of caraway acts as both a lengthener and a seasoning spirit, while Lustau Vermut Blanco complements with notes of dry sherry and rosemary. While the bread calls for a touch of apple cider vinegar, the need for acid is answered here with an aged Swedish dessert cider that reinforces our nod to the Smörgåsbord.
Combine all ingredients in a stirring glass and stir with ice. Strain into a coupe half-rimmed with fennel salt*.
*Fennel Salt: Lightly toast 2 tablespoons of dried fennel seeds until fragrant. Use a spice grinder to coarsely grind the fennel and then combine with 1 tablespoon fine sugar and 1 tablespoon coarse salt.