2019 has been a rollercoaster for our some of our favorite producers in France, as Mother Nature has again thrown the proverbial kitchen sink at them this growing season.
This year extreme weather has been the norm. Spring frost has now become an annual danger, hitting once again, though not as severely as years past. Multiple heat spikes in midsummer caused certain areas like Vouvray to suffer grilled grapes (Clos Bretonnière was hit particularly hard, producing little to no fruit in 2019). Lack of rain from the intensely warm and dry summer across much of Europe left some places without a single drop of rainfall for more than three months. The Loire River was down to its lowest recorded level.
Overall it was an immensely challenging season for French Vignerons. The bright side is that most of the great growers were better prepared than almost any other year before, as the practice and lessons learned from years like 2003, 2009, and 2015 have helped them find creative and effective solutions to deal with global warming and its effect on wine growing, harvest, and vinification. The early reports from the growers paint 2019 as year that will unfortunately be small, but very high-quality.

The first grapes have just started coming in, and we have some reflections and photos from across France…
MARC & ALEXANDRE BACHELET
Bachelet-Monnot
Dezize–lès–Maranges
September 11th:
We started last Friday with the whites and will finish this Thursday. The grapes are magnificent, with the perfect balance and just enough wine…
---
FRANTZ CHAGNOLEAU
Domaine Frantz Chagnoleau
Pierreclos
September 11th:
We began on Monday with Saint Véran 'Prelude' parcels. The quality of the juice is exceptional. Concentrated and balanced! The yields are small. The weather is fresh and harvest conditions perfect.
Tomorrow we are harvesting in the higher altitude sites of Saint Véran, beginning with Chasselas. We are finishing the week in our old Clos Les Raspillères at the very top of Viré.
---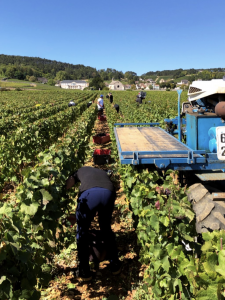 THIBAUD CLERGET
Domaine Yvon Clerget
Pommard
September 11th:

I am excited to get things started tomorrow with my Meursault Les Chevalieres. The quality looks extraordinary overall.
Unfortunately, the quantities will be low, the exact numbers varying from vineyard to vineyard, more details on that later… but overall things look beautiful.
---
VINCENT DUREUIL
Domaine Dureuil-Janthial
Rully
September 11th:
We started today in Premier Cru Meix Cadot VV. Yields looking small, but very big quality!
---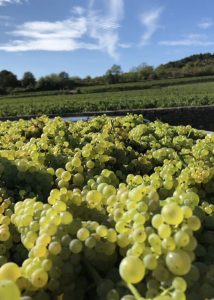 PIERRE-VINCENT GIRARDIN
Pierre Girardin
Meursault
---
September 11th:
Pierre Girardin is planning to start today with his old vines Bâtard, Meursault, and Folatières. Bourgogne Blanc to follow.
Next week, I plan to do the reds. Currently, the skins are very thick there's not a lot of juice. The pits are beginning to ripen, but still need to wait a bit to get phenolic maturity. There's still some greenness.
We are looking at a much lower quantity overall compared to 2017; half to two-thirds less, depending on site. Acidity is pretty good. There were some issues with odium during this growing season.
Overall, the potential alcohol looks like it will be about 13%. It's been cooler for the past few weeks and the weather has been good. August was very dry, but we did get 40 millimeters of rain three weeks ago. The best village for red looks to be Pommard, Volnay, and Beaune. For white it looks to be Meursault.
---
REMI JOBARD
Domaine Remi Jobard
Meursault
September 11th:

I'm starting tomorrow with whites in Meursault. Things look beautiful, great quality, but very small quantities.
---
ALIX MILLOT
Domaine Jean-Marc Millot
Nuits St. Georges
September 11th:

I am beginning Saturday!!! Gorgeous quality of fruit, but not a lot of wine…
---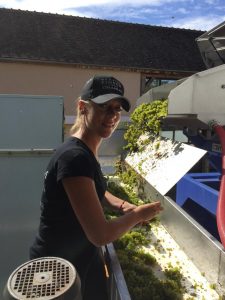 CHARLENE PINSON
Domaine Pinson Freres
Chablis
---
September 11th:
Today is the harvest in Grand Cru Clos. These photos are of the Clos and Mont de Milieu.
The old vines are producing extraordinary, balanced, and rich fruit.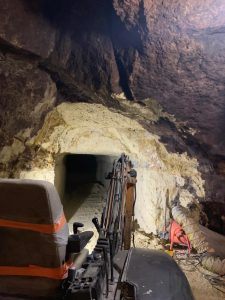 JACKY & JEAN-PHILIPPE BLOT
Domaine de la Butte & Domaine de la Taille Aux Loups
Montlouis-sur-Loire and Vouvray
---
September 11th:
We're looking at one-half of the harvest compared to 2017 as of today.
Likely start date is tomorrow. We have had virtually zero rain since the beginning of June. At that point, it was 13 millimeters of water, which barely wet the ground.
The Loire River is as dry as it has ever been, at two to three meters large. No rain previewed for next week or so. Driest part of France this year and record low water… Vouvray worse than Montlouis – almost zero in Bretonnière.
Old vines doing better, young vines really in bad shape. Certain sectors with grilled grapes from the heat spikes of July. Overall, Domaine de La Butte and Bourgueil are much better off and got some rain….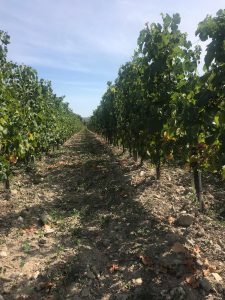 THIBAUD BOUDIGNON
Thibaud Boudignon
Savennières
---
September 9th:
We're beginning Anjou on the 16th, and Savennières on the 20th. For the moment, things continue to look quite beautiful considering the rocky start to the year with the serious frost scare that we had.
We feel lucky compared to some of our friends in Vouvray and Montlouis. We'll keep you posted as the grapes start to come in.
CÉDRIC DUCOTÉ
Domaine Rolet
Arbois
September 11th:
We began early today with our vines in Passenans in the Cotes du Jura – Chardonnay, Poulsard, and Trousseau for our Crémants. Everything looks beautiful! In general, we have a lot of millerandage, and as in much of France, lower quantities than we would prefer.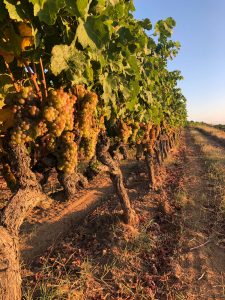 OLIVIER KLEIN
Domaine Réméjeanne
Sabran
---
September 11th:
We started our whites last Wednesday (on the 3rd of September), and the quality is beautiful.
The grapes have an amazing complexity of flavor–  however there's not much juice! This is completely normal based on the complete lack of rain this summer. What is most astonishing is the lovely acidity we've kept despite the dry summer.
I think it will be a vintage very similar to 2017 as of right now. For the reds, I'm going to have to be very careful with extraction, as the skins are very thick and squeezing the ball too tightly would result in extreme levels of tannin. Look forward to giving you an update as we start to pick the reds.
---
STEPHANE VEDEAU
Clos Bellane
Valreas
September 11th:
Most of the whites will be done by the end of today. The only one that we have not harvested is the old Roussanne.
In the last three months we have had only two small rain showers, barely enough to ensure normal development in the vineyards. Yet the results seen in the grapes are magnificent! Balance and acidity, no problems of any kind related to stress or drought. The peculiarity of this vintage, in the south as in the north, lies in the size of the berries! They are quite small.
In short, we have a vintage that presents very well, except for the small quantities. We have a large ratio of pulp-to-skin (in favor of skin), a nice freshness of structure, and a style that presents as very pure and very straight.