Today may very well be the Golden Age of French wine, full stop. There has been no better stretch of great vintages or more exceptionally talented growers at the height of their powers than TODAY.
2019 is, as we speak, shaping up to be another glorious vintage in France. Every grower we spoke to views 2019 as nothing short of miraculous considering some of the challenges Mother Nature threw out, including Spring frost, hail, and drought. There were moments that many of the finest growers despaired at outlook for the vintage. Living through these obstacles and facilitating a successful growing season, in today's climate, is no picnic.
I am often told by friends that we take the ebb and flows of these growing seasons too much to heart– and I do! Though as much as we internalize the ups and downs that my close friends in France experience , our growers are the ones who are truly living it.
So what about the last ten years or so make it the Golden Age for French Wine?
The talent level and quality of farming/winemaking is better overall, especially at the elite level which has never been better than it is today.
Interestingly, these methods are less tied to technology and innovation, than a return to simplicity and more authentic vineyard practices (wine-stewardship as opposed to "wine-making").
---
The exchange of information among top growers has been a major benefit to overall quality
More of the top growers are travelling (for both business and pleasure) and communicating with each other, making wider connections beyond their immediate village.
---
Concern for the environment and the overwhelming challenges presented by global warming has forced growers to adapt to changing conditions in order to protect the vines and the resulting wines.
Organic farming, working the soil by plowing by horse or light tractor, elimination of herbicides and pesticides, and better genetic plant material are just some of the improvements that we've seen in farming that has strengthened the plants and soil in the face of more extreme climate. This has helped the wines preserve flavor, freshness, and balance.
---
Growers are becoming more experienced every vintage with warmer temperatures, allowing them to be better prepared to promote balanced fruit and acidity.
The knowledge gained from warm years like 2003 and 2009 has forced growers to be more reactive, allowing them get balanced fruit when they pick. The great vignerons strive to thread the needle when choosing the right time to harvest and this reactiveness allows them to successfully dance on the knife's blade every vintage. They are adapting and adjusting daily to obtain equilibrium; too early and they can end up with green, underripe fruit; too late it and the result is over-the-top heavy wines. To hit the mark in every plot is an ongoing chess match with nature.
---
The cellar improvements are clearly a factor, but almost secondary to the improvement in viticulture and cellar work.
Fewer and better barrels, less new wood and the expanded use of larger vessels, less intervention in the cellar, gentler bottling, better corks and closures, and major improvements in storage and shipping have all contributed to this era of superb French wine.
---
The generational interaction and familial transition, along with a new and often improved take on old fashioned wine farming and élevage, has brought us a bounty of high-quality vintages over the last ten years or so. Will Mother Nature and global warming allow this to continue in places like Burgundy where balance and acidity are fundamental to Pinot Noir and Chardonnay? So far growers and their vines have been up to the task and then some.
2019 is already looking outstanding in its early stages. While quantity may not be exceptional everywhere, things are relatively good considering that only 30 to 40 years ago, it was cause for celebration when there were 3 to 5 good crops out of 10. As far as consumers are concerned, we are living in a glorious time if you're a fan of French wine. And we of course look forward to hearing and tasting similar success stories from our friends in other parts of the world.
MARC & ALEXANDRE BACHELET
Bachelet-Monnot
Dezize–lès–Maranges
September 20th:
Magnifique. Suburb quality with acidity and balance, virtually zero need to do any triage. Slightly less wine in Chassagne-Montrachet, Saint-Aubin and Meursault Premier Cru, but the quantity is decent overall.
Began harvesting the whites on the 6th of September, and finished them on the 11th. Started the reds on the 12th and finished on the 20th. Keeping about 30% whole-cluster and the alcohol averages 13 to 13.23. Extraordinarily delighted with the quality of 2019.
---
FRANTZ CHAGNOLEAU
Domaine Frantz Chagnoleau
Pierreclos
September 20th:
2019 will be a great year for the Maconnais, with less wine overall than '18, and probably one of the best vintages ever in the region. There are many ways to judge a vintage this early: balance in the grapes, aromatics as the fermentation begins and concentration. So many early positive signs that the juice cannot fake.
We began on the 9th of September and finished on the 18th. Began in Prissé for the Saint-Véran, then went to Viré-Clessé and finished on Tuesday the 18th. The only downside is less quantity.
This is probably the best year since 2014, with more complex aromatics, more density, and maybe even better acidity." 
---
JOSEPH COLIN
Joseph Colin
St. Aubin
September 20th:
Exceptionally fabulous year. Perfectly clean fruit and superb acidity are two among many factors that combine to make this one of the finest harvests I've seen in 27 years.
Exceptional acidity, perfect balance, never had all of these qualities together in one vintage. The only downside were the frosted areas, and vines that suffered from the drought, which left us with about 30% less than a normal harvest.
I took a risk by harvesting on the 5th and worried it might be too early. In fact, I'm extremely happy with the results. I finished on the 12th with my coolest sites in Saint-Aubin and my Aligoté.
---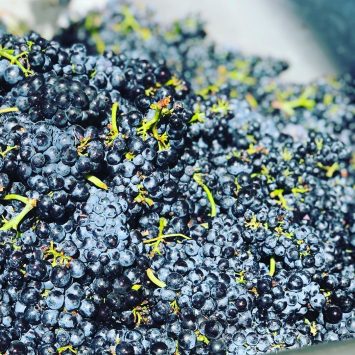 PIERRE-VINCENT GIRARDIN
Pierre Girardin
Meursault
---
September 20th:
We harvested  the whites from the 8th to the 12th of September, and the reds from the 12th to the 20th. Finished today (the 20th) with the Corton-Charlemagne. Zero need to triage as we have almost perfect fruit. My father had never seen fruit so beautiful. Zero pigeage. 30 to 80% whole-cluster. Perfect acidity. Great balance. Average to solid yields. Reds have 13 to 14 degrees alcohol with good freshness and acidity.
A truly great year for reds, with slightly higher alcohols, but really fresh fruit.
The whites have an intensity of freshness and acidity that I love, averaging about 13 to 13.5 degrees alcohol.
---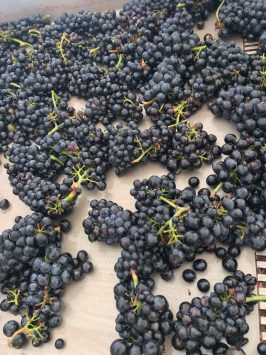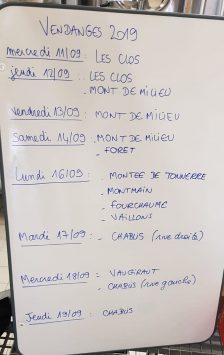 CHARLENE PINSON
Domaine Pinson Freres
Chablis
September 20th:
---
Our historic vineyards suffered quantitatively but not qualitatively due to the impact from the Spring frost and the hydric stress. That meant that there was less fruit overall and a lot of tiny, small grapes (millerandage).
We had extraordinarily clean fruit with beautiful natural alcohol between 12.5 and 13.5. The acidities were correct, with better, higher acids than 2018 and with better overall balance and pH than 2015.
The fermentations have been proceeding beautifully. The taste from the grapes before the harvest, the aromatics in the cellar and the taste of the early juice shows a precision and beauty of fruit that my father and I have rarely seen. The minerality that we crave in Chablis is already very evident.
Quantity is overall better than we anticipated.
One newsflash, Charlene harvested two barrels of the rare Grand Cru Les Preuses that is now fermenting comfortably in two 7-year-old barrels. Forty-plus-year old parcel that is now another jewel that will be added to the Pinson lineup in 2019.
It is definitely an hour of glory for Burgundy. Over the last ten years, it's clear that we've adapted remarkably to the increasing challenges of climate change. It has forced all of us to do more in the vineyards and in the cellar to preserve the purity and beauty of what Burgundy is all about.
This is all being done with a look towards methods and techniques adapted from the past, rather than new technologies. Farming and vinification is becoming simpler in bringing us all closer to nature. The results over the last ten years clearly represent some of the finest and most consistently great wines that we've made.
GUILLAUME DOYARD
Champagne Doyard
Côte des Blancs
September 20th:
2019 is going to be a warm, sun-driven vintage with a bit less acidity. But also less malic acid which will bring good stability as the wines age. Yields were adequate, if not a bit weak in the Cote des Blanc.
This is vintage that reminds my father (Yannick Doyard) 1989 and 2009. He always says that anything that ends with a "9" is usually a good vintage. Father knows best.
Tomorrow we're going to harvest the Vieux Fombrés Coteaux Champenois.
---
CLEMENT VERGNON
JL Vergnon
Côte des Blancs
We started last Friday the 13
th
and 14
th
plot-by-plot, and in some cases, dividing the plots depending on ripeness. The overall quality was very good. The average potential alcohol was 11.5 with good acidity, but average to low yields. The fermentations are proceeding beautifully.
My father loves the aromatics of this vintage.
JACKY & JEAN-PHILIPPE BLOT
Domaine de la Butte & Domaine de la Taille Aux Loups
Montlouis-sur-Loire and Vouvray
I'm now quite used to getting calls from Jacky on Saturday, early Sunday morning, or both. He couldn't wait to tell me how miraculously the Chenin in Noizay and the old vine Gamay for his Tripe Zero Rosé had withstood all the affronts that mother nature threw at them in the form of frost and the warmest, driest summer in the region's history.
Jacky is looking back to 1996 and starting to feel like the quality of the 2019 vintage may be up there with the finest he's ever seen. The acidity is extraordinary and the natural level of alcohol couldn't be at more perfect balance. The quantities are dependent on the site – catastrophic to good, with Clos Bretonniere having suffered significant losses and Clos Venise faring better.
The good news is that the grapes that did come through the gauntlet during the Summer growing season are the best he's ever seen. In his words, the taste and aromatics are shockingly good –  an unexpected miracle, in short. Much of his single-site Montlouis dry wines are yet to be harvested, but also look extraordinarily promising.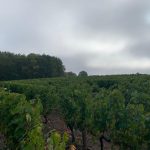 LAURENT & CELINE FAYOLLE
Gervan
Best Northern Rhône vintage since 2015. Better acidity and balance than the preceding three vintages: '16, '17, '18. Easily the best since 2015.
It looks to be an extraordinary white wine vintage too. Overall there is about a half of a degree less alcohol and better acidity than the preceding three vintages.
Laurent and Celine started their whites on September 7th and finished on Saturday the 21st.
They started their reds last Monday the 16th, and the domaine is finishing up as we speak. It's a very good red vintage with the younger vines suffering a bit from drought, but the old vines holding up extraordinarily well. The young vines produced on average 30 to 40% less than usual. And the red yields may turn out lower than we think based on the small amount of juice in the grapes.