In this series, we'll demystify some of our favorite—though perhaps not always intuitive—spirits for cocktailing…
Let's talk about caraway…
Sometimes referred to as meridian fennel or Persian cumin, caraway is a plant that belongs to the carrot family whose fruit, when dried, is often mistakenly referred to as a seed. These fruits tantalizingly mimic the essential oils of anise, fennel, licorice, spearmint, dill, magnolia blossoms, star anise, and orange and caraway lends the familiar spice note found in seeded rye bread. With its dizzying medley of flavor and aromas, it's no wonder that caraway has found its way into all types of cuisine and has become a treasured flavoring element in the world of spirits.
Aquavit (akvavit) is a distilled spirit produced principally in Scandinavia and Northern Germany since the 15th century. Fermented from grain or potato, aquavit's principle flavor must come from caraway fruit or dill seed, as mandated by European Union law. With a name derived from the Latin for "water of life," aquavit often accompanies festive occasions in the Nordic culture and is served alongside lunchtime brews for Danes year-round. Iceland, due to an alcohol prohibition that spanned 1915 to 1989 (though the ban was strangely amended in 1935 to allow for spirits—just not beer over 2.25% ABV) developed a ritual of pouring aquavit directly into non-alcoholic brews. In Finland and Sweden, shot glasses of aquavit garnish the tables of August crayfish parties known as kräftskiva, to be sipped throughout the course of the meal as a digestif.
Aquavit Stateside
The U.S. has experienced a small boom in aquavit producers over the past 15 years and not just in Nordic-American communities. Lock-step with growing gastronomic interest in regional cuisines, increased travel, and the advent of the adventurous drinker, the American palate is primed for the savory piquancy of Michigan's Norden Aquavit. Harmonizing with its caraway-spice backbone is the addition of clementine, coriander, angelica, orris, juniper, clary sage, staghorn sumac, dill, and anise. At the intersection of savory and refreshing lies bright citrus, earthy undertones, and floral, tropical aromas. With such an herbaceous and botanical aura, it's little surprise that, alongside accompanying food, Norden aquavit makes an intriguing cocktail component, easily substituting gin in classic drinks for a savory and surprising twist.
Check out these adaptations of cocktail classics, sure to enchant your taste buds!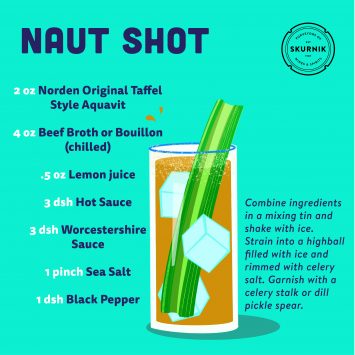 Naut Shot
*vegetarian variation:  3.5 oz. vegetable broth or bouillon and .5 oz. soy sauce.
.5 oz fresh lemon juice
3 dashes Worcestershire sauce
3 dashes hot sauce
Pinch of sea salt
Grind of black pepper
Combine all ingredients in a mixing tin and hard shake with ice; strain into a highball rimmed with celery salt and filled with ice. Optional garnish: dill pickle spear or celery stalk.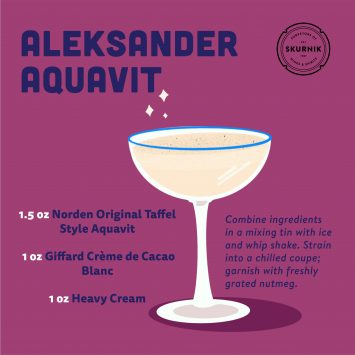 Aleksander Aquavit
1.5 oz Norden Aquavit
1 oz heavy cream
Combine ingredients in a mixing tin with ice and whip shake. Strain into a chilled coupe; garnish with freshly grated nutmeg.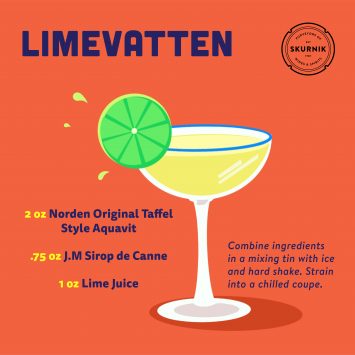 Limevatten
2 oz Norden Aquavit
.75 oz J.M Sirop de Canne
1 oz fresh lime juice
Combine ingredients in a mixing tin with ice and hard shake. Strain into a chilled coupe. Optional garnish: lime wheel.
---
*Norden now offers an aged expression alongside its flagship, taffel style.
Be sure to check out Norden Cask Matured!