This is one of the top estates in the Côte des Blancs today.Peter Liem, Champagneguide.net
Didier Vergnon and his dynamic son Clément are the 4th and 5th generations to lead this small, 5-hectare estate in the Grand cru village of Le Mesnil-sur-Oger. Founded in 1950, it was in the 1980s that JL Vergnon first began estate-bottling and was an early pioneer of lower dosed wines, riper fruit, and no malolactic fermentation. In 1989, with the death of Jean-Louis, Didier and his mother Monique led the push towards practicing organic farming.
From choice sites in the Côte des Blancs, including parcels in and next to the legendary Les Chétillons, Vergnon is harvesting some of the finest Chardonnay in the region. For much of this journey they had the brilliant winemaker Christophe Constant as cellar master– and today, he is a consultant for the Domaine. These wines lead with ripe and perfect fruit, which result in a compelling lineup of Grand Cru Le Mesnil with a signature vinosity and transparency in every cuvée.
THE FULL INTERVIEW
A TIMESTAMPED BREAKDOWN OF THE INTERVIEW
0:00 – 1950s to 1980:The History of the Vergnon Family in Champagne
4:27 – The 80s: Clément's Grandfather Develops His Own Style & Winemaking Philosophy
7:34 – 1988 to 1999: Clément's Grandmother Manages the Domaine
11:31 – 1999: Clément's Father Didier (& winemaker Christophe Constant!) Starts to Work With the Property
15:12 – 2017: Clément Starts to Lead the Domaine (around the same time that Guillaume Doyard returns to Champagne Doyard – link to that Terroir Talk here)
22:50 – Murmure Premier Cru Brut Nature
27:40 – Conversation Grand Cru Brut
34:02 – Eloquence Grand Cru Extra Brut
38:29 – Rosemotion Grand Cru Extra Brut Rose
43:30 – MSNL 'Chetillons & Mussettes' Grand Cru Extra Brut
50:55 – Hautes Mottes 2011
THE WINES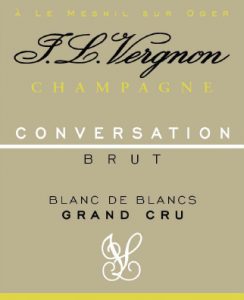 Champagne JL Vergnon Conversation Grand Cru Blanc de Blancs Brut NV
100% Chardonnay
30+ year old vines
80% 2015, 20% Reserve wine
90% Le Mesnil sur Oger Grand Cru, 10% Avize and Oger Grand Cru
Aged in 50% tank, 50% older barrels (400L)
No malo
Aged 36 months on the lees
5 g/L dosage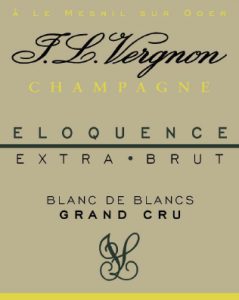 Champagne JL Vergnon Eloquence Grand Cru Blanc de Blancs Extra Brut NV
100% Chardonnay
30+ year old vines
80% 2015, 20% Reserve wine
90% Le Mesnil sur Oger Grand Cru, 10% Avize and Oger Grand Cru
Aged in 50% tank, 50% older barrels (400L)
No malo
Aged 36 months on the lees
3 g/L dosage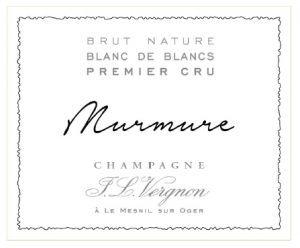 Champagne Jl Vergnon Murmure 1er Cru Blanc de Blancs Brut Nature NV
100% Chardonnay
30+ year old vines
100% 2016
50% Vertus 1er Cru, 50% Villeneuve 1er Cru
Aged in 50% tank, 50% older barrels (400L)
No malo
Aged 36 months on the lees
0 g/L dosage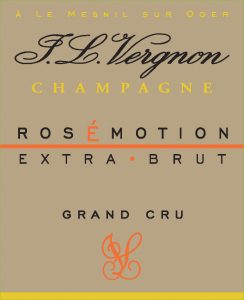 Champagne JL Vergnon Rosémotion Grand Cru Rosé Extra Brut NV
90% Chardonnay, 10% Pinot Noir from Grand Cru Mailly
45+ year old vines
80% 2015, 20% Reserve wine
90% Le Mesnil sur Oger Grand Cru, 10% Avize and Oger Grand Cru
Aged in 80% tank, 20% older barrels (400L)
No malo
Aged 36 months on the lees
3 g/L dosage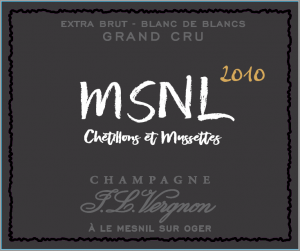 Champagne JL Vergnon MSNL Grand Cru Blanc de Blancs Extra Brut 2010
100% Chardonnay
From the Grand Cru village of Le Mesnil
70% from Les Chetillons
30% from Mussettes (borders Chetillons to the south)
40-60 year old vines
Tank fermented and aged
No malo
Aged 84 months on the lees
3 g/L dosage