We are excited to share with you the latest releases from Spécial Club growers Pierre Gimonnet, Mouzon-Leroux, Gaston Chiquet, Henri Goutorbe, Moussé & Fils, Marc Hébrart, & Arnaud Margaine.
PIERRE GIMONNET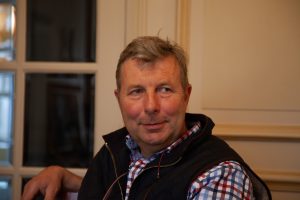 Didier Gimonnet's father was an original member of the Spécial Club and joined in 1971. Located in Cuis, the holdings at Gimonnet are almost all located in the Côte des Blancs, focusing on Cramant and Chouilly Grand Crus. Blending the different Premier and Grand Cru wines from their vineyards have always been a part of Gimonnet's style.
The wines are fermented and aged in stainless steel, separated by parcel. The wines stay on the fine lees for six to eight months before blending and bottling and malolactic is allowed. The Spécial Club is always based on the best holdings in Cramant Grand Cru and Chouilly Grand Cru. The holdings here are actually very close to each other even though they span two villages. The
Chouilly wines come from old vines planted in Mont Aigu, a prime section of Chouilly. The Cramant holdings are extensive and the domaine owns excellent, very old vineyards in Buissons and Fond de Bateau, planted in 1914 and 1919, respectively.
2014 is a spectacular vintage for Didier. He chose not to produce any 2013 Spécial Clubs, feeling that the vintage was a bit too cool and lacking the warmth and ripeness of the surrounding vintages. While it's hard to say if this was a mistake, the 2014s certainly make up for the skipped year, bringing together the best qualities of 2012 and 2013, offering wines with structure and weight energized by brilliant acidity.
CURRENT SPÉCIAL CLUB RELEASES FROM PIERRE GIMONNET:
MOUZON-LEROUX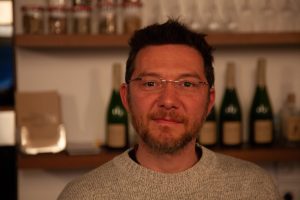 Located in Verzy, Sébastien Mouzon is producing certified organic wines and, as of 2020, is Demeter Certified Biodynamic. Sébastien's interpretation of Verzy is refined but also unadorned and without pretense. They are delicious wines, thoughtful, restrained, mineral, and incisive. Verzy is a terroir that's often included in the blend of wines from this part of the Montagne—the trio of Grand Crus—Mailly, Verzenay (the most famous of the three) and Verzy. Unlike Ambonnay or Bouzy, the two powerful, south-facing Montagne Grand Crus, Verzy faces north-east, producing wines with more finesse, tension, and a higher register.
Mouzon's wines are mineral and quieter than their more powerful counterparts in Verzenay. Sébastien Mouzon describes the differences between Verzenay and Verzy in this way: "In Verzenay, the mineral is inside the fruit. In Verzy, the fruit is inside the minerality." This is a crystalizing way to think about these two villages. The estate is just over seven hectares, almost all in Verzy, split over 50 different plots.  For his Club wine, he makes three different wines: Blanche Voie, a single parcel wine made of pinot noir and chardonnay, a Blanc de Blancs from the southern part of the village which borders Villers-Marmery and is more chalk dominated as well as a Blanc de Noir from the northern part of Verzy.
All of Sébastien's Club wines are Brut Nature, with zero dosage added. Horses are used for ploughing and sheep are used to control cover crops. Grapes are harvested with high physiological ripeness; with biodynamic viticulture allowing for balanced sugar ripeness. Fermentation and elevage are done in a mix of steel tanks and 500 liter 4 to 5-year-old Jadot barrels.
CURRENT SPÉCIAL CLUB RELEASES FROM MOUZON-LEROUX:
2014 Mouzon-Leroux "Spécial Club L'Ineffable" Blanc de Noirs Brut Nature
2014 Mouzon-Leroux "Spécial Club – L'Angélique" Blanc de Blancs Brut Nature
GASTON CHIQUET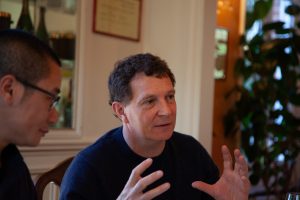 Nicolas Chiquet's father Claude was also a founding member of the Club. The winery is located in Dizy, which represents an important part of the vineyards owned by the estate. Holdings in Aÿ, Hautvillers, and Mareuil-sur-Aÿ make up the rest of the holdings – all in the Grand Vallée. Dizy "forms a sort of amphitheater and the best vineyards are those that lie in this area, like Souchienne or Les Cerisières," says Nicolas. A majority of the vines at this agency are selection massale, and average over 40 years, keeping yields naturally low.
The Spécial club is not made by rote and Nicolas feels that it is important to make the blend for the top wine from the parcels which perform best in each year. This means the vineyards for the top wine as well as the cepage are in flux.
Currently, the excellent 2013 Spécial Club is available and interestingly Nicolas did not produce a 2012 Spécial Club. Many growers feel that this vintage is outstanding, but Nicolas felt that the vintage lacked elegance and finesse. In fact, Nicolas did not produce any of his Carte D'Or Millésime or Club wine in the 2012 vintage.
The fruit that would normally be used for the vintage wines has gone into his 2012 base Tradition Brut and 2012 Blanc de Blancs d'Aÿ. Needless to say, the 2012 based versions of these two wines, which are on release, are superb.
CURRENT SPÉCIAL CLUB RELEASES FROM GASTON CHIQUET:
HENRI GOUTORBE
Rene Goutorbe manages the Henri Goutorbe estate, located in Aÿ Grand Cru. He took over from his father, Henri in 1970 and is the current president of the Club Trésors. Goutorbe's Spécial Club is Pinot Noir dominant, including a bit of Chardonnay. The Club wine always comes entirely from the Grand Cru of Aÿ and the wines, like the producer and terroir, are generous and open. This is very often the richest of the Club wines that we offer as well as being the oldest.
The current release is from the 2006 vintage. It's a ripe and forward wine, showing the warmth and generosity of the style of the house and the south-facing and sunny Grand Cru of Aÿ. It's interesting to note that this is one of only a few Spécial Club wines that comes entirely from Aÿ, generally regarded as one of the very best Crus for pinot noir in Champagne.
CURRENT SPÉCIAL CLUB RELEASES FROM HENRI GOUTORBE:
MOUSSÉ & FILS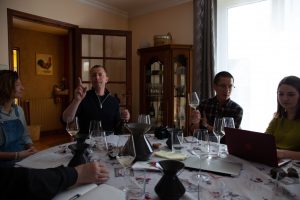 Cédric Moussé is one of the young, superstars of the Club Trésors. After working at a number of estates in France and the US, and the CIVC experimental cellar, Cédric returned to his home village of Cuisles in 2003 to work alongside his father Jean-Marc. In 2007 they began planning a new cellar which was completed in 2012, one of the first of its kind in Champagne. The cellar has an extraordinarily low carbon footprint, with enough solar paneling to power the cellar as well as several homes, rainwater collection and filtration for washing equipment and a geothermal heating and cooling system. The cellar was built with a much larger capacity than Cédric needs, which was by design – "I like for the team to have room to work" says Cédric.
Viticulture here is practicing organic with no herbicides, or pesticides used for the last 15 years. Further, Cédric avoids the use of copper-sulfur as this builds up in the soil and affects soil health. The Moussé's joined the Club in 2005, producing the first 100% Meunier Spécial Club wine. Vineyards in Cuisles are quite steep and have a very unique soil, called Illite, a green mica inflected clay. The Spécial Club comes from a single-vineyard called Les Forts Terres in Cuisles, from old Meunier vines. In 2012 Cédric crowned another first, vinifying the first Spécial Club Rosé de Saignee from a single vineyard called Les Bouts de la Ville. Also, 100% Meunier, grapes from this 60-year-old vineyard undergo a long, cold maceration before fermentation in old oak barrels with blocked malo.
CURRENT SPÉCIAL CLUB RELEASES FROM MOUSSÉ FILS:
We are looking forward to releasing the following Moussé Fils Spécial Club in spring 2021:
2016 Moussé Fils "Spécial Club" Brut
MARC HÉBRART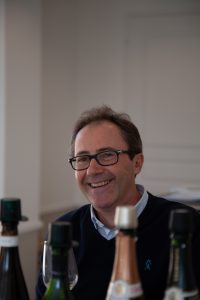 Champagne Marc Hébrart has been producing estate-bottled Champagnes since 1964 and joined the Club Trésors in 1985. Jean-Paul Hébrart, who took over the estate from his father in 1997, is the current winemaker and owner. Jean-Paul owns 78 parcels over 10 different villages including the Grand Crus of Aÿ, Avize, Chouilly, Oiry and Louvois as well as the Premier Crus of Mareuil-sur-Aÿ, Avenay-Val-d'Or, Bisseuil, Dizy and Hautvillers. Each parcel is vinified separately, and the Spécial Club wine is normally Pinot Noir dominant but includes around 40% Chardonnay from Jean-Paul's Grand Cru holdings in the Côte de Blancs.
The Pinot Noir for the Club wine comes from the best parcels in Mareuil and Louvois. In the 2015 version, the Pinot Noir came from Faubourg d'Enfer and Croix Blanche, two parcels above the Clos des Goisses in Mareuil, as well as Pruche and Haut de Varille. In Louvois Grand Cru, Pinot Noir came from Le Mont and Le Haut Berceaux.
While houses like Roederer, Moët and Jaquesson own vines in this vineyard, it should be noted that the only other estate to make a single vineyard wine from Le Leon is Philipponnat, who produced their inaugural release in the 2006 vintage. This is the second single vineyard wine that Philipponnat has produced since Clos des Goisses was first produced in 1935. Hébrart is one of the very finest producers, not just in the Grand Vallée, but anywhere in Champagne.
CURRENT SPÉCIAL CLUB RELEASES FROM MARC HÉBRART:
ARNAUD MARGAINE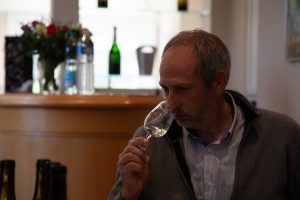 Arnaud Margaine has managed the André Margaine estate since 1989. The estate had been bottling their own wines since the 1920s, but it was Arnaud's father who expanded the estate to 5 hectares and joined the Club Tresors in 1977. Arnaud's holdings are entirely in Villers Marmary Premier Cru, an east-facing village in the Montagne, which due to its exposition and chalky soils, is an island of Chardonnay surrounded by Grand Cru Pinot Noir dominant villages. Arnaud has been focusing on improving viticulture here for the past decade, eliminating herbicides, pesticides and relying more on cover crops.
The wines at this address are outstanding, and though the range is small (the entire estate is only 6.5 ha), they offer a unique perspective on this very interesting Cru. The Special Club is always made in small quantities, released only in 2000, 2002, 2004, 2006, 2008, 2011 and 2012 so far. The parcels for the Club wine are not always the same vintage to vintage but often come from the southern side of the village (Brocot and Champs d'Enfer), where chalk is more dominant. Although it is abnormal for a Club wine to have oak influence, the last few releases that Margaine has produced incorporate about 20% of wines fermented in oak. This blends seamlessly and this Club wine is always a favorite, though the quantity is always small.
CURRENT SPÉCIAL CLUB RELEASES FROM A. MARGAINE: