It takes a good deal of bravado to leave a successful family business in Rome and venture into a life of winemaking in the Tuscan countryside. But Tommaso Squarcia has bravado to spare, and it shows in his deeply transporting Brunellos.  
Tommaso wasn't born into a winemaking family—his family owned a successful pharmacy in Rome. They also happened to own a 600-year-old castle outside of Montalcino, passed down over seventeen generations. While the family had planted vines on their land back in 1995, the grapes were sold to a cooperative until Tommaso dedicated his life to wine. Together with his Uncle Emanuele, a lawyer by profession, they began making their own wines in 2013. Then in 2015, the two had a chance meeting with Maurizio Castelli, the renowned Sangiovesista who consults for the legendary estates Ragnaie, Mastrojanni as well as our own Scopetone, and the chemistry was immediate. Castelli shared their belief that wine should convey a pure expression of the grape and terroir. A year later they teamed up together and that's when things really took off. 
Castello Tricerchi's motto "non in latera pro nos", was coined by one of the family's famous 12th-century knights, Alessandro. The phrase translates to "never stand at the sides only," which is exactly what Emanuele and Tommaso have done when it comes to winemaking. Not content to chase after the whims of fashion, uncle and nephew are adhering to a style of Sangiovese that's almost Nebbiolo-esque: Long macerations, large casks, and classically styled wines.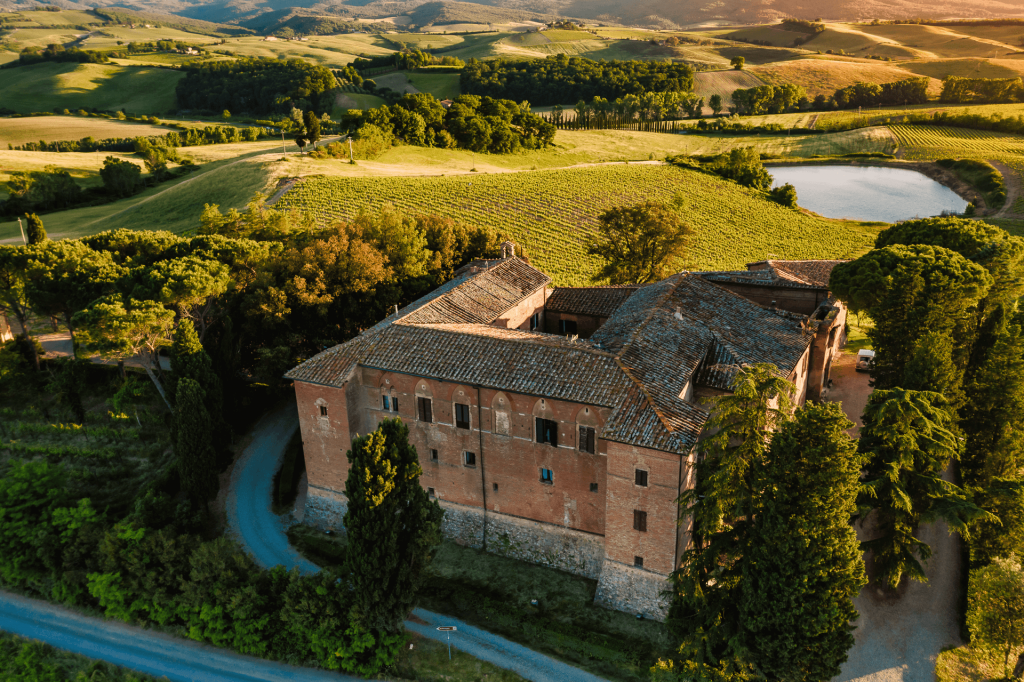 The Tricerchi castle, situated in northern Montalcino, at one time served as a refuge offering protection to the pilgrims traveling along the Via Francigena, the main road connecting France to Rome. Many of the castle's decorative and structural components have been credited to Baldassare Peruzzi, the famous Sienese painter and architect. 
The estate has thirteen hectares of Sangiovese Grosso planted on limestone, clay, and sandy soil, 290 meters above sea level on the northern slopes of the appellation. The spurred cordon and guyot vines have west and northwest exposures, which result in long days of light allowing for uniform ripening. Along with the cooler temps of extreme northern Montalcino, this terroir produces fresh, elegant wines defined by purity of fruit, complexity, and high acidity. Their viticultural philosophy is sustainable and organic, striving to find a harmonious balance between man and nature.  
After the grapes undergo a scrupulous selection by hand, they're brought to the cellar – a former dungeon and later granary located deep inside the castle! The temperature here is consistently cool throughout the year, due in part to the thick walls that have lasted for half a millennia. The grapes are fermented using indigenous yeasts with long maceration periods in temperature-controlled stainless steel tanks and then aged in large Slavonian oak casks. The terroir of Montalcino is evident in every sip.
We're very excited to have Castello Tricerchi join Skurnik Wines, and until we can get over to Italy, we hope a bottle of Tommaso's Brunello will transport you to the rolling green hills of Montalcino.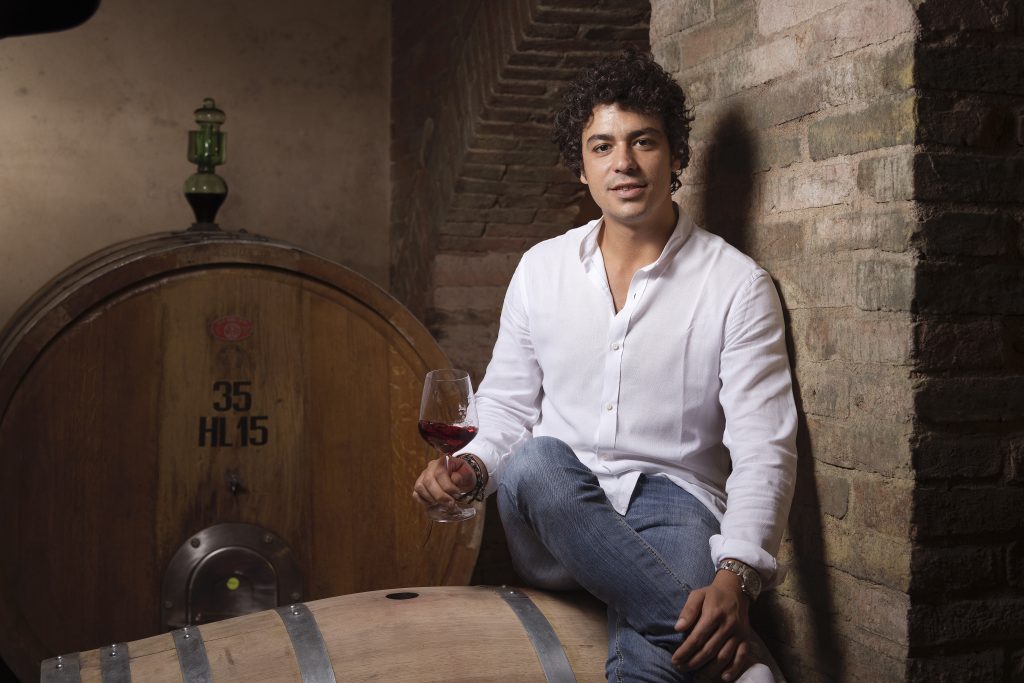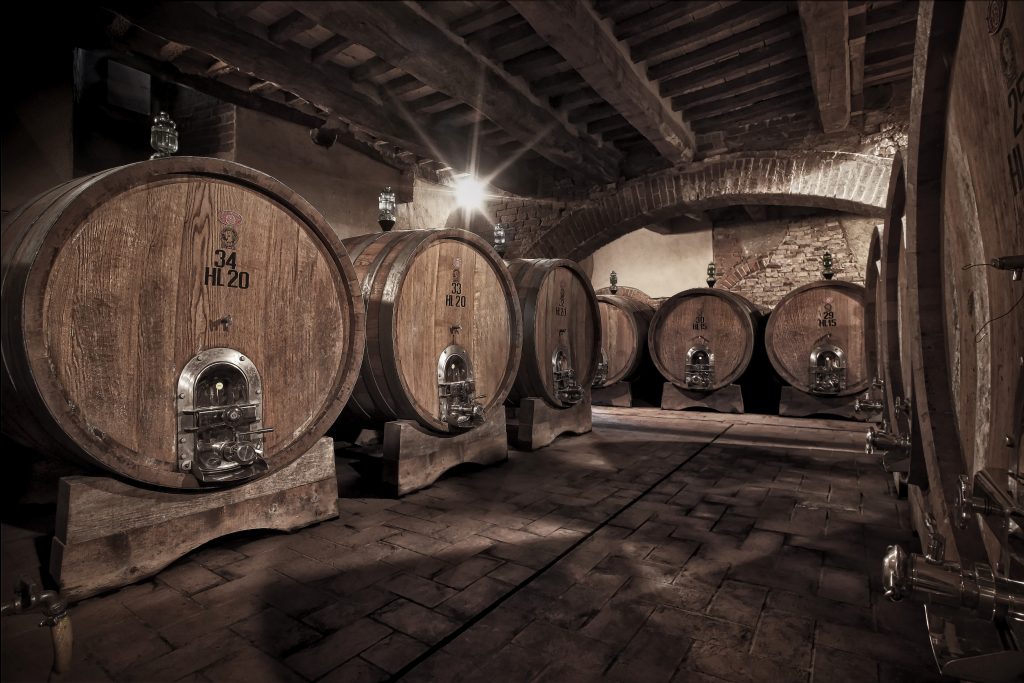 THE WINES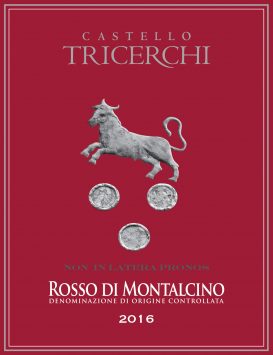 Rosso di Montalcino, Castello Tricerchi 2016
100% Sangiovese from 12-year-old vines located at 300 meters above sea level

 

Dense clay and sandy soils with a southwest exposure

 

Harvest took place at the end of September, with maceration and fermentation occurring over 10 days in stainless steel

 

Wine is aged in 15-20 hectoliter Slavonian oak casks for 18 months prior to bottling

 

A 

vibrant palate of juicy cherries, strawberries, anise, clove and black pepper, with smooth tannins and fresh acidity

 

A great wine to enjoy on a summer night out on the patio alongside a charcuterie board

 of

 aged parmesan and salty prosciutto.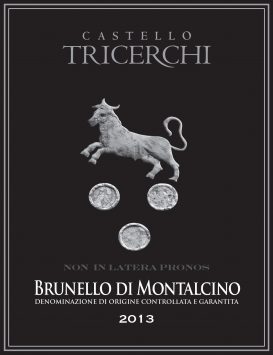 Brunello di Montalcino, Castello Tricerchi 2013
100% Sangiovese from 15-year-old vines located 300 meters above sea level

 

Soils are dense in calcareous clay and sand, with a southwest exposur

e

 

Harvest took place at the beginning of October, with maceration and fermentation occurring over 14 days in stainless steel

 

Wine is aged in 15-20 hectoliter Slavonian oak casks for 42 months prior to bottling

 

This 

award-winning Brunello 

unveils

 flavors of ripe black cherry, dark chocolate, tobacco, cedar and spice, wrapped up 

in

 an earthy, leathery undertone

 

Elegant mouthfeel and persistent finish

 

Pairs 

beautifully with juicy steaks 

topped with

 braised mushrooms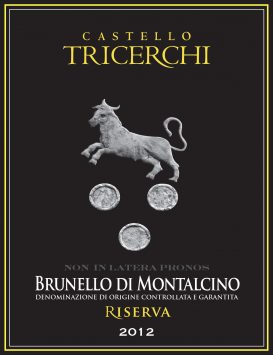 Brunello di Montalcino Riserva, Castello Tricerchi 2012
100% Sangiovese from 

25-year-old vines

 

located 320 meters above sea level

 

Soils are 

dense in calcareous clay and sand

, with

 a southwest exposure

 

Harvest took place at the beginning of October, with maceration and fermentation occurring over 15-20 days in stainless steel

 

Wine is aged in 15-hectoliter Slavonian oak casks for 48-52 months prior to bottling

 

Only

 2,000 bottles produced annually

 

Boasts 

flavors of ripe black cherries, prunes, leather, clove and 

tobacco, with firm but polished tannins

 

A great bottle to open 

alongside 

a hearty

 la

sagna