Gamet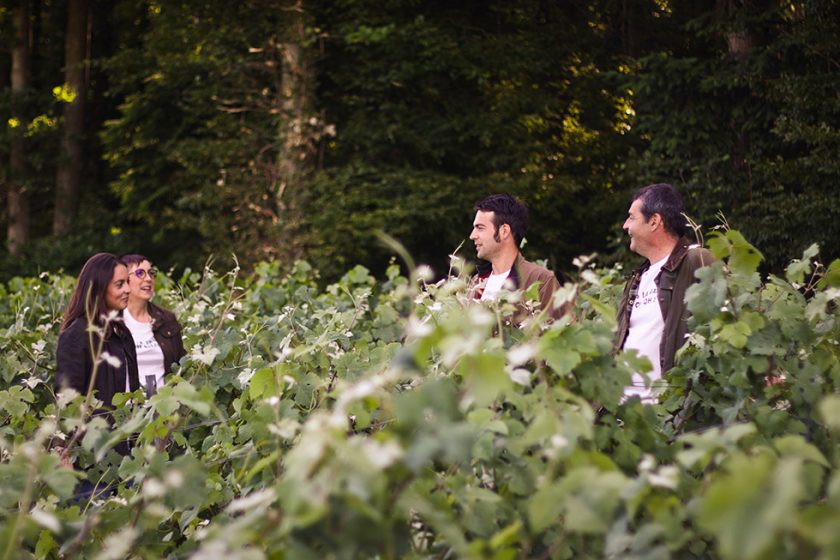 Just after World War I, many small growers decided to begin their own companies, bottling their own Champagnes. Victoire Garnier, "Mardouillate" and Berthe Heucq, "Fleurysienne", were two such women. This is the story of two families, from the right and left bank of the Marne, coming together.
The Garnier family were farmers originally, who expanded into tending vines in Mardeuil, on the left bank of the Marne, bottling just 800 bottles of Champagne each year. In the 1950s, François Gamet, grandson of Victoire Garnier, came back to the estate and began to expand, planting more land and bottling more champagne.  While François Gamet was expanding in Mardeuil, across the Marne, Berthe Heucq's grandson Robert was growing his family's holdings in Fleury-la-Rivière, bottling his own wines and tending vines on the right bank of the Marne.
In 1993, Fabienne Heucq, Robert's daughter, and Philippe, the son of François Gamet met and fell in love. Since 2018, the estate has been led by their daughter and fourth-generation Marianne, Champagne Gamet is a grower-producer, with vineyards in eight hectares in three villages – Mardeuil on the left bank and Fleury-la-Rivière and Damery on the right bank. Marianne's brother, Jean-François, a trained enologist currently working in Bordeaux, travels back home to assist his sister and parents with harvest, blending, and bottling, but the estate is run by Marianne. "The philosophy of François, my grandfather, was the philosophy of the recoltant manipulant, and this has been the philosophy from that time," says Marianne. "We are still and for always recoltant manipulant. For us, this gives us the ability to control the entire production from A to Z. from the vineyard to the vinification to the cellar"
This corner of Champagne where the winery is located is just west of the town of Epernay, near the Côte sud d'Epernay, a series of hills that encircles the second most important urban center in Champagne. Mardeuil is just north of the Côte sud, at the mouth of the Vallée de la Marne, on the Rive Gauche, directly opposite the 1er Crus of Cumières and Hautvilllers. Here, all three major grape varieties thrive on different soils. The subsoil is chalk, with various depths of clay, marl, and silex. The vineyards in each of these three villages face different directions, giving different characters to the wines even though they are less than 8km away from each other
In addition to tending grape vines, Marianne and her brother also produce excellent ciders from eight old apple varieties. The production remains very small but will expand slightly in the future, with several single-plot ciders in addition to the delicious Champagnes in the range.
"The idea is to continue working on the Champagne side, as something artisanal, to keep the philosophy of recoltant manipulant, improving techniques in vinification and the cellar, but we also continue to develop on the farm side, since we were farmers from the beginning," says Marianne. "We continue on this side with cider, honey, and cereals. The idea is to become closer with nature and change to do more in the vineyards to protect the environment and the expression of terroir."