Domaine Vincey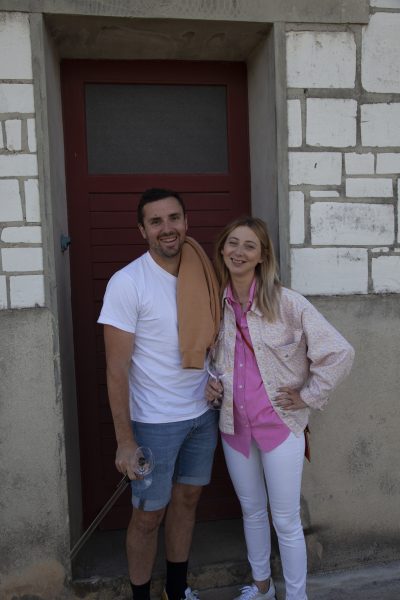 Region: Côte des Blancs
Premier Cru Sites: Vertus
Grand Cru Sites: Oger, Les Mesnil-sur-Oger, Avize
Total Vineyard Holdings: 8 Ha
Annual Production: 20-30,000 bottles
Grape Varieties: 100% Chardonnay
Located in the Grand Cru village of Oger, Domaine Vincey is a new domaine run by a young couple, Quentin and Marine Vincey. Quentin returned to his family domaine in 2014 and Marine joined in 2018, after working in communications and at several Champagne houses.
Quentin and Marine are ambitious but understand the scale that it takes to create an exceptional domaine in Champagne. As with many young domaines, the vineyards are the primary focus. Vincey farms 8 hectares in total, most of which are in the same village as the winery, Oger. There are a few parcels in Les Mesnil and Vertus, but the heart of the estate is in the old, selection massale parcels in Oger.
Vincey is certified organic and Demeter certified biodynamic as of 2023. When it was unclear if Quentin would be able to purchase the current location of the domaine in Oger, he bought a 17th century Chateau in Villeneuve-Renneville called the Chateau de Renneville, 9 minutes from Oger, just south-west of the village. The Chateau serves as a working farm, and many of the biodynamic preparations are made there. Renneville is also a place to meet and to exchange with other biodynamic producers; Quentin and Marine count the De Sousa family in Avize, a pioneering biodynamic estate, as friends and mentors.
In the cellar, grapes are pressed in a traditional 4,000-kilogram basket press, without sulfur. After pressing and a short sedimentation, the must flows by gravity into the cellar. The vaulted cellar, pictured on the label, is quite cold and deep underground. The wines are fermented naturally and raised in French oak barrels, both classic two-hundred-fifty-liter barrique and five-hundred-liter tonneau. In late spring, the wines are tasted often, a busy time in the cellar. "We are checking and seeing where the development is headed. Intervention is not the plan here but seeing how each cask will fit into a larger blend and the particular character of each wine is important." says Quentin. Some wines will go through malo, others don't. Some casks develop flor, a la Selosse and Chartogne. This biological aging is allowed to continue with the decision about how to make the blends for secondary fermentation in summer. At Vincey, the wines spend quite a long time on lees before remuage by hand and disgorgement.
Farming Practice:
Certified Organic