It promises to be a month of sleepless nights again for our friends in the vineyards of France.
Prior to 2016, severe frost occurred maybe one or two times in a decade, but over the last ten years or so the threat of frost has proven consistent— and this April 2021 is no different.
The Week of April 4th
The Week of April 11th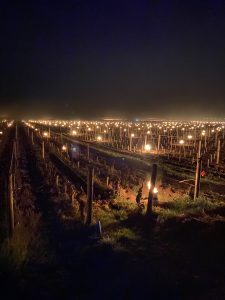 Everywhere in France there is fatigue and discouragement both over the frost of the last seven days and the potential for more damage for weeks to come. Global warming is real. These growers are adapting as fast as they can and throwing as many different ideas at this evolving challenge. For the moment this year looks a bit grim, and in France, where COVID confinement is ongoing and vaccines not nearly as plentiful as in the States, it's been an especially difficult twelve months.
Hearing all the struggles of the 'Black Frost' or Gelée Noir across France this last week has been painful. We're sending our warmest wishes to all the growers battling against this crippling period of cold; with any luck, there will be fewer negative days and more positive ones as the season progresses, but the threat will loom until mid-May for some areas.
In our communication with growers over the last two weeks, we tried to grab signs of hope in the face of this unprecedented frost threat across France's wine regions. Thankfully, vines can surprise us with unexpected recovery and find ways to put a little bit of fruit out despite the extremes mother nature throws at them.
As the quotes below from our vigneron friends show, there are signs of courage and extraordinary resilience during this spring onslaught of winter cold from mother nature:
Monday, April 12th 2021
From Thierry Pillot of Domaine Paul Pillot in Chassagne-Montrachet:
Very tough moment to take your temperature in the heart of disappointment. It seems to get more and more difficult every day. 2021, especially for whites, has been a spring that nobody has ever seen. My father and I just got through walking through the vineyards. We are so fortunate to have some of the greatest premier cru in Chassagne-Montrachet. Late yesterday afternoon there's almost 0 buds left, it's absolutely crazy. Everything burnt. 100%. I have a tiny concern about this being a two-year problem. And it's not just our village, we did a tour of Meursault and Puligny-Montrachet. It's a nightmare everywhere. It's funny the only hope is really in the lower-lying vineyards, which is usually where things are hit worst.
For the moment there's little we can do. I sent my team home for two weeks. The upper vineyards are rarely hit like they've been this year. It's been truly hard, and we really tried everything from the candles in the vineyards, and the use of fans, to different times of pruning. The best-case scenario is that we finish with a very small harvest.  Never had a frost like this three days in a row. It's not over yet.
From Vincent Dureuil in Rully:
Yesterday when I was walking through the vineyards, I saw nobody. Everybody is demoralized at the moment. I let my team go home and take a break. There's really not much to protect at the moment.
My father who is now in his 80s has never seen anything like this; he said he has rarely seen any issues on the slope higher up like what happened this year. It was almost like you didn't know what to try to protect. I asked my children to take careful note. Mother nature can be cruel.
From Fabienne Brunet in Le Puy-Notre-Dame:
Monday night there was an icy rain that really damaged our Cabernet Franc. The candles saved our Saumur Chenin for now. The battle is not over, we just bought a lot more candles and are hoping to continue to stave off disaster.
From PYCM in Chassagne-Montrachet:
The good news is I'm bottling some of my 2019s tomorrow and 2020 is also looking like a super vintage. 2021 is for sure discouraging and Caroline and I will have a much better idea of what's going to happen in the next three weeks or so. I went out with my son Mathis to try and get a look at the damage. It was ugly, so much was cooked, no matter what the type of pruning we did, and the efforts with fans and candles didn't help as the temperature got too low in the late-night snow.
A lot of damage in the premier crus and St. Aubin, it is brutal. Depending on the spot, we're looking at the best-case scenario of 5 hl/ha, up to maybe 25 hl/ha or so in certain spots – that is if things go perfectly for the rest of the growing season. Chassagne in the plains was better off than the premier cru and village spots up on the slope. From here it's going to be a very difficult spring trying to take care of the fragile buds that remain or second shoots that may arrive. Either way, it's going to be very complicated.
Tuesday, April 13th 2021
From Jacky Blot of Domaine de la Taille Aux Loups & Domaine de la Butte in Montlouis-sur-Loire & Bourgeuil:
The good news is that Domaine de La Butte Cabernet Franc has almost no damage, but it never has an issue with frost. For our Chenin, it looks like about 50-75% loss. In general, Montlouis-sur-Loire was hit much harder than Vouvray, and things are not over yet. I have a glass half-full outlook and am hoping for the best. Economically this is so discouraging for our friends across the Loire and beyond. We are battling and last night we won with our fans and candles saving the day. The team is exhausted.
From Joseph Colin in St. Aubin:
Since I started working the vineyards in 1992, I've never seen anything like this. My father (Marc Colin) was talking to friends (who all have many vintages between them) and they concluded that to see this kind of frost damage across the villages and different slopes (Meursault, CM, PM, SA etc) you have to go back to the 1921 vintage.
This severe weather was made so much worse by that snow around 11:30 last Tuesday (4/6) evening. There were so many nights last week with no sleep and we tried everything – nothing worked. There are places like en Remilly and Roche Dumay in Gamay that never frost and yet, this year virtually 100% is lost. Even if a few buds come back it's going to be very little production.
From Alix Millot of Domaine Jean-Marc Millot in Nuits St. Georges:
Last week it was the snow during the late night of Tuesday that hurt us most, between Comblachien and Vosne. We have been hit at about 70% in my CDN sites, especially my old vines Faulques which was very advanced. You can see that the buds that took snow were badly damaged.
My dad was saying the last time he remembers this type of damage was the spring of 1956. The danger for us will remain for weeks to come. This week it looks like we might be spared in the Cote de Nuits – fingers crossed.
From Geraldine Godot of Domaine de L'Arlot in Nuits St. Georges:
Significant losses already. Too early to give an exact reporting. Dangerous days still ahead.
From Francois Mikulski in Meursault:
Our village was hit very hard. Impossible to calculate…
From Rémi Jobard in Meursault:
I lost some 80% of my crop in 2016 and am fearful that this is going to be another year with losses maybe higher than in 2016.
From Marc Bachelet of Bachelet-Monnot in Dezizes-les-Maranges:
We are looking at such complete destruction as of today in many of our best vineyards and hoping for something positive. The premier crus in Meursault, Puligny-Montrachet, and our Batard look to be zero at this point. Easily one of the most devastating weeks ever for my family. We hope to have a small harvest and will recover, but this has been very hard to swallow.
From Laurent Fayolle in Crozes-Hermitage:
Our vines in the villages of Crozes-Hermitage and Gervans we're hit harder than anything I've ever seen. Maybe 60 to 70% of our white vineyards are lost for 2021 and 40% and of our red vineyards in this northern sector. For our top site, it looks even worse, maybe around 70% loss. I always hope for surprises and miracles, but the frost season is not over for us yet.
From Jerome Coursodon in Mauves:
Thursday night was extreme, we were hit with about 50% losses in the mid-slope of St. Jean du Muzols. Luckily so far in Mauves and Tournon, only 25 to 30% lost. We're worried about this upcoming week with the announcement of humid weather and potentially cold temperatures again.
From Cédric Ducoté of Domaine Rolet in Jura:
In the last five years we have had frost damage of a very serious nature three times. So far in 2021 we have lost at least 50% of our Savagnin and Trousseau. Our Chardonnay and Poulsard vines are much more severely impacted. Hard to be exact and more dangerous days to follow.