With the 93rd Edition of the Academy Awards airing this Sunday, Team Spirits takes a look at a few famous snubs from years past while awarding them our own brand of accolade— the perfect cocktail pairing.
---
This coming Sunday, the red carpet will once again unfurl for the 93rd Academy Awards. Cinephiles around the globe will tune in for an evening of Hollywood pageantry while gearing up for the inevitable post-show critique—a process that begins long before the envelopes are opened with the announcement of each category's nominees.
The Academy Awards ceremony is the world's oldest night of entertainment accolades—first broadcast by radio in 1930—and the system has always been imperfect, reflecting not only tastes and trends but also bias and prejudice. Sometimes, the voters get it right—like The Godfather winning Best Picture in 1973 or Jimmy Stewart winning Best Actor in 1940 for The Philadelphia Story—and sometimes they get it quite wrong—like Katherine Hepburn not winning best actress for The Philadelphia Story (!), or Hoop Dreams not even getting a nod for Best Documentary in 1993. Inevitably, a beautiful piece of movie magic is overlooked each year, either omitted from nomination altogether, or denied the final prize in a shocking play of fate.
The Academy Awards may be a myopic commentary on popular culture, fueled by the juggernaut of the press and the motivations of the one percent, but it's our myopic commentary on popular culture, and at least the evening continues to incense and inspire both critics and ticket-buyers alike, prompting us to ask meaningful questions about the role entertainment plays in our past and current culture and what we hope to see reflected of our own humanity on the silver screen in any given year.
Such a noble endeavor merits a drink. So, let's take a look at a few Spirits Team picks for past Academy Awards snubs and the winners for Best Cocktail Pairing.
*Spoiler alert: Rye Whiskey wins for Best Spirit in a Leading Role…
BROKEBACK MOUNTAIN
Krista Farrell, Spirits Sales Manager
Sometimes greatness is a measure of a thing in and of itself.
Perhaps the most modern example of a film which shines on its own and then even more magnificently when compared to its contemporaries, is Ang Lee's transcendent masterpiece, Brokeback Mountain. The evergreen "star-crossed lovers" storyline, unencumbered by the melodrama seen in many a British period-piece, makes for a subtle, slow burn of a romance set against the backdrop of the haunting Wyoming landscape. Annie Proulx's short story featuring the rugged outdoors, ranch hand culture, and a commentary on Western American ideas of masculinity lent itself to the seamless adaptation done by Larry McMurtry. Heath Ledger's seminal portrayal of a ranch hand turned sheepherder caught between two worlds was not only towering, but it also revealed the true range of his acting potential.
Zeitgeist is as zeitgeist does, and the year 2006 was no exception. Recall the big budget, after-school special known as Crash. The mid-aughts "all-star" cast (hello Sandra Bullock, Don Cheadle, Matt Dillon, and Ryan Phillipe) engaged in a plotline contrived at best, that was intended to provoke conversations about racism and bias. It certainly got SAG's attention. Crash's troupe seemed as surprised as their onlookers when the Best Picture verdict was announced in its favor.
Enough about that movie. Let's pour one out for Larry McMurtry and Heath Ledger and toast with a cocktail that deftly celebrates Americana. A rye whiskey and apple brandy base taps into our agricultural roots and sets the stage for more exotic counterparts. Alpe Genepy's energizing hit of wormwood, mint, and cinnamon whisk our senses to cool mountain tops and clear streams. This is a brawny, stirred delight with hints of orchard fruit playing against rye's sturdy backbone and vermouth's restrained bitterness; a cocktail that you won't know how to quit.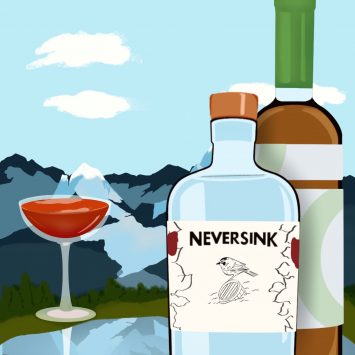 Jack F*cking Twist
Combine all ingredients in a mixing glass; add ice and stir well. Strain into a chilled cocktail coupe and garnish with an orange peel.
JIM CARREY // MAN ON THE MOON
Jake Cahill, Spirits Specialist
Ahhh 1999. This year was PACKED with amazing films and unforgettable performances. Perhaps everyone really thought Y2K was going to be a thing and just said, "Let's do our most amazing work now before the interwebs explode on New Year's Eve!"
Even with incredible performances from dramatic powerhouses like Denzel Washington and Russell Crowe, I—like many—thought that these leading men would undoubtedly be joined by the Juggernaut of Jest himself…Mister Jim Carrey.
Fresh off of his dazzling and heart-warming win at the Golden Globes for his 1998 role in "The Truman Show", surely there was no way that the Academy would overlook this man's unfathomably wonderous portrayal of controversial comedian, Andy Kaufman, in Man on the Moon. He was a shoe-in for a nomination.
But comedians don't win Oscars, right? Oh, nay nay, my friends, the Academy would have to be blind to not recognize such an impactful performance, no matter what name was attached to it…
Wrongo! Alas, when the nominees were announced, Carrey's name wasn't on the list.
Now, I want to get one thing straight here. I am not saying that Jim Carrey should have won. But to not even be nominated for such a dazzling, dedicated, and eerily layered performance is nothing short of a travesty.
What kind of performance is deserving of a nomination?
This is a man that has been making us laugh for almost a decade at this point. And then he blindsided everyone by showing us his depth and range. This wasn't just him doing an Andy Kaufman impression for 2 hours. I, like many, had never even heard of Andy Kaufman before seeing this film. So, I sat back and watched "Man on the Moon", as Jim Carrey hit every emotion and key within the dramatic scale, and thought to myself…This is the same guy that bent over and talked out of his butt in Ace Ventura… If that isn't range and a true testament to versatility, then I don't know what is. I would love to see Denzel or Russell try to pull off such acting acrobatics. Jim Carrey's performance transformation should have been recognized by the folks that are supposed to recognize these things.
Clearly the Academy cannot be trusted. Thus, I would like to thank the Golden Globes for recognizing Jim Carrey's efforts and growth 2 years in a row.
To Quote Jim and Andy and Foreign Man…
"Thank you very much."
Any man training to be the self-proclaimed "Women's Wrestling Champion of The World" knows the importance a high-protein diet, even when enjoying a cocktail after a long day of hitting the mats. Much like Jim Carrey's performance in "Man on the Moon", The Rattlesnake is a cocktail that is too often overlooked when discussing the classics. Originally printed in 1930 in The Savoy Cocktail Book, this drink takes some very intense ingredients and turns them into a balanced and beautifully nuanced cocktail.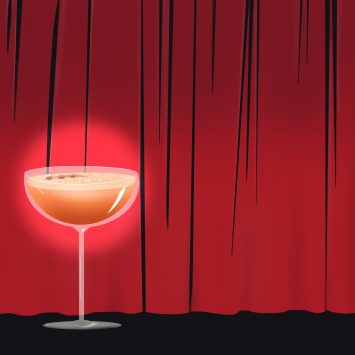 Rattlesnake
Combine all ingredients except absinthe in a mixing tin; shake without ice to emulsify the egg white. Coat a chilled coupe with the absinthe; coat the glass as evenly as possible and then discard the excess liquid. Add ice to the mixing tin and shake vigorously; double-strain into the coupe.
Garnish with a couple of drops of Angostura Bitters; use a toothpick to swirl the bitters into shapes or designs.
ALFRED HITCHCOCK
Adam Schuman, Spirits Portfolio Manager
And the Oscar goes to…
Wait. What's that? The Oscar doesn't go to Alfred Hitchcock? And the Oscar has never gone to Alfred Hitchcock? Am I a Psycho or are the tastes and opinions of the Academy for The Birds?
What more fitting way to recognize the late, great, Maestro of Murder than by crafting an Alfred-inspired cooler to kill the pain and suffocating heat of the summer soon to come?
Greenwich Village sets the scene for Hitchcock's 1954 thriller, Rear Window. "Here lie the broken bones" of L. B. Jefferies", professional photographer, confined to wheelchair as he nurses his broken appendage amidst an all-too-familiar Manhattan heatwave. Sweat beads down his forehead as a frenzy of activity unfolds in the hustle and bustle of the downtown courtyard just below.
The neighborhood silence is broken by a woman's scream and the sound of broken glass. Just another evening in Maaaan-hattan. Our tastefully voyeuristic protagonist nods off, only to be awoken by clap of thunder. Who's that? Why, its neighbor Lars Thorwald with a mysterious metal suitcase. Time check… 2:00am. Oh there is Mr. Thorwald returning, and leaving once more with that same metal suitcase. Curious? And there he is yet again cleaning a knife and handsaw. And where is his lovely wife? Spoiler alert, she's in the box. Actually, she's in the trunk. We all know there's a head in "the box!"
You know what our adventurous PI needs to beat the heat and take his mind off the increasingly obvious fact that his neighbor is a killer? The Cobblestone Cooler is just the thing. A boozier, bolder take on a paloma, here we find Belle of Bedford 104 Proof Rye, combined with fruit of the grove (Giffard Pamplemousse and Triple Sec), fresh lime juice, and a healthy dose of tonic. Refreshingly bitter with a killer backbone, the Cobblestone Cooler is just what our hero needs to murder that thirst and help crack the case.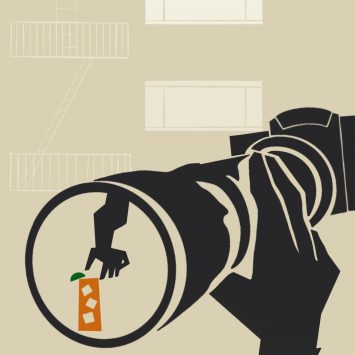 Cobblestone Cooler 
Fill a highball with ice and tonic. In a mixing tin, combine Rye, Pamplemousse, Triple Sec and lime. Add ice and shake gently to incorporate. Strain into highball. Garnish with a lime wedge