Skurnik Wines was founded in 1987 with six small California wineries – a couple of which are still with us decades later – and our American portfolio has only gotten stronger over the years. As we were nearing the end of our California trip this July, our group of Portfolio Managers and Sales Representatives had some time to reflect on the incredible producers that we had visited during the week. Steve Kistler, David Ramey, Randall Grahm, Lee Martinelli Sr., Tim Mondavi, Cathy Corison, among others – are not just great winemakers and farmers, but true pioneers of the California wine business. It was in that moment that the rightful name for our trip came to light: "The Legends Tour 2019".
---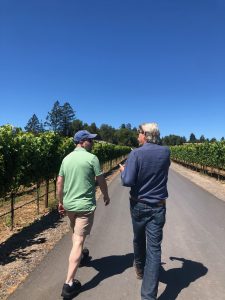 Steve Kistler – Occidental Wines
It has been long known that Steve Kistler, the superstar winemaker and longtime proprietor of Kistler Vineyards, is not a man who yearns for the public eye. For his entire career, he has been solely focused on winemaking – taking no part in sales or marketing. Reserved and some even say reclusive, he has never revealed much about his personal life nor participated in interviews or events. When the Skurnik team arrived at Occidental Vineyards and was greeted by Steve himself, our visit became nothing short of extraordinary.
Steve has been driven from the start to find the best possible vineyards and microclimates for Pinot Noir in California. Occidental, on the far reaches of the western Sonoma Coast, is where he finally decided to put his roots in the ground after 35 years of working with vineyards throughout Northern California. Occidental Vineyards surround a southwest-facing ridge overlooking the Pacific Ocean and are among the coldest and latest ripening sites in all of western Sonoma.
S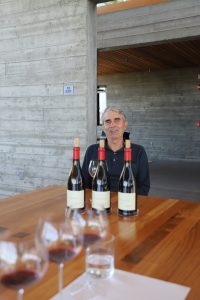 oft-spoken but with an air of confidence, Steve walked us through the vineyards and his new state-of-the-art facility. The joy that emanated from him as he showed us around was palpable. The winery and barrel room were pristine, as befits a man who is so precise and in tune with his approach to winemaking. We were led to a tasting room with breathtaking views of the rolling hills that surrounded us. We tasted each of the new Occidental Pinot Noir releases, all of which are a beautiful expression of the stark terroir of the western Sonoma Coast.
When we asked how Steve felt about focusing all his attention on one location and one grape variety versus the many of his past life, Steve smiled and said he wished he had done it sooner. He is incredibly excited about what he has built at Occidental, not only for himself, but for his daughters Catherine and Elizabeth, who are now both fully involved in the project. He is even planning to visit the East Coast for a seminar in 2020. Perhaps with the coming of age of Occidental Vineyards, the best is yet to come!
---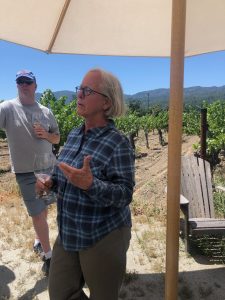 Cathy Corison – Corison Winery
As the very first Napa Valley Cabernet Sauvignon producer in our portfolio, Cathy Corison is a true pioneer of the wine industry in more ways than one. When Cathy moved to Napa in 1975 and started looking for work, the world of winemaking was still very much a man's world, and there were very few women in wine cellars at the time. Cathy obviously overcame those prejudices and her wine has been an unwavering testament to the power of restraint, elegance, and purity for more than thirty years now. She is extremely humble about her accomplishments as a woman in a profession historically dominated by men, and, for us, was at the forefront of the California Legends Tour.
We were lucky enough to visit with Cathy at her winery in St. Helena, located on Kronos Vineyard. Purchased in 1995 and planted on St. George rootstock almost fifty years ago, Kronos was one of the few old Cabernet Sauvignon vineyards to have survived the scourge of phylloxera that devastated Napa Valley in the 1990s and resulted in massive replanting. Cathy considers it a gift to be able to work with these old vines, farmed sustainably from the beginning, as they produce concentrated, complex, and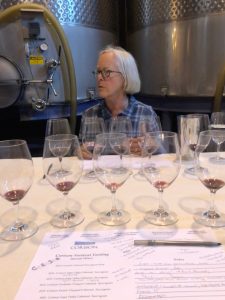 structured wines with moderate alcohol content. She pointed diagonally across her backyard to show us Sunbasket Vineyard in the distance, where she has sourced grapes from for over twenty-five years. 
After warming up in the Napa heat, Cathy led us into the cool fermentation room where she had set up several vintages of Cabernet for us to taste. She encouraged us to taste each of the wines in silence before discussing as a group. While one would assume Cathy's immediate familiarity with all of her wines, she was astonishingly introspective about each sip, as if she were tasting each vintage for the very first time.
Cathy's ability to remain true to herself for decades before gaining the recognition she deserved is truly inspiring. In the 1980s, she became a proponent of Cabernet that was powerful but balanced, elegant, and food-friendly–  and for many years the mainstream wine culture did not agree with her approach. Corison wines speak of time and place and are an essential expression of the Napa Valley as we know it today.
---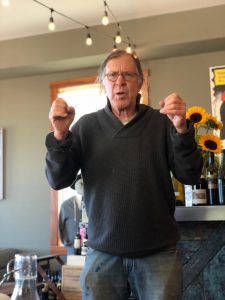 Randall Grahm – Bonny Doon Vineyard
Randall Grahm, the original "Rhône Ranger", is undoubtedly a legend in the world of California wine. After tasting and falling in love with first-growth Bordeaux and Burgundy at a young age, the ever-inquisitive Randall set out for a lifetime of experimentation in winemaking. In the early 1980s, after his (self-admitted) failed attempt to produce the Great American Pinot Noir, he had an epiphany that the warm Mediterranean climate of California was much better suited for Rhône varieties such as Grenache, Syrah, and Mourvèdre. While not an unusual concept today, he was a pioneer at the time, and so much so that a young Randall landed on a Wine Spectator cover in 1989!
While Bonny Doon has enjoyed much success over the last few decades, Randall's thirst for knowledge and experimentation never subsided. He has reinvented himself many times over the years and has become known for championing "ugly duckling grapes" – as well as exploring contrarian winemaking philosophies. His latest project – or obsession – is known as Popelouchum, an experimental vineyard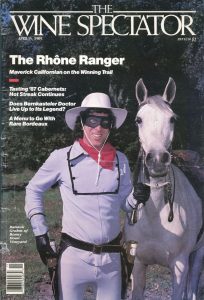 where he is breeding 10,000 new grape varieties in  hopes to create a wine that reflects solely its unique terroir without any direct impact from the grape variety.
Our bus would have driven right through the town of Davenport (population: 408) in a matter of seconds if we hadn't known to pull over on Highway 1 at the charming Bonny Doon tasting room. Here, we visited with Randall and tasted through dozens of wines, including the impressive new Le Cigare Volant 'Cuvee Oumuamua' which for the first time contains a substantial amount of Cinsault, and no Mourvèdre. Of course, we tasted some of his unique bottlings as well, such as Vin Gris Reserve "en bonnebonne" – aged in five-gallon glass demijohns sur lie and bottled without filtration. It's clear that Randall will continue to push the boundaries of winemaking for as long as he can, and we're excited to be along for the ride!
---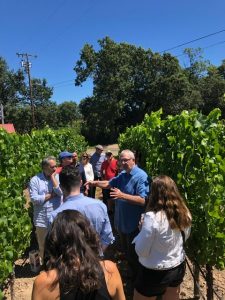 David Ramey – Ramey Wine Cellars
Visiting David Ramey in his natural habitat is always an illuminating experience, and our visit to Ramey Wine Cellars this July was no different. David is a true force of the wine industry – his tall stature and booming voice demands as much attention as the intellectual discussion that inevitably follows.
A tour of the Ramey cellar included a bȃtonnage demonstration led by cellarmaster, Cameron Frey. Cameron and David demonstrated the process of stirring the lees, a tried and true method to extract the rich flavor and texture that are hallmarks of Ramey Chardonnay. A couple of demonstration barrels had translucent, back-lit glass heads, allowing our team to witness the process up close.
After tasting a full line-up of Ramey's current releases, David hopped on our bus and took us to his new property on Westside Road in the heart of the Russian River Valley and explained his future vision for the site. He purchased this 75-acre property in 2012 which contains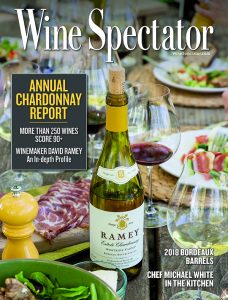 his first-ever estate vineyard, with 42 acres under vine, as well as a stretch of land on which he will build his estate winery. He then took us to Woolsey Road Vineyard, owned by the Martinelli Family and planted to his specifications in 2007. 
Our "Legends Tour" would not have been complete without a visit to David Ramey, whom Wine Spectator called the "Professor of Chardonnay" in a cover story just last month. David is a true pioneer who has had a profound impact on California winemaking since the start of his career in 1980. He pursued classic Burgundian winemaking techniques learned through thorough research and experience– and pushed the boundaries to set a new standard for great California Chardonnay. He also produces several quintessential reds, including Cabernet Sauvignon, Syrah, Pinot Noir, and Claret. The future of Ramey is bright with both of his children – Alan and Claire – following in their father's footsteps and soaking up as much knowledge as they can.
---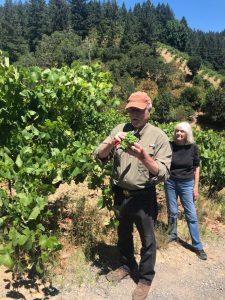 Lee Martinelli Sr. – Martinelli Winery
After finishing up with Ramey at Woolsey Road, we were scooped up by the Martinelli team. Upon arrival, we were greeted by multiple generations of the Martinelli family which felt fitting given the rich history of the historic site. Lee Martinelli Sr., the patriarch of the family, walked us through the vineyards, weaving through Old Vine "California Sprawl" Zinfandel, Pinot Noir and Chardonnay. At 80-years-old, Lee's energy and youthfulness was remarkable. After equipping our team with some refreshing beer and rosé, he told us to get ready to climb – and climb we did!
As Lee approached Jackass Hill, he explained the legacy of this precariously steep slope. Only three men have farmed it: his grandfather Giuseppe, his father Leno, and himself. Despite popular belief, the name for this rugged section of the property does not have anything to do with donkeys, but rather it was named because "only a jackass would farm a hill that steep"! Jackass Hill is the steepest non-terraced hillside vineyard in Sonoma County, with its 60 percent slope (for reference, black diamond ski slopes start at 40 percent). Lee farms the site the same way his grandfather had one hundred years before – without irrigation, pesticides, or trellising.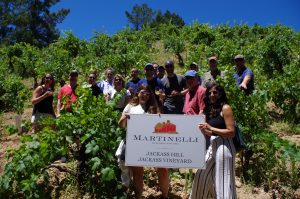 The Martinelli family has been growing grapes in the Russian River Valley since 1887, when Giuseppe Martinelli and Luisa Vellutini left their small village in Tuscany in search of California land to call their own. Over 100 years later, the Martinelli family owns nineteen vineyards, with a total of 450 planted acres throughout Sonoma County. Lee Sr. along with his two sons, Lee Jr. and George, oversee the management of the family's vineyards, while his daughters Regina and Julianna are involved with operations and events.
---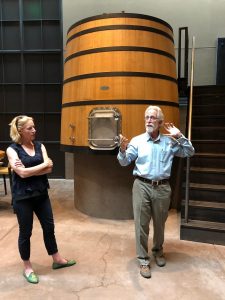 Tim Mondavi – Continuum Estate
It's impossible to talk about the history of winemaking in America without mentioning the Mondavi name. The family has been involved in California wine since Tim Mondavi's grandfather, Cesare, started selling grapes to fellow Italian immigrants in 1922. Cesare's oldest son, Robert, would eventually follow in his father's footsteps and start his world-famous eponymous winery in 1966. It was at Robert Mondavi Winery that Tim had his first full-time wine job, and where he toiled for 30 years, always with a strong emphasis on viticultural research programs, new developments in rootstocks, clones, and vine density, helping to make the winery the industry leader it was for so many years.
In 2005, after the legal dispute that separated the Mondavi family from their namesake winery, Tim launched a new project with his sister Marcia and their families, and Continuum Estate was born. Tim is the winegrower and visionary behind Continuum, which honors and celebrates the continuation of four generations of Mondavi bringing wine to the American table. He searched high and low for the ideal terroir – and found it situated high on Pritchard Hill on the east side of Napa Valley. The vineyard has a westerly aspect, with low vigor red, rocky, volcanic soils, where Cabernet Sauvignon, Cabernet Franc, Petit Verdot, and Merlot thrive from 1,300 to 1,600 feet in elevation.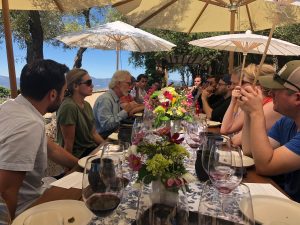 Upon our team's arrival at the estate, we were greeted by Tim and his team, along with four of his five children, Carissa, Carlo, Chiara and Dante, who, in addition to their own wine projects, are fully engaged in the Continuum family winery. The level of hospitality at Continuum is unrivaled, and the amount of care that goes into producing just one wine reminds us of a First Growth Bordeaux. After touring the 41-acre property by vehicle and walking through the pristine winery, we were able to taste a few different vintages including the upcoming 2016 release, which is as complex and layered as to be expected from this special site.
---
It is impossible not to be excited about Skurnik Wines' American portfolio when thinking about all the incredible and groundbreaking producers we have at our fingertips. Looking forward to the next thirty years, we plan to continue supporting those who are pushing the envelope in American winemaking.