Pictured above is a shot from the Skurnik Wines West summer trip to France, which took place in July 2019.
Expressing terroir is not easy, but producers like Roulot really excel in bringing out the individual character of the village terroirs – showing how different they are – and what they can offer in terms of enjoyment and pairing with food. To find a 21-year-old vigneron with the same ambitions – and the talent to match – is rare indeed.
Steen Öhman, Winehog
---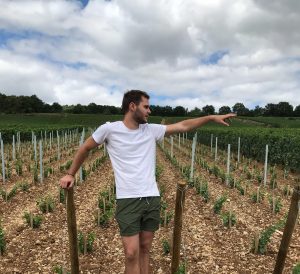 Youthful brilliance, historical roots in Burgundy, and a masterful blending of talent and terroir have produced a debut vintage like few others we can remember. One might ask what they were doing when they were 20-21 years old? Pierre-Vincent Girardin can say he made a range of 18 wines from Bourgogne level all the way up to storied Grand Crus such as Corton and Montrachet – and at a quality level that has already put him in the conversation with more experienced and famous growers.
Pierre Girardin is the 13th generation of his family to make wine in Burgundy. This brilliant yet youthful winegrower grew up learning in the vines and cellar of his father, Vincent Girardin. As a teen, Pierre was often found on a tractor or near barrels with his dad. He recalls being in awe of the rituals of winemaking and the feel of dirt in his hands. From a very young age he had a front row seat – watching, playing among the vines, tasting, and taking in discussions with journalists and Burgundy lovers. When his father sold his name and winery in 2011 and fully retired – he had already stepped away from the day-to-day winemaking in 2008 – it did not take long for Pierre to decide he wanted to continue the family legacy as a vigneron.
Ultimately, in 2016 they started to prepare for the transition and Pierre went to "school" with his dad, beginning to work the family vines and hone his own winemaking ideas and philosophy. Pierre describes this period of study and reflection fondly as multiple years where father and son shared ideas and carved a new path. The elder Girardin acknowledges openly that he learned more during this process than in his many years guiding his own label. Pierre's style is decidedly his own and much closer to the crunchy whites and delicately aromatic and textured reds of Burgundy's leading lights. It also becomes crystal clear that Pierre is a vineyard junkie, searching out the most interesting and often overlooked parcels in the Côte de Beaune. His focus is primarily on the villages of Meursault, Volnay and Pommard. However, that has not stopped him from finding a rare bit of Montrachet, Bâtard-Montrachet, Chevalier-Montrachet, Corton and Corton-Charlemagne among other jewels to add depth to his lineup. Having a father who knows every nook and cranny of Burgundy certainly doesn't hurt Pierre in his ability to find beautiful vines in all the right places to supplement the family vines via intelligent partnerships with farmers holding unique terroir.
Along with a unique approach, this precocious grower has an equally young and dynamic team helping him in the vines, in addition to his parents who are always there when he needs advice. This support system allows him to realize his ultimate passion which is making micro cuvées of organically farmed fruit from individual lieux-dits. It is this love of land, passed down to him from his father, that led him to include detailed site designations on his labels. His Burgundies are decidedly focused on individual parcels.
Pierre's viticulture is organic, moving toward full certification. He follows the lunar calendar for every action and uses next-level pure compost from the family farm. The same farming philosophy he uses is true of his growers from whom he purchases fruit to supplement the domaine-sourced juice. The purchased grapes come from farmers with mature vines that follow organic viticulture that Pierre is involved with throughout the year.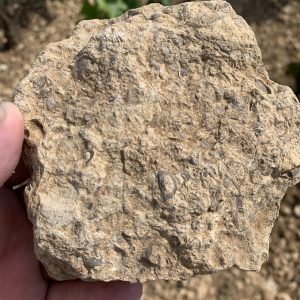 The vinification is rather simple and is based on his studies with his father and ideas borrowed from today's Burgundian stars. In general, it involves little intervention, getting perfect grapes, and nailing the harvest date. A cold and organized cellar ensures the purity of the juice, along with fine lees that he ages slowly in specially designed 456-liter barrels for the whites. These larger and fine-grained barrels from François Frères and Seguin-Moreau help preserve freshness and limit the impact of wood. The whites retain a perfectly minimal level of reduction that does not interfere with each terroir and leaves the wines elegant and gorgeously balanced. Little sulphur is used in the entire process.
The reds utilize traditional 225-liter barrels and are remarkably pure and restrained for such a young grower. The complete absence of any excess or overly tannic nature is a testament to the delicacy Pierre-Vincent has taken to heart as his stylistic approach in the cellar – infusion or watering of the berries to limit any harsh extraction, no pigéage, and beautifully balanced fruit from limestone-dominant  terroirs plays perfectly with the elegantly classic style of Pinot Noir he desires. The wines see minimal doses of sulphur and are exclusively bottled without fining or filtration, according to the moon.
The rare combination of youthful talent, suppression of the human ego in deference to terroir, and minimal intervention is a joy to witness in the inaugural releases from Domaine Pierre Girardin. The subtleties of fine Pinot Noir and Chardonnay in a package of elegance and purity is on full display in these gorgeous 2017s. The future here is extraordinarily bright.
• • • • •
We're excited to share a few videos of this new producer,
both at our headquarters in New York and in the vineyards of Burgundy!
We had the opportunity to sit down with Pierre-Vincent Girardin while he was in town with Thierry Pillot of Domaine Paul Pillot, Olivier Klein of Domaine Réméjeanne, and Eric de Saint Victor of Château de Pibarnon, for a special Big Fish tasting that took place in May 2019.
---
The video below is from our visit with Pierre in July 2019, and highlights a unique village-level inner parcel of this famous Premier Cru. He discusses his method of organically farming this special parcel of old vine Chardonnay.
---
In this video, Pierre talks about a new parcel of old vines: Bâtard Montrachet Grand Cru…