In the early morning of Monday April 4th, many growers across France were out in force, fighting negative temperatures to prevent another devastating Spring frost. Luckily for many, the worst was avoided in this first bout with mother nature.
We checked in with a few of our French friends to see how their preventive measures have been working against this new normal.
---
It was a little over two weeks ago that I was crisscrossing France in the bright sun, talking with growers who said the Spring frost danger was minimal this year. The growing season was not progressing too quickly and there was "some" optimism that we would not have a repeat of the tremendous frost damage of 2021 that so many farmers suffered from. But seeing the temperatures from early the morning of April 4th in France, and the potential for more dangerous temperatures over the coming weeks (historically the most dangerous period for devastating frosts in France), we are surely in for another challenging April.
However, with the recent trauma of spring frost fully digested, I saw one dramatic difference at almost every visit — from Anjou, to Chablis, to the Côte de Beaune — growers were putting in significant preparations to protect their precious vines from future freezes! It is clear that growers have come to expect the same kinds of dramatic weather shifts that we documented last year and are designing ways to combat this cruel spring ritual of mother nature.
The methods may vary across France, but one thing is clear: this is not going to be a situation where anyone is going to be unprepared and searching for trucks of hay-bales to burn in hopes of warming vineyards.
So, what are these multifaceted preparations our friends have been embracing and considering?
One of the key tools for many over the last few years has been large numbers of candles, or bougies in French (see right). This simple process of placing flaming pots in the vineyards to raise the ambient temperature has been very effective in saving some precious plots the last few vintages. A significant number of growers have invested heavily in this simple, but laborious method of protection.
One of the latest technologies that producers like Domaine Pinson in Chablis and Thibaud Boudignon in Savenierres have employed is a system of heating cables that run the length of the wires that hold up the vines (pictured at the bottom in Pinson's Mont de Milieu vineyard). Last year this saved many of Thibaud Boudignon's finest clos' from the devastating frost, and last night it worked tremendously for Charlène Pinson. I saw this system being installed in vineyards from Bouzy all the way down to the Côte Beaune and the Loire valley. This is surely an expensive option, even with government support, but may be the most effective. I expect it to become a fixture in some of the most precious and at-risk sites across France.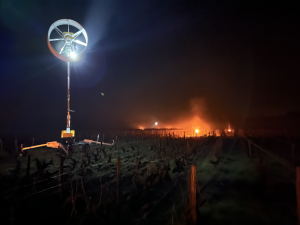 Portable fans are another tool, some quite large (see left), that can be rolled into sites most in danger where they move the airflow to keep the cold air from settling low near the delicate new buds. There are lots of domaines that have purchased many of these, while others have invested in large, fixed fans for parcels that are in constant danger every year. These larger fans can do a more consistent and complete job for some of the most susceptible vines.
One last practical approach to dealing with frost danger is late pruning. This method is something that many growers employed leading up to April 2022. However, many lamented that it's logistically impossible for medium to small size domaines to prune every single plot later than normal. As it turns out, about two weeks ago things warmed up and despite some of the efforts of growers to discourage buds from opening up too early, some did. This recent mild weather left some more open and more vulnerable to last night's severe cold.
What follows is comments from some of our growers that will attempt to chronicle their efforts in protecting their vines for the 2022 harvest, with a deep dive into the installation of heating cables at Domaine Pinson. Fortunately, all of the preventive measures have likely helped spare most of the potential 2022 harvest in France so far. However, nothing is certain as growers monitor their most fragile plots… stay tuned.
NOTES FROM THE WINEMAKERS:
From JP & Jacky Blot of Domaine de la Taille aux Loups & Domaine de la Butte in Montlouis-sur-Loire & Bourgeuil:
It was the second cold night in a row, with this April 4
th
 being the
coldest in France since 1947
. We used all our tools to fight this severe cold; hundreds of candles, especially on the Clos de la Bretonniere, strategically placed fires from the burning of the vine cuttings, fourteen portable wind turbines, and the latest is rockets (see photos) that are arranged around the wind turbines that provide heat up to 1000 degrees!  It is a very effective method that many of us are looking at to increase the effectiveness of the fans. The fans are about eight meters high and tilted a bit to the ground (60-70 degrees). They find air at ten-twelve meters high and push it down toward the ground to temper the cold air by the vines. In the best cases we see one-two degree change in warmth that can bring the vines out of freezing danger). Helicopters provide a similar function.
We had a dozen people helping us last night. Too tough to know the effects of this severe cold or to estimate the overall damage, but the protected areas did not fall into too cold of a temperature. On the other hand, in unprotected parts of the appellation, the buds were surely frozen. We will know the reality in a few days or more. The good news is the weather looks ok for the next eight-ten days.
From Jean De Bonnaventure of Château de Coulaine in Chinon:
Last night it got down to -3°C to -4°C and we were lucky that we don't have too many buds that are far advanced. The only place it looks like we have serious damage is in Les Picasses where the vines were further along.
From Charlene Pinson of Domaine Pinson in Chablis:
It was -6°C in Les Clos and Mont de Milieu. The candles helped protect Les Clos and the heating cables we recently installed worked perfectly in Mont de Milieu. Overall we didn't have much, if any, damage to the young buds that were beginning to show themselves. It looks like we will thankfully be getting a break from the cold before the next scare.
From Joseph Colin in Saint-Aubin:
Last night was an incredibly cold one, going down to -5°C. We lit about 400 candles in our most delicate parcels. For us the most precocious sites and the ones most in dander are Chassagne-Montrachet 1er Cru 'En Cailleret', Saint-Aubin 1er Cru 'En Remilly', Saint-Aubin 1er Cru 'Sous Roche Dumay'.
From Vanessa Cherrau of Château de Plaisance in Chaume:
The use of candles last year made was no fun and really made rethink everything.  For now I am listening and have decided to study the issue further.  Our complicated slopes and expositions make it very hard to use fans or some of the things other growers are using effectively. It's been very cold, getting down to negative temperatures the last few days. There's no question that my very young vines have been stressed already in 2022.   My most proactive approach over the last year is to focus on the method and timing of pruning to try to slow the advance of the buds. For the moment and with fingers tightly crossed I am happy with the results so far. We will continue our search for protecting the vines moving forward.
From Marc Bachelet of Bachelet-Monnot in Maranges:
We lit candles in Batard-Montrachet, Les Folatieres and a plot of PULIGNY villages. We also delayed our pruning to the maximum possible and for now there is not too much damage. The problem is we still have a month or so to go…
From Caroline Gon & Frantz Chagnoleau of Domaine Frantz Chagnoleau in Saint-Véran:
We set up to use candles in some of our most sensitive spots. Fortunately, at this stage, most of our vines are not too far advanced, with fewer buds than last year.  Last night turned out less serious for us than we first feared and looks like little to no damage as of now!  our fingers are crossed for the rest of the month plus.
---
Scroll through the images for a closer look at how Domaine Pinson installed their heating cables earlier this year.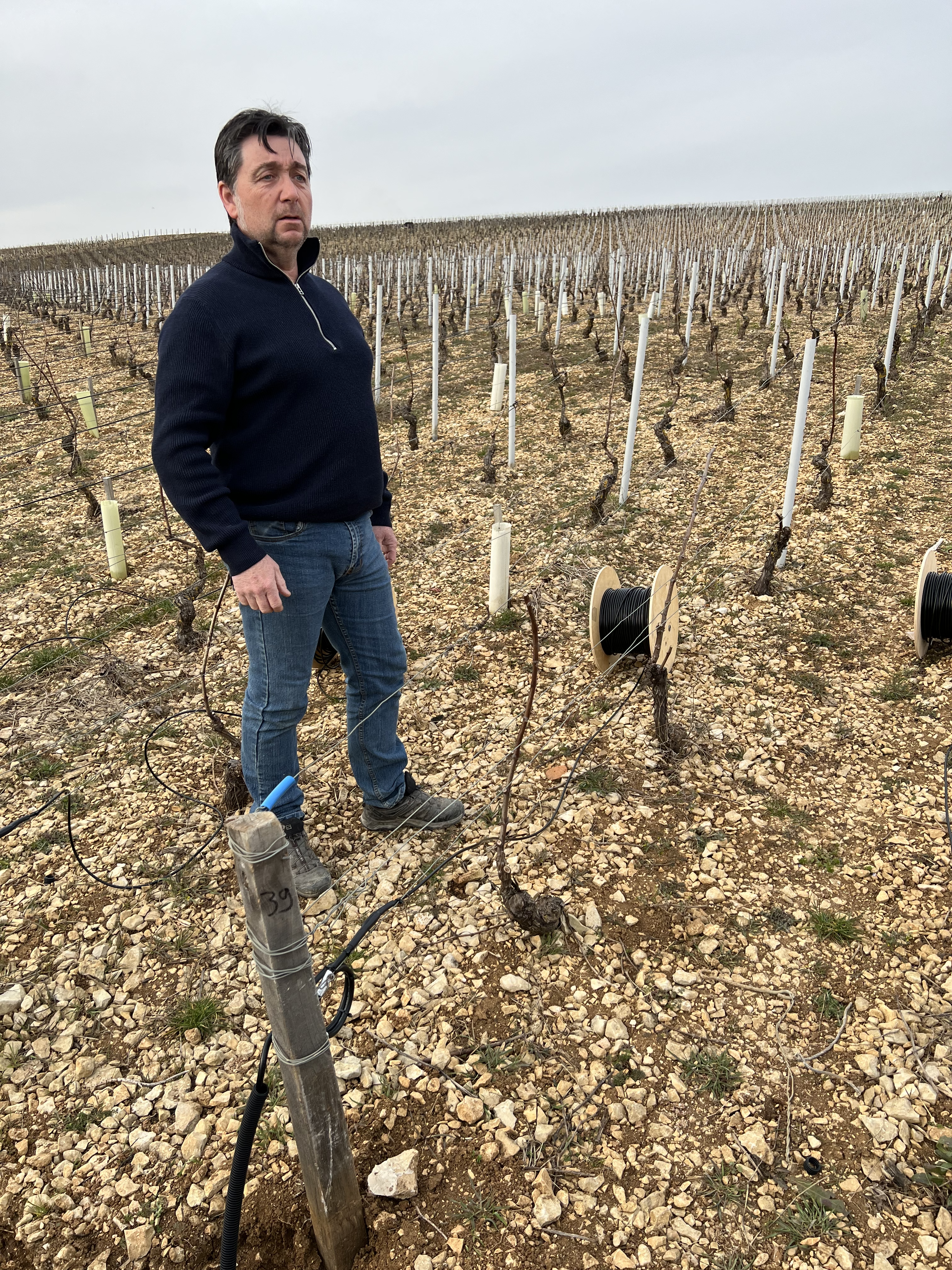 Laurent Pinson stands among the Premier Cru.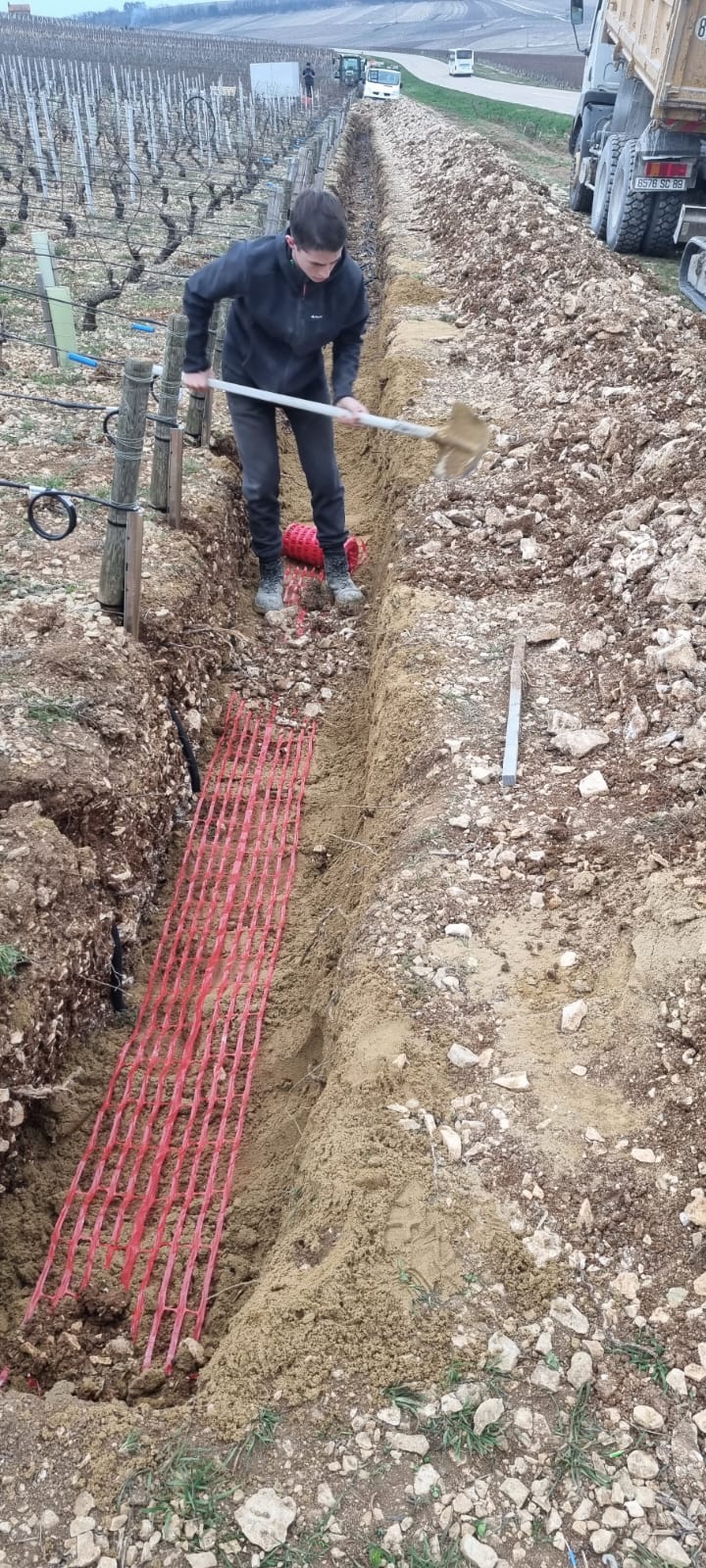 A trench is dug for the heating cables, exposing the soils terroir in the process.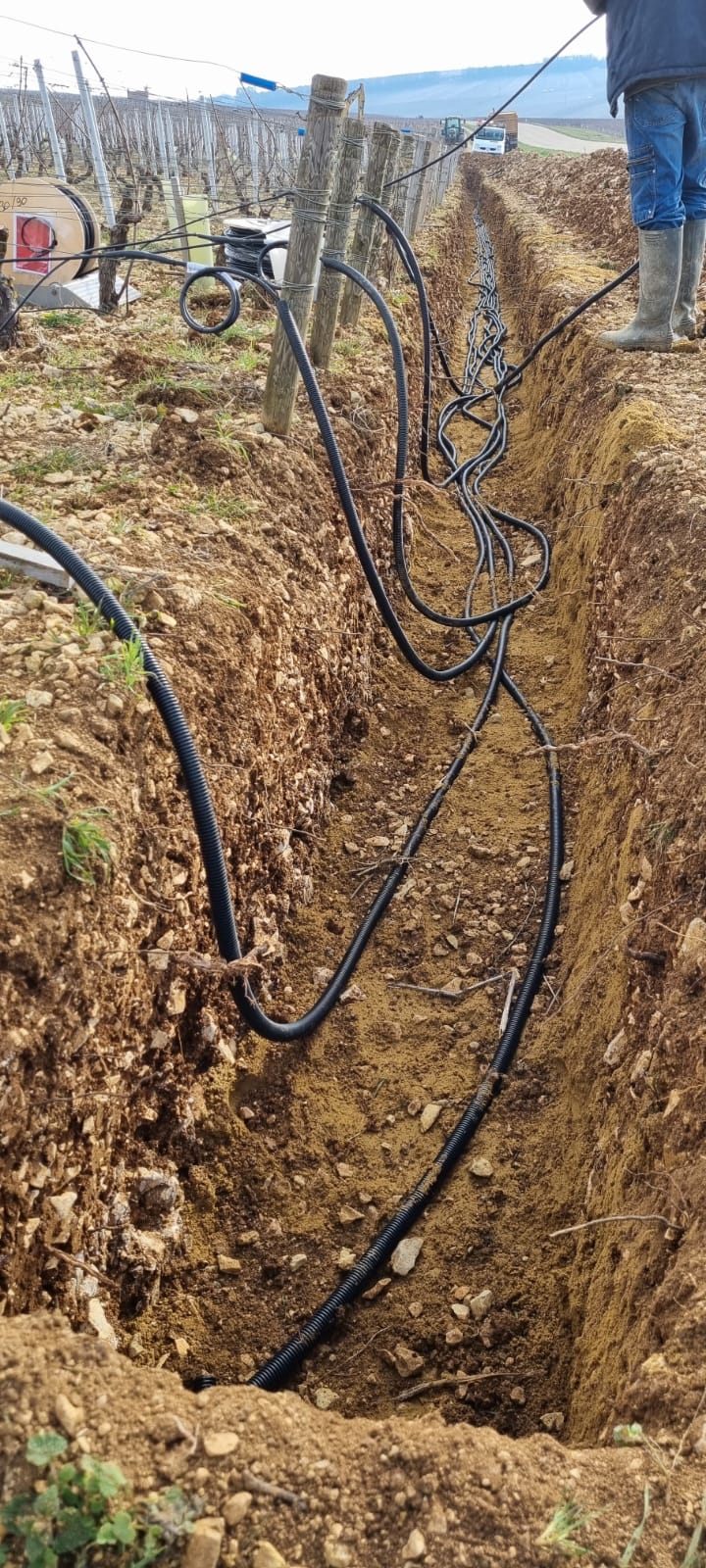 Cables are laid in the trench running down the vineyard.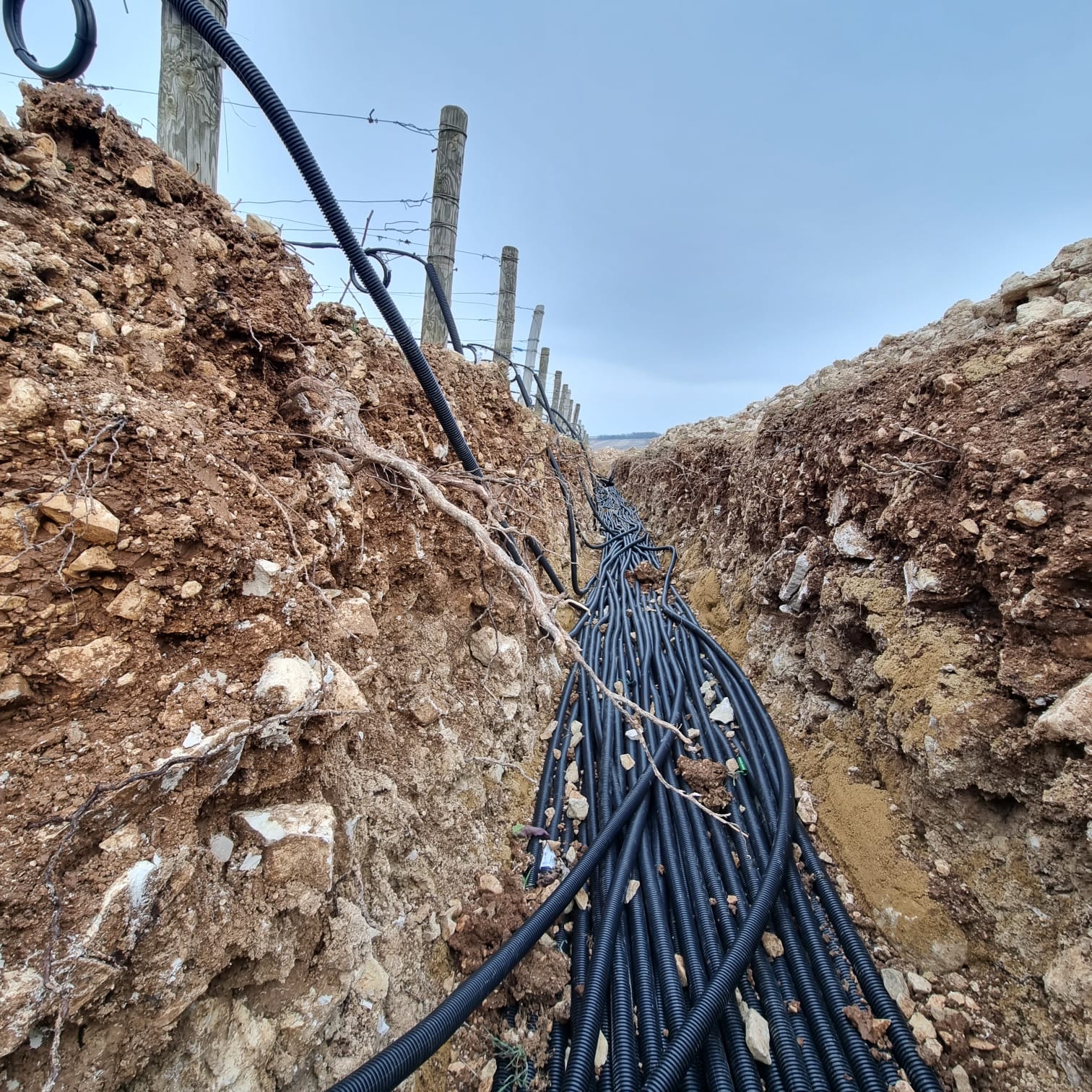 Cables snake in out of the trench at each row of vines.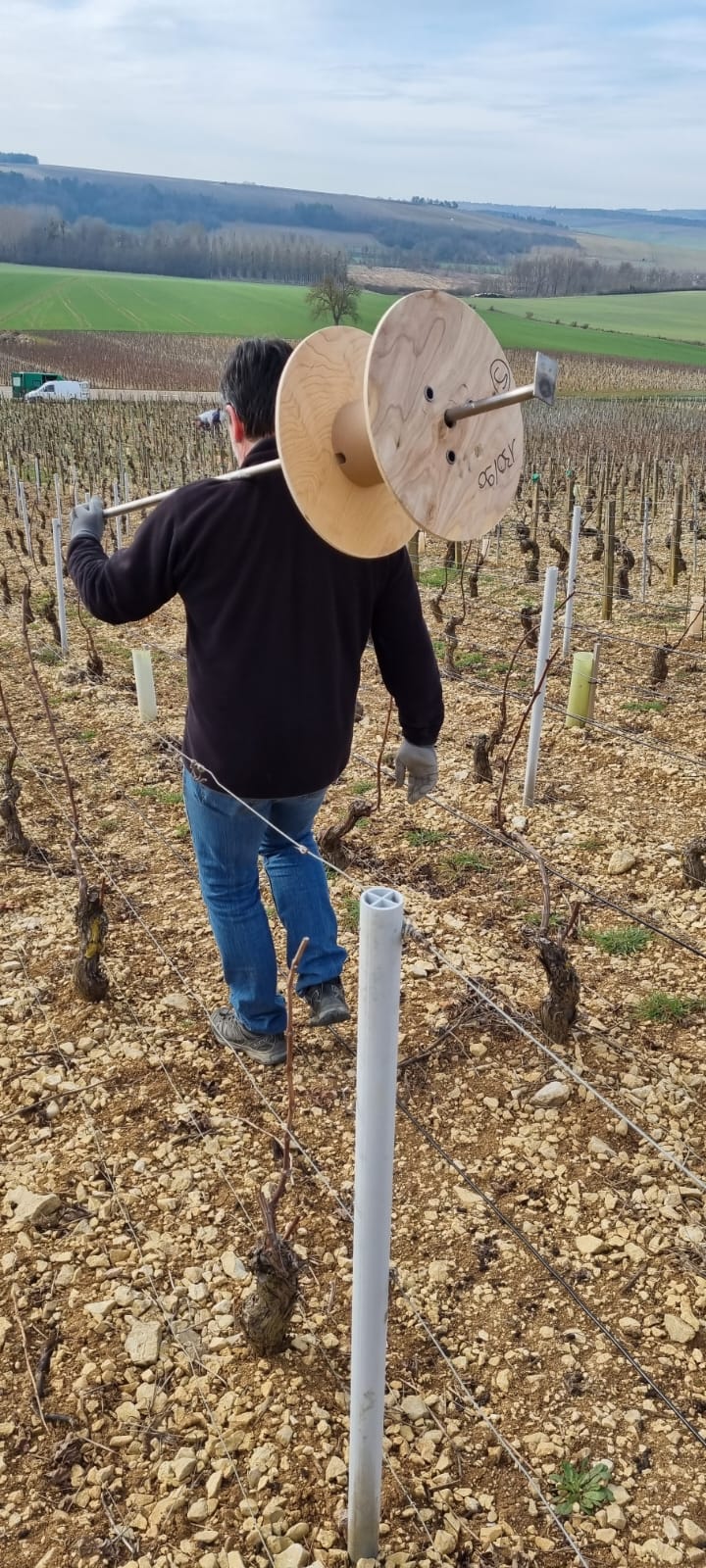 The cables were all laid by hand by Laurent, Charlene and their team.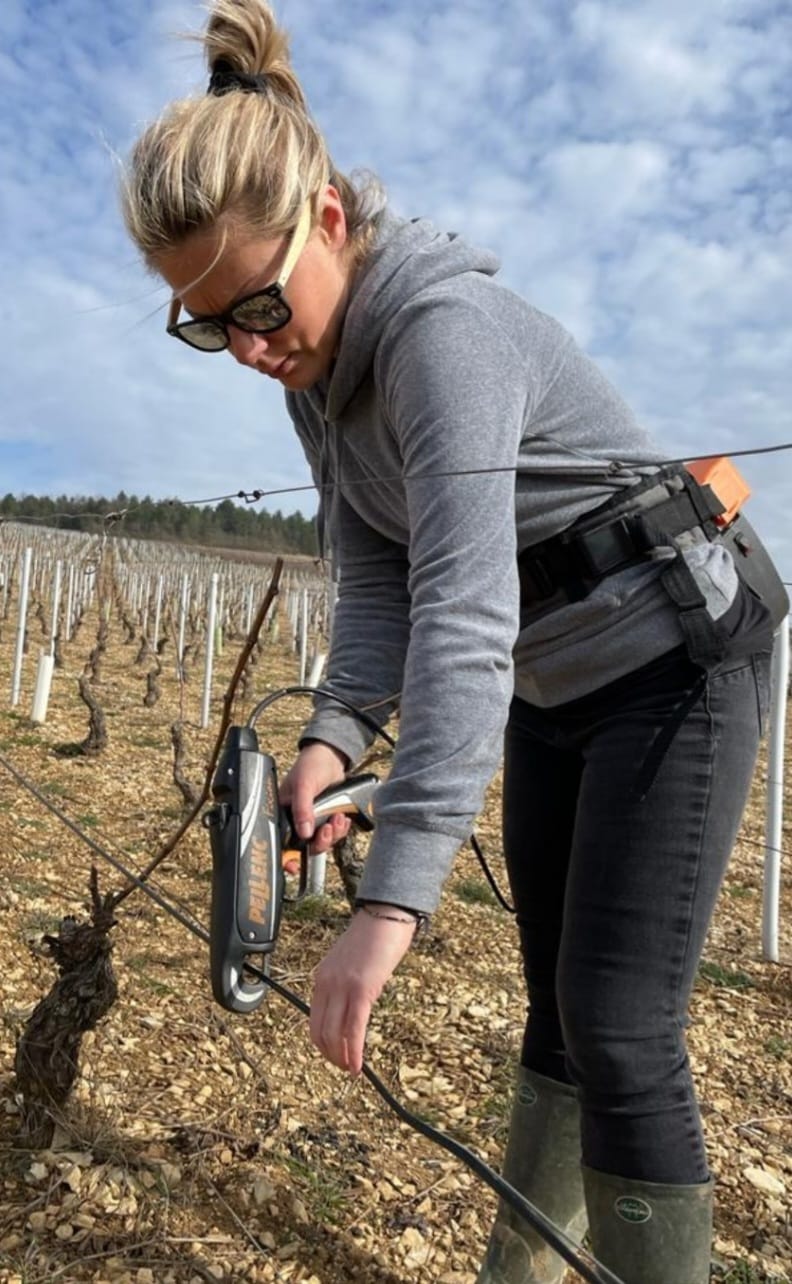 The cables heat the air around the vines just enough to prevent frost damage.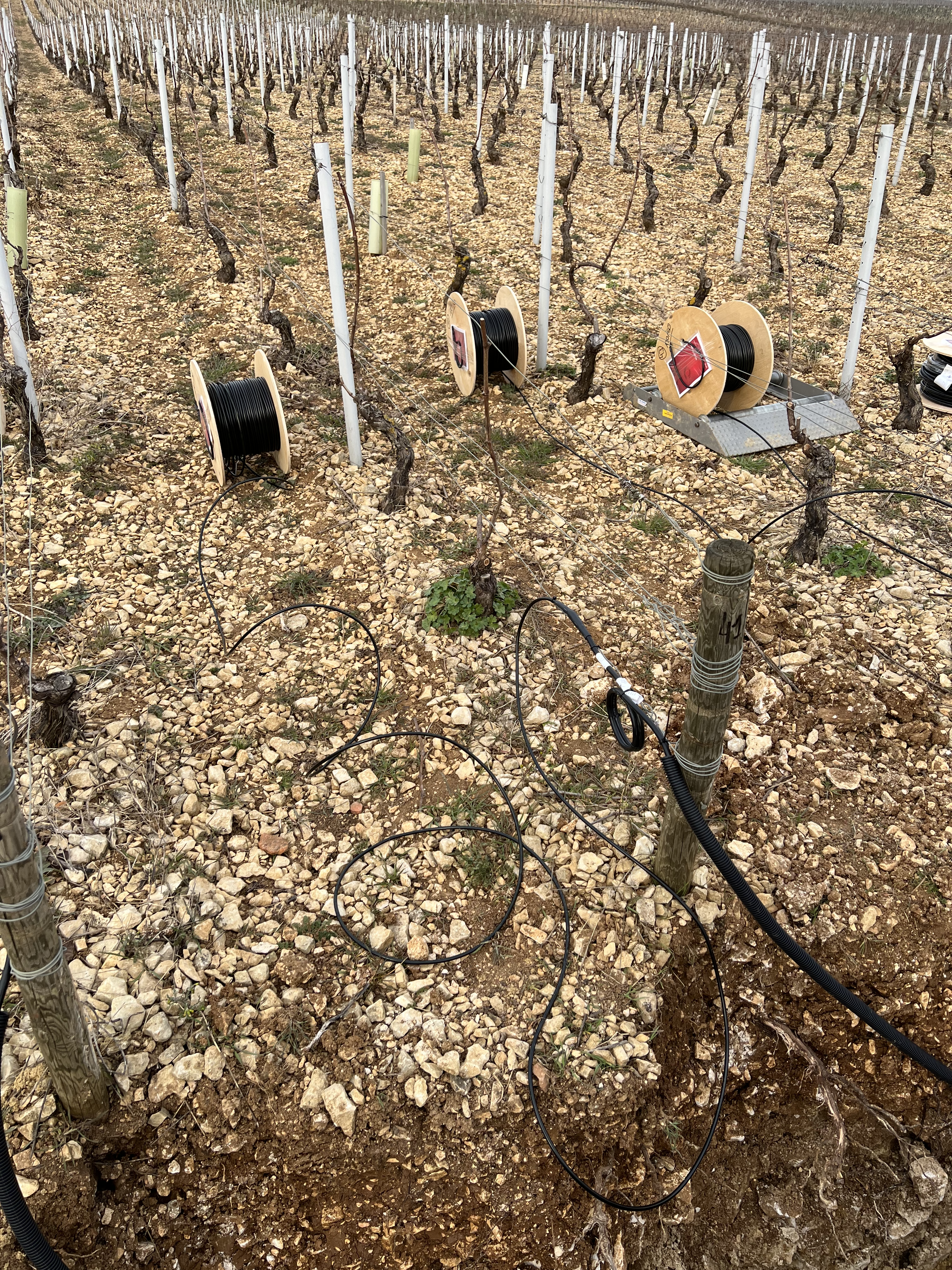 Cables are threaded down each row of trellises.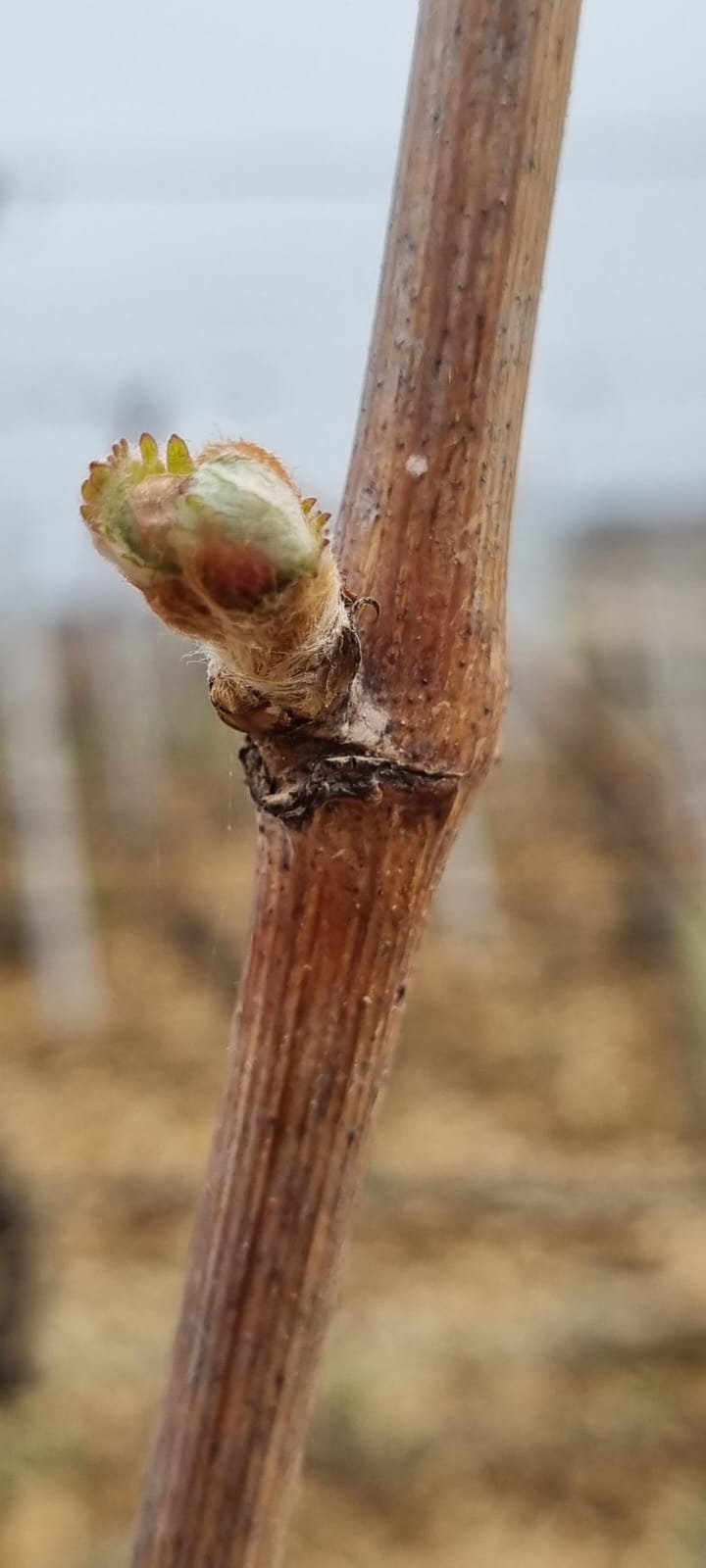 The precious bud all this work is for!