Stolpman Vineyards' story is reminiscent of the early pioneers of American winegrowing; they started with a dream of cultivating the land with their family and producing world class wine. Since then, their family has grown to include a full-time staff of over 30 people and their grapes have brought Ballard Canyon AVA to the forefront of California Syrah and beyond.
---
When Stolpman Vineyards joined the portfolio early in 2022, our American Wines Portfolio Manager, Michelle Cove, prefaced Peter Stolpman's first, official introduction to the team by saying, "… I've heard this presentation four times already, but I can't wait to hear it again, because every time I hear a new story that makes me fall in love with these wines even more!" As soon as we heard the news, we knew that we needed to find some time to sit down and get the full story from Peter himself, and after meeting with him a few weeks ago during this interview, we couldn't agree more with Michelle's initial sentiment.
To be clear, there really isn't a linear, singular Stolpman story here – rather, there are what feels like dozens of important and pivotal stories that come together to make Stolpman, Stolpman. To preview, Peter's father, Tom Stolpman, didn't just happen upon limestone-laden vineyards in Santa Barbara County, he sought them out, specifically (see our first question below). The vineyard was founded in 1988, but Ballard Canyon didn't become a proper AVA of its own until 2013, due in part because of Stolpman. There's Ruben, an actual 'Grape Whisperer' and the keeper of these vineyards since 1994, who seems to have infinite knowledge of the vines that he works with (see our fifth question). We could go on, and on, and on, and on…
Our team has jumped at the opportunity to work with this brand, and we couldn't be more excited to share our latest, greatest USA interview with you today to unpack all things Ballard Canyon AVA, Peter and Ruben Solorzano's winemaking philosophy, Ruben's 'La Cuardilla' profit-sharing program for vineyard workers, and so much more.
---
YOUR PARENTS STARTED STOLPMAN VINEYARDS IN 1990. HOW DID THEY CHOOSE BALLARD CANYON AND HOW HAS THE STOLPMAN BRAND DEVELOPED TO WHERE IT IS TODAY?
---
CAN YOU DESCRIBE WHAT MAKES THE TERROIR OF STOLPMAN VINEYARDS UNIQUE?

 
---
TELL US ABOUT THE 'LA CUADRILLA' PROJECT? NOT ONLY IS STOLPMAN'S CREW FULL-TIME, BUT THEY PRODUCE THEIR OWN WINE, CORRECT? 
---
RUBEN HAS BEEN WITH STOLPMAN SINCE 1994, WHAT HAS HIS IMPACT BEEN ON THE BRAND? 
---
YOU MENTIONED WATER CONSERVATION. WHAT IS STOLPMAN'S APPROACH TO SUSTAINABILITY? 
---
SPEAKING OF OPTIMIZATION, CAN YOU TELL US ABOUT STOLPMAN'S MOTHER VINE? 
---
IN THE PAST YOU'VE HINTED THAT JESS, YOUR WIFE, WILL BE COMING OUT WITH HER OWN PROJECT… CAN YOU TALK ABOUT THAT? 
THE WINES

Orange 'Love You Bunches', Stolpman
• Practicing Organic
• 50% Pinot Gris, 23% Orange Muscat, 19% Semillon, 8% Gewurztraminer
• Sourced from old vines, mainly planted in the 1970s in the Los Alamos Corridor and Los Olivos District of Santa Barbara County
• De-stemmed, left whole grape
• Carbonic fermentation for 7 days in shallow stainless-steel tanks
• Pressed into stainless-steel tanks to complete fermentation
• Bottled unfiltered, no sulfur added
• 4,700 cases produced
• 12.5% abv

Red 'Love You Bunches', Stolpman
• Practicing Organic
• 100% Sangiovese
•  Primarily from Block 5 with their new own-rooted Block 6 Sangiovese
•  Whole-cluster, native carbonic fermentation
•  1-3-week whole-grape native fermentation in sealed, round carbonic tanks and smaller 1.5-ton trans-store tanks
•  Aged 2-4-months in 80% stainless steel, 20% barrel
•  11,600 cases produced
•  12.5% abv

• Practicing Organic
• 70% Roussanne, 30% Chardonnay
• Sourced from Block 3 of Stolpman Vineyards (Ballard Canyon AVA)
• Whole bunch crushed, 2 hours skin contact
• Native fermentation in neutral 500L French puncheons
• Aged 10 months in neutral 500L French oak puncheons
• 900 cases produced
• 13% abv

Syrah 'Crunchy Roastie', Stolpman
• Practicing Organic
• 95% Syrah, 5% Viognier
• Syrah from Ruben Solarzano's vineyards in Los Olivos and Foxen Canyon
• Whole-cluster, Native carbonic fermentation for 10 day
• Fermented in sealed stainless-steel tanks
• Aged 3 months in stainless steel
• 1,300 cases produced
• 13% abv

• Practicing Organic
• 60% Mourvèdre, 20% Grenache, 20% Syrah
• Sourced from four vineyards in Santa Barbara County
• Immediate press, cold, native fermentation
• Fermented in stainless steel tanks at 55 degrees Fahrenheit
• Held at 31 degrees Fahrenheit until bottling
• 2,300 cases produced
• 12.5% abv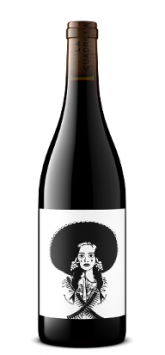 Red Blend 'La Cuadrilla', Stolpman
• Practicing Organic
• 70% Syrah, 15% Grenache, 10% Sangiovese
• A vineyard-wide blend of all Syrah, Sangiovese, and Grenache blocks at Stolpman Vineyard (Ballard Canyon AVA)
• 67% de-stemmed, 33% whole-cluster
• Fermented in open top concrete tanks for 21 days
• Aged 6 months in 100% neutral French Ermitage 500L oak Puncheons
• 8,400 cases produced
• 14% abv

• Practicing Organic
• 100% Gamay
• Sourced from Stolpman Vineyards & Nolan Ranch Vineyard (Ballard Canyon AVA)
• 100% whole-cluster carbonic fermentation
• No sulfur added through primary fermentation
• 9-day carbonic fermentation in stainless steel, pressed to tank to finish
• Aged 4 months in neutral French 500L puncheons
• 550 cases produced
• 12.5% abv

• Practicing Organic
• 100% Syrah
• Sourced from almost all Syrah blocks at Stolpman Vineyards (Ballard Canyon AVA)
• Vines planted from 1990s-2000s
• Concrete fermenting tanks for 21 days
• 30% whole-cluster
• Aged 5 months in 100% neutral French oak 500L Puncheons
• 2700 cases produced
• 14.1% abv