It's April 24th, 2020, and the end of our sixth full week working from home. We're drinking transitional whites and rosés (both '18s and '19s!) to compliment seasons changing across the nation.
Today we're sharing how five of our Skurnik staff finished their days with life's simplest pleasures: meals made with love and special wines that we can think of no better reason to open.
Reporting from five different 'bunkers' – Kate, Holly, Caroline, Elyse, & Mark share their wine picks from this week:
KATE KRAUSE
Pinot Grigio 'Washington' [4-PK 250ml CANS], The Pinot Project
It's not easy to cook (or drink) for one… even if you have a partner in place, sometimes she/he/they wants a cocktail and you want a glass of wine, or maybe she/he/they don't drink at all. This is why I love canned wine! I can have a glass plus to accompany my meal and take the edge off the pandemic blues. And someday when the world reopens, I'll have a stash to take to the park on a sunny day with friends.
I couldn't wait to taste our newest offering from The Pinot Project in can. We tasted through tank samples from our winemaker partner in Washington and landed on this little gem of a Pinot Grigio. It's bright and refreshing with notes of melon and citrus; totally crushable. It also happens to pair beautifully with this Thai ginger zoodle salad.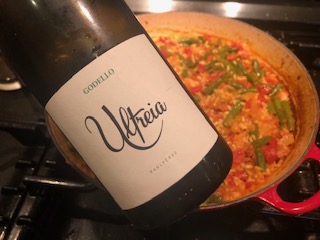 HOLLY PHILLIPS
Bierzo Blanco, 'Ultreia Godello', Bodegas y Vinedos Raul Perez
I find myself cooking/experimenting more than I'd like to admit these days. Plus side is, I've now mastered the perfect roast chicken, sardine toast, and poached egg. Huge accomplishments, I know.
The 2017 Ultreia Godello was the inspiration for this evening's meal of Paella; Godello from my favorite Spanish producer… the talented and loveable Raul Perez. This acid-driven, mineral beauty from Valtuille de Abajo (Bierzo) ever so gracefully melded with the briny shellfish medley running amok our bowls.
Hats off Raul, thanks for producing this appetizing, entertaining sound and taste track to this lemony amalgam.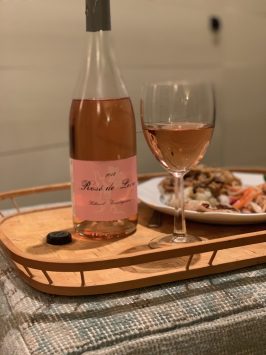 CAROLINE HAGOOD
Rosé de Loire, Thibaud Boudignon
I'm drinking Thibaud Boudignon's 2018 Rosé. During these transitional spring days when we find ourselves yearning for warm weather, this rosé is just the ticket. Not your typical Provençal rosé, Thibaud Boudignon's rosé from the Loire Valley features predominantly Cabernet Franc.
With bright acidity and notes of strawberry and white jasmine, this wine surprises you with its round structure, chalky minerality, and a complex saline finish. Simply delish!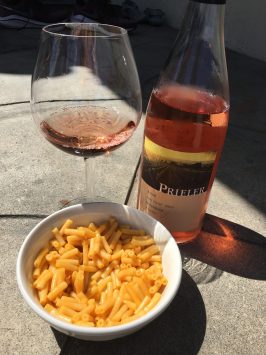 ELYSE IMAMURA
Prieler Rosé vom Stein
We had a day of summer weather here in LA so I thought I'd open my first bottle of 2019 rosé, and it did not disappoint! I decided to have it with my kids' leftover mac & cheese for lunch because in all honesty, who has time to cook these days!
This is the perfect rosé to start the spring with as it offers lots of juicy fruits like strawberry and banana but finishes dry with tons of minerality and acidity. I even got some notes of thyme and rosemary on the pallet. And it went exceptionally well with my mac & cheese! Might be my new lunch break go-to.
MARK FORNATALE
Fiano di Avellino 'Colli di Lapio', Clelia Romano
Floral notes with crushed stones, showing its volcanic origins. In the mouth it's wonderfully complex—at once giving loads of pleasure but teaching you something at the same time…
Ian D'Agata of Vinous once said that if there were a grand cru appellation for Fiano, this would be it. I agree. One of Italy's best whites, period!