Wine styles are constantly shifting. Ripeness, acidity, body, alcohol all take turns on center stage as the wine pendulum swings.
Recently, California has been in the spotlight, leading the way toward a return to a lower alcohol, higher acid, more mineral-driven winemaking style than in the previous two decades. While it might be colloquially referred to as a "new wave" movement, there is nothing really new about it – rather, it is a return to a more classic, Californian "Old World" style. This recent "pursuit of balance" can be succinctly summed up by writer Jon Bonné: "Vintners see California's future not in the impact-driven bottles of recent years but in wines that show nuance, restraint, and a deep evocation of place."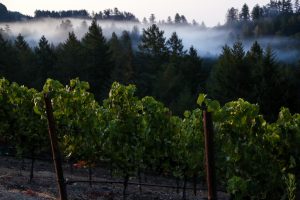 The current movement pays homage to the winemaking style of the 1960s through the 1980s. During that time, most California wines clocked in at a reasonable 12% ABV with an eye towards European refinement, and many of the best examples have stood the test of time. One could argue that the 1990s and 2000s with the emergence of the ultra-ripe, bold style of wine favored by wine critic Robert Parker was more the outlier than the norm. However, as Parker's influence has begun to wane, so has his preferred style of California wine.
With the reinvigoration of a more balanced style of winemaking, the overall selection of wines coming out of the Golden State has also started to balance out, and nobody has been more supportive of this movement than Skurnik Wines. Though it is still an uphill battle for the balance movement to become fully mainstream, we are thrilled to have been able to witness California's progress in diversity and quality and look forward to helping secure its place on the world stage for years to come.
We can better understand the current environment through the lens of a few of our producers who are continuing to push the boundaries in this return to classic California, producing beautifully balanced wines with a true sense of place.
Mindego Ridge
Mindego Ridge is a small 10-acre Santa Cruz Mountains vineyard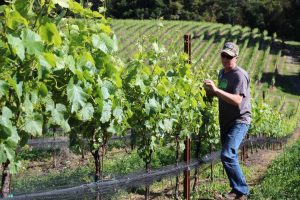 perched on a south facing, shale-laced slope 8 miles from the Pacific Ocean, meticulously farmed by husband and wife duo Dave and Stacey Gollnick, with wines crafted by renowned winemaker Ehren Jordan. The mission at Mindego Ridge is to craft 100% estate-grown, single vineyard Pinot Noir and Chardonnay that authentically express their unique marine-influenced mountain terroir.
In 2009, Dave and Stacey set out to craft a specific style of wine that they personally enjoyed – mineral-driven, aromatic, herbal, and crisp – with authenticity. This journey led them in two specific directions that intersect with traditional philosophies.
First and foremost, the Gollnicks are farmers. When they were looking for a piece of land to call home, they were drawn to the rugged and risky nature of the Santa Cruz Mountains where, according to Dave, the vineyard would be at the "edge of viability."  Subsoils are made up of fractured shale and sandstone, which have trouble holding moisture, thus causing the vines to struggle for water and nutrients. The microclimate is also less than hospitable – temperatures regularly swing from a scorching 85-degree day to the low 40s at night. This difficult growing environment creates wines that echo the Old World more so than typical California terroir.
The second part of their strategy came by way of their winemaking choices. They were drawn to Ehren Jordan's signature sensitive style: small lots, fermented with native yeast, no additives, no fining, and no filtration. Ehren believes that great wines are made in the vineyard, which is what makes working with Mindego Ridge's fruit so interesting. Being that the fruit is 100% estate-grown on such a tiny property, each vintage is distinctly unique. The resulting wines showcase exactly what the Gollnicks set out to do – a true sense of place.
Ashes & Diamonds
Founded in 2014, Ashes & Diamonds – a "love letter to the Napa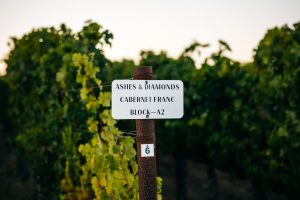 Valley of the 1960s" – has set out to revive this storied era's pioneering energy. Kashy Khaledi along with winemakers Steve Matthiasson and Diana Snowden-Seysses were compelled to express Napa Valley terroir through organic farming and a restrained winemaking style. These wines immediately enunciate a singular vision of the Napa Valley: they are animated, taut, and delicate in their pursuit of an expression of place.
The inspiration behind the project came from Kashy's discovery of Napa's storied past, at a time when wines had restraint and elegance – it hasn't always been producing such rich, opulent wines, despite its reputation. "Everything is cyclical. It takes a certain amount of time to pass to be able to look back at something and get inspiration," says Lauren Feldman, Ashes &Diamonds' Head of Sales and Marketing. She believes that enough time has passed since the post-Prohibition era that winemakers can now look back at the wines of the 1960s as American "classics," rather than only having the Old World to reference.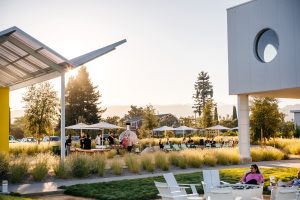 The team at Ashes & Diamonds aims to showcase Napa's terroir in an elegant and accessible way. Their wines have incredible natural concentration resulting from the fertile soils and climate, but the richness does not stem from alcohol content. The wines achieve complexity and concentration without excess alcohol, and they let the land and the vintage speak for itself.
The winery, located right off Highway 29, is a state-of-the-art facility with mid-century style architecture, an homage to the era that inspired them. Ashes & Diamonds is truly "the ultimate conversion of modern and old-school flavors" in more ways than one.
A Tribute to Grace
A Tribute to Grace, founded in 2007, is the culmination of a winding road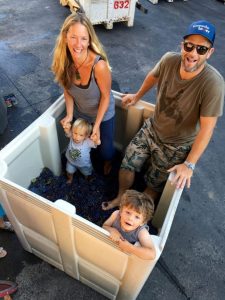 to winemaking. Angela Osborne was ready to pursue a film career when a winemaker friend found her a harvest job and insisted she move to California to take it. Once there, she discovered Grenache and fell hard for the grape that would later become the singular focus of her winemaking in Santa Barbara. What began as an intention to bottle three single-vineyard offerings, has grown host to eleven bottlings and 3,000 cases.
According to Angela, the epitome of A Tribute to Grace is about the transparency and fragility of Grenache – as she stated, "you must treat it very gently, as it will show what it's been through." Any additions to the wine – oak treatment, extraction, blending – will change the nature of the wine instantly. As a result, her wines are ethereal and sheer, allowing the land to shine through the nuanced flavors.
Grace wines are made from sustainably-farmed grapes with an eye towards biodynamics. Although Angela is not a viticulturist, she makes sure to work with highly skilled vineyard managers who truly understand their property, because each site she works with is so different. Her winemaking style is delicate with the use of neutral oak and only small sulfur additions at bottling for stability. She respects the lunar calendar and its effects on her fruit when she harvests, presses, racks, or bottles – a very ancient philosophy that is becoming more widely accepted in New World winemaking.
Up until recently, Angela was unable to find other domestic Grenache options with the same pure expression she is drawn to. However, with the maturation of the American palate and the return to a more restrained winemaking style, Grenache is gaining popularity, and she is eager to see what the future holds for her beloved grape.
Ceritas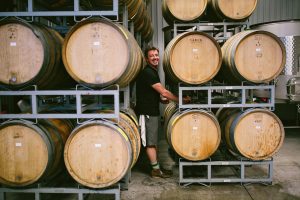 John Raytek's story is one of quiet and individual perseverance – a humble and focused pursuit in theartistry of place. The mission at Ceritas is to craft single-vineyard expressions of place through Chardonnay and Pinot Noir. John and his wife, Phoebe, are privileged to farm across three distinctively marginal climates and geologies: the Santa Cruz Mountains, the West Sonoma Coast, and the Anderson Valley. They are active participants in the daily cultivation of these sites, and in many cases they are the sole recipients of this prized fruit.
When John and Phoebe started out in 2005, their goal was to craft wine that they enjoyed drinking themselves. With passion for the culinary arts and preference toward European wines and classic California wines such as Diamond Creek, Mayacamas, and Ridge, they were compelled to create something with the same precision and ageworthiness evident in those bottlings.
According to John, there seemed to be an immediate, strong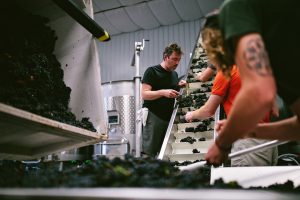 desire amongst the sommelier and restaurant community for the Ceritas style, in a time when there were less options coming out of California than there are today.
Even so, John's own winemaking style evolved a bit over time – it is now dialed back even more than his early days, mostly due to his understanding over time of how to achieve fully ripe flavors in the vineyard with lower potential alcohol. He cultivates his wines in the vineyard first, and considers the grapes' experience on the vines to guide their treatment in the winery. The resulting wines are a living testament to the time and place from which they derive.
Sandhi
Sandhi is a small production California winery focusing on select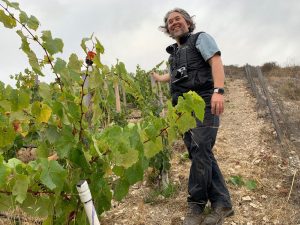 vineyards from the Santa Rita Hills in Santa Barbara County, founded in 2010 by Rajat Parr and Sashi Moorman. The Sandhi team is dedicated to making wines of minerality and finesse. They believe that wines exhibiting extreme ripeness, alcohol, oak and other discordant exaggerations cannot truly express a specific terroir.
Raj and Sashi are two of the strongest proponents of quality Chardonnay and Pinot Noir on the West Coast, and they have been strongly associated with this pursuit of balance since its inception. According to Sashi, there is still very much a battle happening out there to achieve mainstream acceptance of this winemaking style. Many wine critics still support more opulent, riper wines, but much of the media and the general population has begun to latch onto the idea of subtlety and elegance, which is a step in the right direction.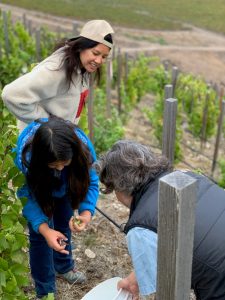 Both Raj and Sashi were originally attracted to wines of finesse, informed by the great classics of France, and they have sought to achieve that same quality through their sites in the Sta. Rita Hills. The individual vineyards that the duo works with – some legendary, some new – are always exhaustively vetted for character, personality, and balance. Sashi expressed that vine vigor, which comes from a combination of climate and soil, is the key for producing wines with mineral expression and without an abundance of fruit. One can argue that no other place in California has as dynamic of a microclimate and soil profile than the Santa Rita Hills, and Sandhi wines are a true testament to that.