The air is crisp, the leaves are changing – folks we are in cider season.
---
This past weekend we took home a few of our favorites to see how well they pair with food. The results were eye-opening (and delicious!) Cider is an oft-overlooked companion at the table, and pairs with a diverse range of dishes, sometimes even better than wine!
So, what exactly makes a successful food and beverage pairing? The first thing to consider is structure, meaning acidity, tannin, and sugar. Tannins give a cider a pleasant astringency, and pair well with fatty foods. Acidity adds lift and refreshment and is great with salty snacks. And the level of sweetness influences the paring as well – sweet likes sweet, but can also be used to temper spicy food. These components are found in wine, so you can think about a cider pairing with that in mind.
Next think about the flavors in the cider and whether they offer similar or contrasting flavors to the dish being paired. A fruity cider will complement an apple salad, but will also work as a contrast to something more savory like a roast chicken.
Finally, don't stress too much about finding the perfect pairing! This exercise is more about exploring flavor combinations and having fun.
THE PAIRINGS
SIDRA NATURAL FROM ASTARBE SAGARDOTEGIA
Paired with a cheese plate.
The first pairing of the weekend, and a real winner. Cider has a natural affinity for cheese, with dry ciders being especially versatile. The structure helps cut through the fat and the fruitiness complements the creamy and salty flavors.
Astarbe Sagardotegia – from the Basque region in Spain – is refreshingly crisp, tart, and a little funky. It's a versatile partner at the table, but really sings with any manner of cheese plates, like this one with 8-year Manchego and Humboldt Fog.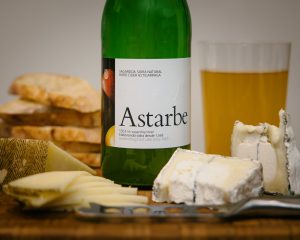 ---
EXTRA DRY SPARKLING CIDER FROM FARNUM HILL CIDERS
Paired with butternut squash ravioli.
When you add bubbles to the equation, the pairing possibilities are endless. This perfect New England cider from Farnum Hill is bone-dry, rich in flavor, and fully sparkling – allowing it to pair with richer dishes like this ravioli from the farmer's market.
The fall flavors were really singing here, and the brightness and bubbles matched up well with the brown butter sauce.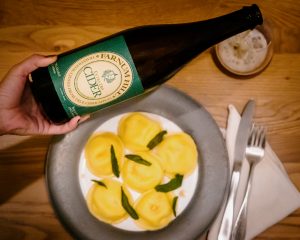 ---
SPARKLING SEMI-DRY CIDER 'HICKSTER' FROM BLACK DIAMOND CIDER FARM
Paired with a "banh mi" burger.
Hailing from the Finger Lakes, 'Hickster' has a lot going on and inspired a creative pairing. The high level of tannin was begging for meat and the pronounced sweetness allowed for something spicy. The 'banh mi' burger was born – a patty made of pork and bacon (cider loves pork!), topped with jalapeno, pickled carrots, and daikon. The most interesting pairing of the weekend, and quite successful.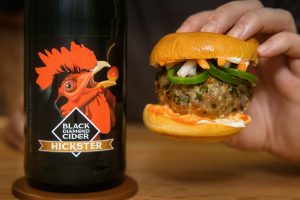 ---
ISCIDER FROM BRÄNNLAND CIDER
Paired with apple tart.
For dessert something more opulent was in order – an Iscider from the Swedish producer Brännland. Rich and sweet, yet balanced with refreshing acidity, this cider was an experience. Who needs Sauternes when you have this?
The Iscider paired beautifully with the custardy apple tart, even if the tart was a little burned!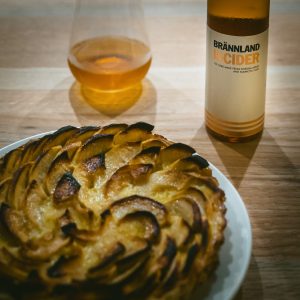 THE VERDICT
Pairing cider with dishes that would normally have us reaching for wine proved to be a refreshing and delicious experiment that makes us look forward to exploring new flavor combinations into the fall and beyond.
The possibilities here are pretty endless, and there's no better time to explore the range of options that are available (sparkling, still, dry, sweet, old-school methods, the more innovative, and everything in-between…) than in October; the air is cool, the leaves are vibrant, and the deeply distinctive flavor palate that is fall has us excited to play with food combinations even into the colder months ahead.
Cider enthusiasts & novices alike – this is your moment!
---
---