Black Diamond Cider Farm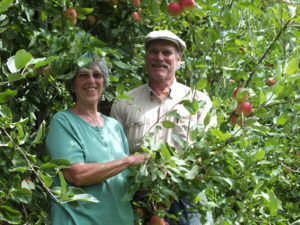 Black Diamond Cider is a family-owned orchard is located in the Finger Lakes, on the western slope of Lake Cayuga, where they grow over 100 different heirloom apple varieties. The wide range of cultivars give these ciders complexity, depth, and character.
Ian Merwin and his wife Jackie founded Black Diamond Cider in 2014, after Ian received his PHD in Pomology (the science of growing fruit) and retired from a faculty position at Cornell University. Once they purchased the land that would become Black Diamond Farm, they spent a year in Europe visiting orchards and cider makers. This level of knowledge helped him stand out among local farmers, who credit him with reintroducing heirloom Northeast and European varieties to the area.
The farm also produces a wide range of other fruits including peaches, European and Asian plums, sweet and tart cherries, apricots, blueberries, table and wine grapes, pawpaws and hardy kiwis.