With US interest in sake growing, we're excited to introduce new offerings from some of today's best makers!
---
Japan's August heat slows down even this famously industrious corner of the world, and it is devoted either to vacations or shochu highballs enjoyed outside with coils of incense burning to ward off the mosquitos.
But just like here in New York summer is over in Japan. The extended August O-bon vacations back to hometowns to honor ancestors have wrapped up, the nights are growing a little longer, the new school semester has started, and the fervent midday whine of cicadas has started to drop and fade. It's late in the growing season and all over Japan rice stalks are tall and mature; the largest ones weighted down with plump grains specifically for making sake.
For most sake makers, summer is the one time of year to relax, but as Autumn approaches they shake off the cobwebs and begin to plan for the coming year. The new crop will start to arrive soon, and they'll be firing up the rice steamers, seeing how this year's rice shapes up. Sake has been resting all summer, and last year's batches will be released soon. In the US they ship us those batches early so they mature in transit. Which is to say, the NEW SAKE IS HERE!
The past few years have been landmark ones for sake in the US. Never has more sake or more diverse styles of sake been available here, and the interest in Japan's national beverage has never been higher. We've found bottles of sake reverently served in wine bars in Oakland, by ambitious young chefs in Dayton, Ohio, not to mention popping onto the lists of many of the most respected restaurants in New York.
At the same time, the quality and diversity of sake made in Japan has never been higher and, given the surging interest in the US, we're thrilled to announce many brand new arrivals, some from makers whose bottles have never been to the US before.
ZAKU & BANSHU IKKON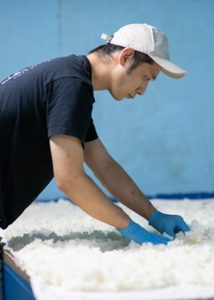 Banshu Ikkon brewmaster Yuichi Tsubosaka at work and at play (click for more photos)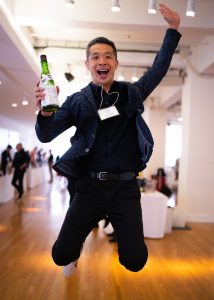 We couldn't be happier that the makers of Zaku have finally allowed more of their sake to come to the US. They have become a bit of a cult-favorite brand in the past few years, and tasting through their lineup it's not hard to see why: all Zaku has bright, glossy textures and popping citrus notes. We have quietly carried their "Ho no Tomo" Junmai for years, but this year finally are able to offer it more widely, along with the "Miyabi no Tomo" Junmai Ginjo and Junmai Daiginjo, the ethereal "Kaizan Ittekusui" and the show-stopping "Selection N" which is the single batch of sake brewmaster Uchiyama chooses each year as his best.

It has been amazing to watch the growth of Yuichi Tsubosaka and his brand Banshu Ikkon over the past few years. When we met him in January 2020 he was just coming out of a fire that destroyed his family home and scorched the family brewery, coming dangerously close to ruining that year's sake. He has bounced back stronger than ever. Each year's sake seems to shine a little brighter and we can say we've never had anything like it. We quietly brought in his dry Chokara Junmai Ginjo in 2022 and it immediately acquired a lot of US fans for its unique style and structure. 

Situated in western Hyogo's Banshu region, the very heart of sake rice country, Tsubosaka could choose to make huge, bombastic fruity sake like his neighbors, but instead, he has opted for a high-wire act of brewing that we LOVE. Up front Banshu Ikkon will pop with all the fruit and tropical notes that Hyogo Yamada Nishiki is known for but then it resolves into an insanely dry and spicy finish unlike anything else we've had. This cries out for food. We've been grilling while the weather still permits, and this is grill season sake! After a bite of skewered chicken brushed gently with soy a single sip of Banshu Ikkon is a rocketship of flavor.
KAMO KINSHU & MUKADE NIGORI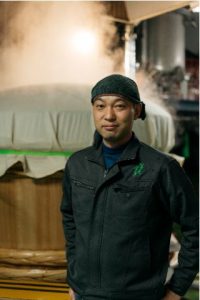 It's a bit of a crime we haven't carried any sake from the western region of Hiroshima, one of the birthplaces of modern sake and with a host of great makers. Rice grown here benefits from a longer growing season than in the north and a chance to build up more nutrition and potential for big flavors. Hiroshima sake leans big as a result, and the Tokubetsu Junmai from Kamo Kinshu is a terrific example of the style. It is the first sake we've tried that blends the heirloom variety of Omachi rice with the Hiroshima native Hattan Nishiki. Sake from Hattan Nishiki seems to carry a glossy texture and umami smoothness with remarkable depth. Omachi always brings a depth and complexity to sake, with distinct herbal notes that bring balance and contrast. Kamo Kinshu resonates with both these qualities and brings beautiful bass notes of soy sauce underneath it all. We're looking forward to enjoying this at room temp or slightly warmed up as the weather gets colder.
Appropriate for the colder weather we are happy to introduce the particularly robust Mukade Nigori. Rich in flavor and dense in texture, this is a rare dry nigori, with notes of dark chocolate and almond. We've been enjoying it slightly warmed and in small ceramic cups, really allowing the textures and sweeter notes to develop. Cloudy nigori sake can be a misunderstood style, and many examples lean overly sweet or overly alcoholic. It is rare to find a comparatively thick nigori like this with so many layers and elegance, but one we really enjoy with spicier flavors in Szechuan or Thai cuisine, or as an accompaniment to Korean barbecue.
GAKKI MASAMUNE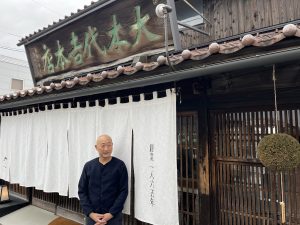 And what can we say about Gakki Masamune! Such a delightful discovery. In the past few years their bright and juicy style has absolutely captivated drinkers in Japan and we couldn't be more excited to bring them to the US. Their two styles break the mold and give hints of where the sake world is moving. Their Junmai (or "Junjo", literally "pure brew") is a luscious genshu sake fully fermented to 13% ABV, leaving tons of flavor and texture. Honjozo, on the other hand, is a marvel. Probably the most ignored and overlooked category in premium sake and one that is passed over constantly these days. Honjozo can have incredible charms of texture and flavor despite often being written off as a category that exists just to get premium status for the cheapest price. The Gakki Masamune Honjozo is given the full diva treatment since they make it as a "Nakadori", a sake made from what's considered the best liquid that comes off the center of the pressing, discarding the wild flavors up front and bitter flavors of the back. Usually reserved for high-end expressions, creating Honjozo through the Nakadori method is everything we love about sake right now. Wildly creative, Gakki Masamune is breaking old norms and traditions by pursuing deliciousness and frankly not worrying about appearing high-end and pristine or matching up against wine.
So as the nights grow a little chillier and days shorter we're happy to have a fresh round of sake to sip on at the end of the day. Another year of creative minds turning the water and rice of Japan into little liquid works of art to be bottled and make their way across the ocean, bringing us conversations and flavors from the other side of the earth.
THE SAKE