Above: Roberto Damonte (left) with his brother Massimo.
It goes without saying that the scarcity of properly aged wine from the Langhe is extreme. From our producers, with rare exception, cellar-aged wines exist only for special occasions – and long gone are the days when producers had any unsold vintages they were willing to release. Could it be the scarcity of Burgundy that drove wine lovers and collectors to Nebbiolo, or the designation of the Langhe as a UNESCO World Heritage Site that brought this well-deserved attention to the area? Whatever the cause, there is definitely a growing interest in Nebbiolo-based wines, and Piedmont wines in general. And just like you won't expect to find acclaimed Burgundy in great numbers on shelves and wine lists, it is now more or less the same for the greats in Piedmont. On the one hand, we welcome the rise in prominence of Piedmont, but it does leave us longing for the days when it was easier to find older wines… but that is what makes this discovery so special!
We are happy to share what may be the last "great stash" in Piedmont from our friends at Malvirà, from the exceptional vineyards of San Michele, Trinità and Renesio.
A note on vinification: These wines – up to and including 2007 – were made with four weeks of skin contact in stainless steel, followed by malolactic fermentation in 30% new 450-liter casks. The wine then ages for three years in cask before going into bottle. These bottles rest peacefully in the cellars at Malvirà until they are brought to the US in our refrigerated containers.
---
 SAN MICHELE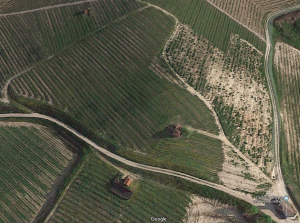 The San Michele vineyard is located on a hill just outside of Canale and takes its name from a little church on top that is dedicated to Saint Michael. The soil is calcareous clay, which is especially good for cultivating powerful Barbera. The vineyard was a single hectare composed of 80-year-old vines, south-facing at 300 meters above sea level. Malvirà made the San Michele Barbera d'Alba Superiore here from the mid-1980s until 2007, when they lost the lease.
The fruit from this old-vine parcel always gave Barberas of great structure—more similar to Nebbiolo in a way—so the Damonte brothers decided its vinification should be similar to their Nebbiolo: the 2005 San Michele Barbera d'Alba Superiore was made with four weeks of skin contact, and then went into 30% new 450 liter casks for malolactic fermentation and aging for three years. Roberto Damonte says, "It's the classic example of Barbera that can age like great Nebbiolo-based wines. It's a far cry from the jammy wines in fashion in that period—but like all thoroughbreds, it gives its best results over time."
---
VIGNETO TRINITÀ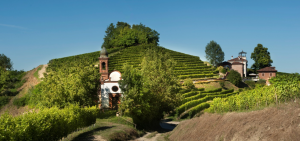 Trinità is Malvirà's largest vineyard at 17 hectares, planted principally to Arneis and Nebbiolo. It covers all four sides of a hill, but the south-facing side is mostly Nebbiolo, while east and west are planted mostly to Arneis. The soil in Trinità is extremely sandy, giving gorgeous perfume and approachability to the Nebbiolo grown here. The Damonte family bought the vineyard in 1986, and it takes its name from the small chapel dedicated to the Holy Trinity (Santissima Trinità in Italian). In the amphitheater formed by this cru, the Damonte's have their family businesses: both the winery and Villa Tiboldi with its hotel and restaurant are here.
---
RENESIO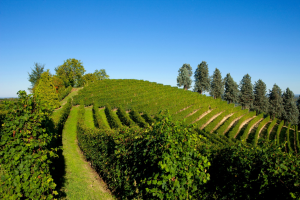 Renesio is the mythical vineyard that has been a cru since 1478 – even before Christopher Columbus arrived in the Americas! It is also the first recorded reference to the Arneis grape (Renesium in Latin), and even today historians are not certain if it was the name of the cru that gave the name to the grape or vice versa. In Renesio, Malvirà cultivates Arneis as well as Nebbiolo over a total of 6 hectares – 3 for the whites and 3 for the reds. The total extension of the vineyard is only 8 hectares, so it's nearly a monopole. It's also their oldest vineyard of Nebbiolo (with vines that are about 60 years old) and the soil is rich in limestone, which gives the wines structure and power. The property originally belonged to the counts of Roero, but Malvirà rented it in 1983, and they were subsequently able to purchase it in 2008.