Pierreclos is a village that could be on the cover of "Quaint French Towns Monthly."  It has everything one would expect from a village that neighbors some of the most beautiful vineyards in the world: old cobblestoned streets, winding roads that would give Jeff Gordon a mild heart attack, the kind of boulangerie that only exists in your dreams, and many other French delights. Hiding in plain sight on the corner of Chemin des Pres is a humble two-story house where, for almost a decade, some of the greatest white wines in all of France are created. It is the home of Frantz Chagnoleau and Caroline Gon – two winemakers who are redefining what is possible with the terroir of the southern Mâcconais.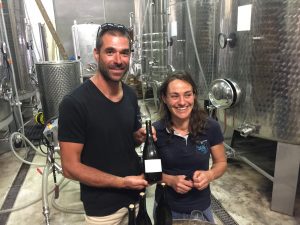 The husband and wife team behind Domaine Frantz Chagnoleau began their careers on opposite sides of an ocean. After finishing oenology school, Frantz went straight to the Mâconnais to work for the famed Olivier Merlin. Caroline took a different approach after school and went to work at Newton Vineyard in the Napa Valley. In 2008, when Dominique Lafon purchased his Mâconnais domaine that would become Les Héritiers du Comte Lafon, he hired Caroline to run the domaine alongside him – a position she holds to this day. With Caroline and Frantz both firmly rooted in the same region of the world, they were introduced to each other through Lafon and Merlin and eventually married. In 2009, Frantz decided to leave his post at Merlin to start his own domaine – and from 6 hectares of old vines in the villages of Prissé, Chasselas, Vergisson and Viré, Domaine Frantz Chagnoleau was born.
The epicenter for intense, mineral-driven Chardonnay in the Mâconnais is near and around the high-altitude villages of Vergisson and Solutré. La Roche de Vergisson and La Roche de Solutré (reaching 492 meters in elevation) are the anchors of the region's top Cru: Pouilly-Fuissé. Some of the finest values are found in the adjacent villages of Davaye, Prissé, Chasselas, and Fuissé. These sites form the finest St. Véran terroirs, many of which deliver the quality of Burgundies that are priced three to five times higher in the more famous villages of the Côte d'Or. Almost everywhere you look, there are about twelve to twenty inches of dirt before you hit varying levels of solid bedrock, with the evidence of shells and fossils easily found. From many of the vineyards, on a clear day, you can even see Mont Blanc. It is here that Frantz and Caroline planted their flag and established their family domaine.
The vineyard work at Domaine Chagnoleau is arguably among the finest we have encountered. Ecocert certification was received in 2012 and most of the vineyards are worked exclusively by horse. Frantz and Caroline believe that minimal intervention, including the use of indigenous yeast, is the best way to express the nuances of each unique terroir. Harvest is done completely by hand on a plot-by-plot basis, allowing each vine to achieve the appropriate balance of sugar and acidity. In a cellar that is about the size of an average New York City studio (i.e. very small) beneath their family home, the wines are aged in large, used French oak. From the single-vineyard Mâcon-Villages Clos Saint Pancras–that allows you to forget about the history of this maligned appellation–to the very top sites of Saint-Véran and Pouilly-Fuissé, this is a lineup of pure, terroir-driven Mâconnais wines brimming with the tensility of elite Chardonnay.
So, what does the future hold for this superstar couple? To start, they have finished construction on a new cellar in a 17th-century building next door to their home, which will provide a larger, gravity-fed space to work in. Add that to their track record of successfully launching a world-class domaine while raising two small children with half of the pair holding two full-time jobs, and you have the outlook for a future that is as bright as any two winemakers in all of France.
Below are a few highlights in the vineyard from our latest trip to Domaine Frantz Chagnoleau, with some notes and narration by Skurnik's David Hinkle:
'Les Raspilleres', located at the highest peak in Viré (400m), is an ancient clos that had been abandoned. Frantz  took this over about 15 years ago, bringing it back to its original glory which dates back to the 18th century. The terroir is iron-rich reddish limestone that sits next to a quarry that was used to provide the rocks that built churches and houses in the village. It was not easy to replant vines here, with the bedrock so close to the surface in some spots; He used ancient low-yielding clones of Chardonnay that were planted at high density to attain the steely, mineral-rich Chardonnay that we have come to love from Chagnoleau. He and his equally-talented wife Caroline Gon are on their way to becoming the kings of the village and this emerging superstar cru village of Viré.
---
Higher vine trellising used to help achieve greater photosynthesis and provide much-needed additional shade during the warmer vintages of our time.
---
Limestone and the magic of vines and roots finding moisture and creating a home in the bedrock of Viré.
---
This is a historic nursery created by Frantz Chagnoleau, containing some of the finest old plant material from some of the best growers in the Mâcconnais.
---
To paraphrase, in the shadow of the Roche de Vergisson, at 320 to 330 meters altitude, sits Frantz' best Pouilly-Fuissé parcel. 50+-year-old vines that produce beautifully tiny grapes and perfectly balanced Chardonnay. This tiny parcel is ploughed by horse, with the bedrock fairly close to the surface. As with all of his vineyards, Frantz uses a higher-trellising system, that is managed by-hand to maximize photosynthesis and protect the bunches from sunburn.
---
UPDATE, July 22nd, 2019: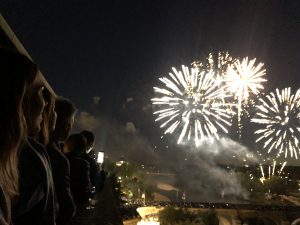 Skurnik Wines West just returned from a visit to our friends at Domaine Frantz Chagnoleau!
We spent a remarkable week kicking stones and taking in beauty with some of France's finest wine farmers.  The entire Skurnik Wines West team and brain trust did an intensive dive into terroir and viticulture.  We started in Montlouis-sur-Loire on Bastille Day with Jacky and Jean-Philippe Blot of Domaine La Taille aux Loups and finished in the Mâcconais with Frantz Chagnoleau in Viré.  The adventure was a fast and furious look at the best and the brightest young vignerons in France. Here is the first of a series of snapshots and videos of our trip and some memorable days in the vines with some our talented friends…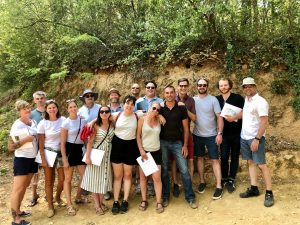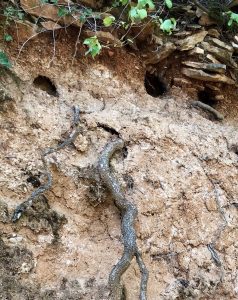 A close-up of some of the ancient layers of iron-rich limestone at various levels of degradation that sit below this remarkable terroir, above the highest spot of the village of Viré. Here, Frantz Chagnoleau produces his organically-farmed Viré-Clessé 'Les Raspillères'. Geologically, this plot has various layers of ferrous limestone that is around 200 million years old. Before phylloxera ravaged French vineyards in the 1860s, this area was planted mostly in red. Subsequently, it was replanted with Chardonnay that so suits the mineral-rich soil of Viré.
A number of French geologists have studied the area over the past ten years with Frantz, looking for secrets into the uniqueness of the site…