What if we told you that we have a wine in stock that's made entirely with grapes from organically-farmed 120+-year-old prephylloxera vines planted in volcanic soil, and that it's widely considered one of Italy's best wines year in and year out? Would your mind stray perhaps to Etna or the high volcanic hills of Campania? What if I added that it comes from one of Italy's very first DOCs created in 1968? And that its suggested retail price is less than $40?
All of this is true of just one wine in our portfolio: Gini's Soave Classico Contrada Salvarenza.
The Gini family can trace their roots in Soave back to the 1400s, and they have documents attesting to their ancestors as vignerons in Monteforte d'Alpone as far back as the 1600s. It's both bewildering and refreshing to us that a family with this much history in the area approach their wines with such humility. And yet brothers Claudio and Sandro, owners of Gini, shrug off our astonishment at their depth of history, their dedication to quality, and their down to earth approach. They know no other way of being.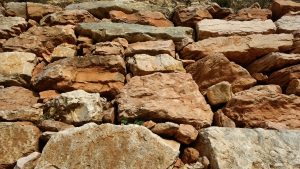 Claudio tells me that in the 1990s the family had the potential to expand. Speculation in the area was rampant, and it would have been easy to take on more vineyards, make more wine, and possibly become more successful. But that was the pivotal moment when he, his brother Sandro, and their father Olinto decided instead to double down on quality over quantity. The appellation of Soave had already been ravaged by the excesses of the local co-ops after the expansion of the DOC zone of production. While Soave Classico is a mere 900 hectares of vines, the Soave DOC area has expanded to an astonishing 7,000 hectares! In the Gini brothers' estimation, the only way to combat this tide of wine purporting to be Soave was to focus on their vineyards and produce high quality, estate-bottled wines.
The Gini family has 30 hectares planted to vines in the hilly, mostly volcanic Soave Classico appellation. Their youngest Garganega vines are more than 60 years old. In fact, Claudio and Sandro have never planted a vineyard of Garganega in their lifetimes. Their soils vary, but approximately 70% of their vineyards are volcanic, while the remaining soils are composed of calcareous limestone. Some of their vineyards contain both soil types, while others are exclusively volcanic or calcareous limestone. The area is extremely complex, geologically speaking. We find ourselves swooning over the volcanic terroir, which is dated to be 50 million years old. But before the eruptions, the Soave area was an ancient seabed, and the Ginis regularly find fossils of marine origin from 60 million years ago!
Stories of Claudio and Sandro Gini's grandfather and father are legendary. In Monteforte d'Alpone, grandfather Giuseppe was considered the local expert on viticulture, and he was the man to consult when it came to planting vineyards and growing vines. After Giuseppe had died an untimely death, his son Olinto struggled to support his family by traveling to Verona in a mule-cart loaded with a barrel of his Soave to sell wine to the local osterias. Once, he fell asleep on the way home, but his trusty mule brought him right back to his doorstep! Olinto started to bottle wines (as opposed to selling them solely in bulk by demijohn) in 1950.
In 1978, the Ginis built the first temperature-controlled cellar in Italy. By 1980, they started labeling their wines and selling them under the family label. In 1985, Sandro Gini started to ferment their Soave without the addition of sulfites, which was then a revolutionary move. Today, the appellation's limit for sulfites is 160ppm, and their wines are bottled with only 60-70ppm, less than half of the legal limit, and way below organic/biodynamic standards. Fermentation, with the rare exception, is spontaneous. With their well-exposed, airy vineyards, and Garganega's exceptional resistance to disease, organic viticulture comes easy to them. In 2016, having always worked organically, they were finally certified on the label as "made with organic grapes."
Gini Amarone and Valpolicella?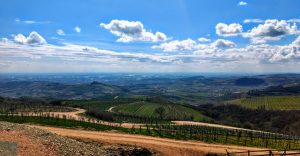 This brings us up to date on the Gini family's origins in Soave. What we didn't yet mention, however, is that since 2000, Sandro and Claudio have had a secret project. It all began in the late 1980s, when Sandro got lost on his Vespa in the hills near Campiano, not far from his home in the Soave area. The young enologist had just returned from visiting Burgundy and was inspired to find some land suited to the production of red wines. Campiano had everything:  the perfect exposures, great ventilation, big changes in night and day temperature, and the perfect soils for making complex reds. It was love at first sight.
Campiano had long been known as the source of good things; the area had been cultivated extensively prior to the second world war. But during Italy's post-war economic boom, high-hillside farming fell out of favor for cultivation on flatlands closer to centers of commerce.
For the Ginis, it was an enormous gamble to plant Valpolicella varieties on the edge of the appellation at 400 to 600 meters above sea level where cooler temperatures prevail. The idea of climate change had yet to enter the general consciousness, but the results of Sandro's first experiments were excellent. He was achieving full phenolic ripeness earlier than his lower-elevation colleagues, and he was amazed to see the acidity remain stable even with peak maturity in his fruit.
They purchased the property and eventually set about planting Corvina, Corvinone, Rondinella & Oseleta in the required percentages. They discovered that their terroir, though primarily a rocky calcareous clay with high mineral content, also contained volcanic material. In short, it was even better than they thought! The brothers have worked organically from day one, and experimented for years to find the best way to dry the grapes and ferment and age the wines. They settled on a classical approach for winemaking: long fermentations of up to 40 days, and aging mostly in large oak casks.
"Our family has been here since the 1400s, and we have our way of doing things. Wine is made in the vineyard. The grapes need to be perfect. The land must be allowed to express itself. Enology today has become a game of adding things to wine to "correct" it, but this process takes away from the identity of the wine. In this project, I want to bring back the authenticity of Amarone and Valpolicella."—Sandro Gini, Winemaker for Gini and Tenuta Scajari
With the first releases now on the market, what is most striking about the wines is their exceptional freshness. Weighty and mouth-filling at the start, these wines are then taut on the entry, with an evident spine of acidity and minerality gracefully supporting the wine's inherent heft. Refined, distinctive, and so unlike the Valpolicella that flood our market, the aim of these wines is nothing short of redefining the appellation and we're so thrilled to include them as a part of our collection.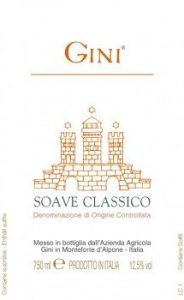 Gini Soave Classico 2016
100% Garganega from organically farmed vineyards. The top quality of Gini's fruit makes it possible to avoid blending in any other grapes such as Chardonnay or Pinot Blanc, as is common in the region, allowing for a gentle but refreshing expression of this unique grape variety. Following strict selection of 100% hand-harvested fruit, the grapes are soft pressed and the must is then immediately cooled. Fermentation takes place in temperature-controlled stainless steel tanks. The wine remains on its lees in steel tanks for another six months before bottling, lending richness and complexity.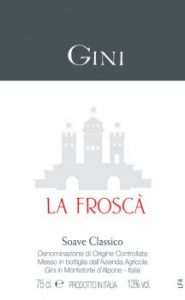 Gini Soave Classico 'La Froscà' 2015
The historical Froscà cru, planted in 1955, is a 6 hectare vineyard of Garganega planted in calcareous and tuffaceous (volcanic) soils. The fruit goes through a soft pressing and immediate cooling of the must. Alcoholic fermentation and aging on the lees takes place in both stainless steel and small oak casks. 1666 cases produced.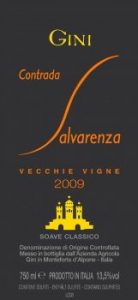 Gini Soave Classico 'Salvarenza' 2015
Salvarenza is a tiny sub-plot of the La Froscà Cru and home to the Gini's centenarian vines, some of which are prephylloxera. The grapes are hand-harvested and fermented in small oak cask. Malolactic fermentation and aging takes place in oak, with the wine resting on its lees for 18 months before bottling. No sulphites are added to the grape must prior to fermentation; Sandro Gini was the first in Italy to try this method in 1985.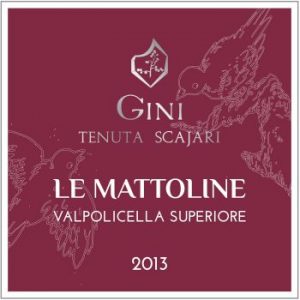 Gini Valpolicella Superiore 'Le Mattoline' 2013
Named for the birds found in the vineyards who jubilantly shake their entire body as they eat, the Gini Valpolicella Superiore "Le Mattoline" translates to "little crazy bird." A blend of 60% Corvina, 25% Corvinone, 10% Rondinella, and 5% Oseleta from organic vineyards located at 400 – 600 meters above sea level. The soil is comprised of calcareous clay along with outcroppings of volcanic stones. Fruit is hand harvest at the end of September, part of which is then dried for 3-4 weeks. The wine is aged in large Slavonian oak casks for two years before resting in stainless steel for an additional year prior to being bottled unfiltered. 800 cases were produced of the 2013.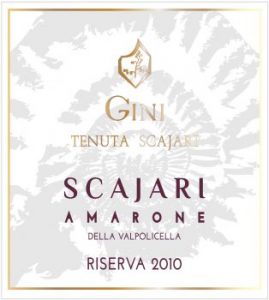 Gini Amarone della Valpolicella Riserva 'Scajari' 2010
The Amarone della Valpolicella Classico Riserva "Scajari" is named for the rocks found in the vineyards that, when split open, reveal fossils hidden within. Both wines truly celebrate the history and singularity of this high-reaching gem. A blend of 60% Corvina, 25% Corvinone, 10% Rondinella, and 5% Oseleta from organic vineyards located at 400 – 500 meters above sea level. The soil is comprised of calcareous clay along with outcroppings of volcanic stones. Fruit is hand harvest at the end of October before naturally drying for 3-4 months. Wine is aged in large Slavonia oak casks and neutral French barrique sur lies for five years before being bottled unfiltered. Wine then rests in bottle for 6 months before release. 400 cases were produced in 2010.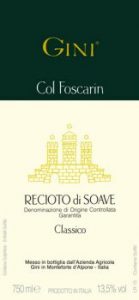 Gini Recioto di Soave 'Col Foscarin' 2010
100% Garganega grown in volcanic soils. The grapes are selected and dried in a storeroom in small wooden crates. After five-six months the grapes are pressed. The must is then racked in barriques (228L capacity). After about 18 months it is blended, bottled and cellared for about 6 months before release.