Gini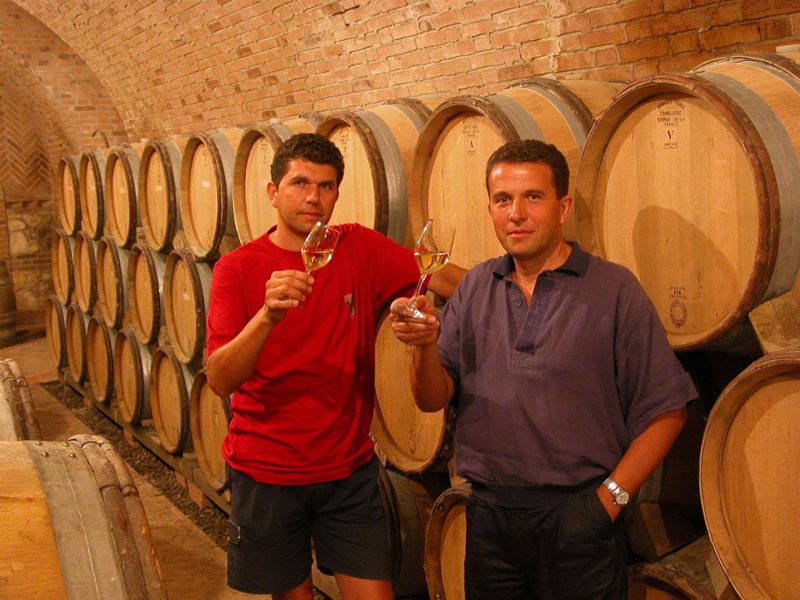 "Claudio and Sandro Gini have always made some of the best Soaves…" International Wine Cellar
"These Soaves embarrass most of the industrial swill that emerges from this region." –Robert Parker
The Gini family has roots in the Soave Classico region dating from the seventh century, and owns 25 hectares of vineyards situated on the very best hillside position of the appellation. Extremely low yields, low-interference viticulture, and devoted attention to expressing the unique character of each cru results in wines that are not only among the greatest Soaves but also among the great white wines of Italy. Olinto Gini and sons Sandro and Claudio have now finally completed their beautiful new cellar, which extends deep into the rocky and tufaceous hillside of Monteforte d'Alpone, thus providing optimal natural temperature and humidity control.
Both tradition and the modern are reflected at Gini. The hand-harvested Soave Classicos are 100% Garganega, though many in the zone blend in other varietals to compensate for shortcomings of less-than perfect grapes. Both the Soave Classico and the single-vineyard "La Frosca" are vinified in stainless steel. The rich, concentrated "Salvarenza", from a tiny plot of 80-year-old vines within the La Frosca vineyard, is matured in barriques. The Re Nobilis is a rare representative of a botrytized style Recioto, northern Italy's version of a German TBA, while the Recioto Col Foscarin is a delightful desert wine, also great with cheese.
We also have the pleasure of introducing Gini's premiere vintages of Valpolicella reds, Valpolicella Superiore 'Le Mattoline' and Amarone Valpolicella Riserva 'Scajari.' First planted in 1991 at one of the highest reaches within the Valpolicella appellation, the Gini brothers started experimenting with various drying and winemaking approaches, striving for a level of freshness and elegance in a region where intensity and impact has always won out. The outcome is two stunning wines that not only showcase a purity of fruit, but also tell a vivid story of place.
Vineyard Practices: Certified organic. Earth's natural cycles are respected (for example vines are pruned according to the moon phases). No insecticides are used. Only manure is used as fertilizer. Spontaneous cover crops (grass cover) are left between the rows of vines, the grass cover is mowed and the turf is left in place (the soil is not tilled).
Farming Practice:
Certified Organic