We looked up "bottle service" and found disdain, bafflement, nostalgia, pro tips, and pure hedonism, but there are two things everyone agrees on: expense and excess.
Urban dictionary defines bottle service as…
The lame new trend of clubs charging $500 for a $20 bottle of liquor, so that patrons think they are cool spending lots of money. For example, for VIP entrance to a club, you must order bottle service.
However, new can be relative.

In 2006, 
New York magazine writer Brian Niemietz
 traced the first bottle service to bottles of sake in Japan in the early 1940s. The first modern iteration was in 1988 in the Paris nightclub Les Bains Douches, where people bought a table and received a complimentary bottle. By 2001, bottle service was king at clubs like Pangaea, Bungalow 8, and Lotus, where a bottle of Grey Goose could go for $500.
Everything You Need to Know About Bottle Service, (Hines 2017)
We are certainly more familiar with the vision of bottle service elicited from the 1980s and 90s, when promoters moved to and opened clubs in New York, Vegas, and Los Angeles, bringing with them these lucrative exploits. In the 1990s, pop culture emblems showed the sex appeal of high society and financiers feeding their egos, meeting women, and climbing social ladders—all while enjoying bottle service. Think Patrick Bateman, who, in American Psycho, was said to have frequented Tunnel…
Bottle service reached its heyday in the early 2000s, and, like many trends, became such a thing, that it lost its meaning or appeal. "Service", in any capacity, became an afterthought.
Still, we like to think that there is something so hospitable about a guest's personal bottle served with a set of mixers. Now, in 2019, we're seeing a resurgence of a new kind of bottle service, with an emphasis on that latter component—service.
---
Oxomoco, a favorite Mexican restaurant in Greenpoint, Brooklyn, is now offering 200 mL bottles of rare mezcal varieties from Rey Campero. The bottle is opened at the bar and arrives at the table with mezcal copitas in which guests can pour themselves a dram.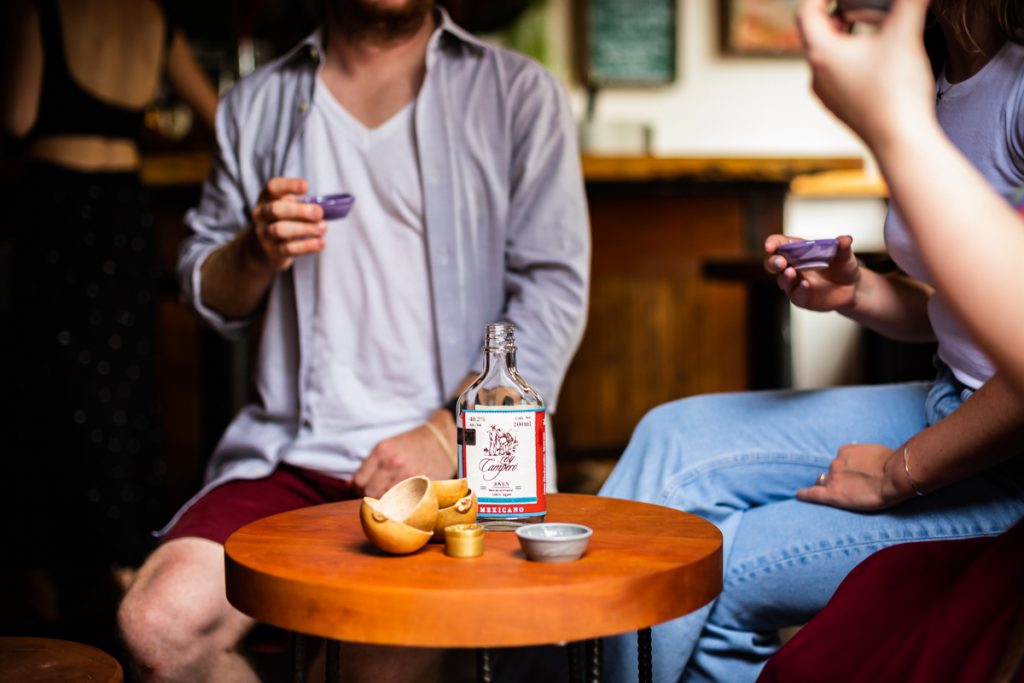 A lot of our guests ask for recommendations…selling a shareable bottle makes choosing from an extensive list a little less intimidating for the whole table. Even better, in the middle of a busy service, everyone gets a drink right away. Guests are already sharing every dish on the table; sharing a bottle is a great compliment
Gabby Ayoub, GM at Oxomoco
Ayoub notes that servers are available to offer tidbits on customers' chosen variety as the bottle is placed at the table, adding to the experience by diving into the complexities of various mezcal varieties such as Tepeztate, Jabalí, Mexicano, Cuishe, or Espadin. Guests can drink as slowly or as quickly as they'd like; they can touch the bottle, read its contents, and discover new regions and mezcaleros. In this situation, guests come to not only eat and drink but also to learn about an enigmatic and popular spirit. The price of the bottle is just as it would be if it were poured and served by the ounce, like any other mezcal on the back bar.
---
Likewise, Austin Hartman, Owner of the rum-focused Paradise Lounge in Bushwick, serves a 'Rum Shop' for groups of two or more;
We offer a 'Rum Shop' program to celebrate the drinking style and spirit of the Caribbean. It's a 200 mL bottle of rum, their choice of mixer, garnish, cup and ice to sip at their own pace and creation.
Austin Hartman, Owner of Paradise Lounge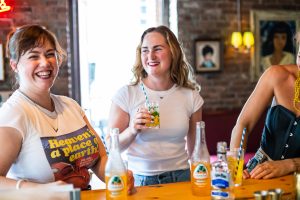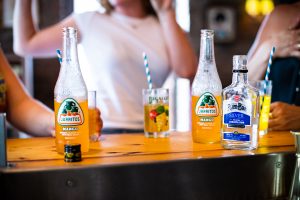 ---
On the other hand, Erik Trickett, Bar Manager at Holiday Cocktail Lounge, an East Village staple, serves Novo Fogo Caipirinhas by the bucketful.  Trickett encourages guests to order a bucket of ice filled with cold ready to drink caipirinhas.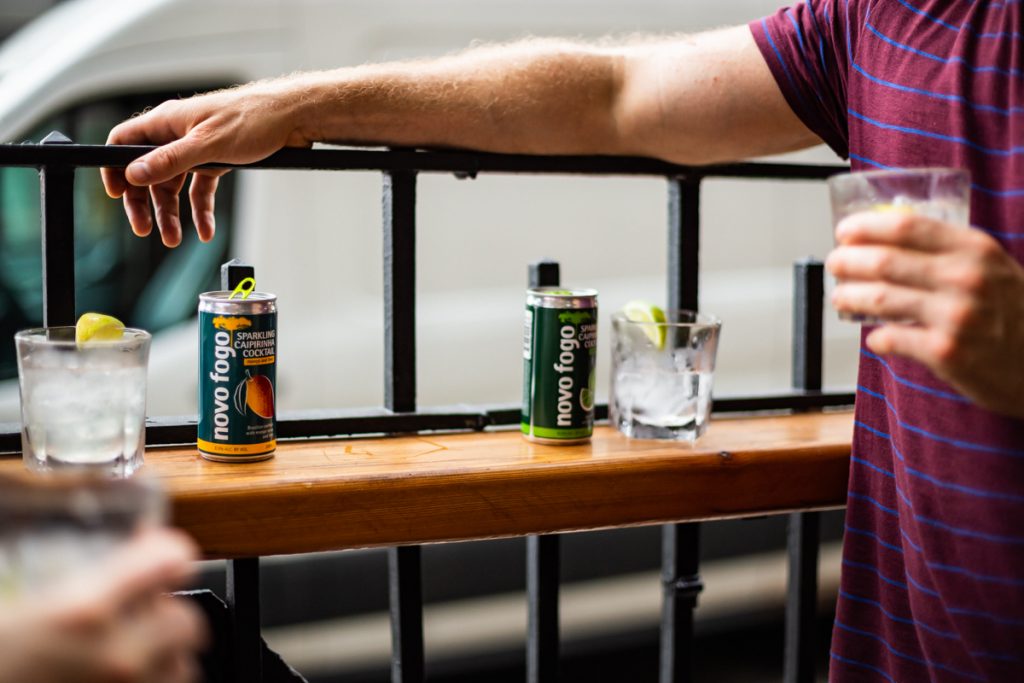 Our large format buckets and punches are about ease of service, but also about convenience and pace of service for our guests. It's about updating old school things like bottle service or pitchers with new and fun things, like the sparkling caipirinha from Novo Fogo. These new options from brands that are conscious of quality make it possible for people to have something on the table and drink at their own pace.
Erik Trickett, Bar Manager at Holiday Cocktail Lounge
---
The ready to drink cocktail industry is booming; these cocktails are popping up at parks, subways, and even sidewalks. According to Trickett, serving up a well-made 'RTD' cocktail takes a little weight off his staff's shoulders, and offers precious seconds at his fast-paced bar.
This new kind of bottle service is neither expensive nor excessive, all while offering guests control over their experience.
Check out Skurnik's ready to drink and small format bottle options:
---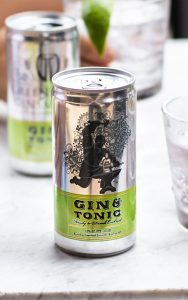 Made with Greenhook's Vacuum Distilled American Dry Gin and their proprietary tonic water, the Greenhook Ginsmiths Gin and Tonic is a celebration of all of the glories of the G&T that make it the World's most refreshing drink. Presented to you at the optimal Gin to Tonic ratio and the perfect level of carbonation, crack open a can and taste the difference.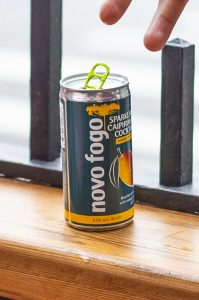 Novo Fogo Sparkling Caipirinha Cocktails
"SUPERLATIVE, PLATINUM MEDAL. Clear color. Aroma of funky cane with a satiny, vibrant, fruity light-to-medium body and a seamless, complex, medium-long key lime, apricot, grilled fruits and vegetables, coconut, lychee, and guanabana finish. A delicious, perfectly funky caipirinha in a can." – Beverage Tasting Institute
"EXCEPTIONAL, GOLD MEDAL. Golden green color. Tropical aromas and flavors of mango, smoked honey, clementine, jasmine tea, and fresh-cut grass with a round, vibrant, fruity sweet light-to-medium body and an effortless, layered, medium-long finish with impressions of raw cane and mango yogurt finish. Vivid, all-natural fruit flavor makes this a knockout Ready-To-Drink cocktail." – Beverage Tasting Institute
"EXCEPTIONAL, GOLD MEDAL. Slivery straw color. Aromas of lychee syrup, peach gummies, and grilled jicama with a round, vibrant, fruity sweet light-to-medium body and a seamless, elegant, medium-long white tea finish. Cachaça and Rhum Agricole fans will find lots of juicy, complex flavors in this must-try RTD." – Beverage Tasting Institute
Available as single units (200 ml/6.8 oz), in 4-packs, or 24-packs.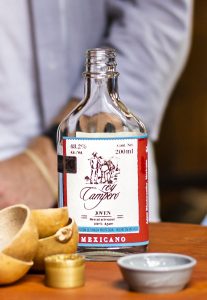 Nose : White chocolate, guava, English peas.
Palate : Espresso, white chocolate, snow peas, roasted green bell peppers.
Nose : Braeburn apple, lemon verbena, and leche.
Palate : Lingering smoke, lemon zest, jasmine, and coconut oil.
Nose : Vanilla bean, sweet tea, cayenne, and pine nuts.
Palate : Smoked cedar, dried grass, and espresso.
Rey Campero Tepextate is made from wild Tepextate that has matured 15-18 years before harvest. After roasting and crushing, it is fermented with wild yeast in the open air before double distillation and bottling. Rey Campero has a strong commitment to local sustainability. For each maguey harvested for their Mezcal, others are planted. They do this with all of their agave, but it is particularly important for the Tepextate populations given the time needed for each Tepextate plant to reach maturity.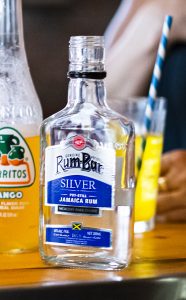 Rum-Bar Rum is Jamaica's premium White Overproof Rum. Sticking to tradition this is a blend of three unaged rums, all distilled on our 100% copper Pot Still, giving us a high level of quality and flavor and giving rum fans everywhere simply a better tasting rum.
A traditional pure pot still overproof rum and is presented at 63% ABV. On the nose the banana notes dominate with a beautiful balance of other exotic fruit continuing through to the palate supported with that classic grassy vegetal Jamaican funk.
Rum-Bar Silver is a blend of three unaged rums with fermentation times ranging from 30 hours up to 3 weeks. This white rum measuring at 40 degrees, represent the Jamaican "funk". Without added sugar or additive, it is not cold filtered. Our rum is distilled in 100% copper pot still built in Scotland. No additives ar used in the blending of this rum.
Rum-Bar Gold: a premium gold rum, barrel aged for a minimum of 4 years
A classic rich Jamaican rum which can be enjoyed mixed or neat. Ideally, rested before sipping as once the alcohol dissipates the sweetness of banana and stewed apples prevails on the nose. The fruit dominate the palate whilst the four aged years enables this rum to benefit from oak interaction, also giving a vanilla and treacle like sweetness. A long mellow finish bursting with flavors.