You have your vintages, and you have your vintages— those golden seasons when Bacchus seems to descend from Olympus to shower his especial blessing across much of old Europe indiscriminately; years where drawing overfine distinctions between Pomerol and Margaux, Volnay and Nuits, or Barolo and Barbaresco seems churlish; harvests where the sheer deliciousness of the bounty reminds us all anew of the miracle of wine. And when one of these generally great vintages is also (especially in this age of rising temperatures) what we may term a classic vintage— one in which the ripeness and complexity of the fruit is driven on a chassis of noble structure, and whose longevity and drinkability are both assured by mouthwatering acidity— color me thirsty.
Two thousand ten was such a vintage. It remains, arguably, the last generally great classic vintage in Europe to date. Where to get the wine, though? The Burgundies, long since bought and sold, remain ensconced in cellars, with perhaps a bottle or two rising to the table for a checkup every so often. Ditto Piemonte, with, we hope, less pilfering of the cellar. There was never much Northern Rhône to go around anyway. (Is there ever?) Bordeaux? For all we know, some 2010 futures have yet to be even delivered. With only a few exceptions, it's already a vintage for the history books.
Thankfully, though, there is another classic region that has yet to unfurl all its charms. A place where long, slow aging in barrel, and equally long slumber in bottle, have come to be seen as nearly as intrinsic to the terroir as the limestone and the cool Cantabrian nights. A place where the usual rhythms of the business, humming away in the foreground of the bodega, fall away the hush of a deeper, older rhythm when one steps into the cellar. Yes. It's Rioja.
But even here, in this land of melting clocks, most of the 2010s have already made their way into the marketplace. One must now turn to the arch-traditionalists, those with nearly a century and a half in the rearview and a cellar a decade deep or more, depending on the reference. In short, one can do no better than turn to La Rioja Alta, S.A., a bodega whose very name leaves no question about its emblematic position in the Alta zone. The 2010 vintage of their legendary Viña Ardanza Reserva is upon us.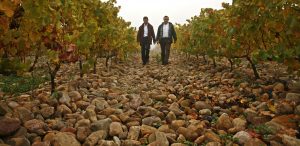 This historic cuvée first saw the light in 1942, and while it has evolved over its 75-plus-year history, one of its distinguishing features has long been a healthy dollop (nowadays around 20%) of Garnacha from the Rioja Baja. This warm, low-lying satellite district of Rioja has historically been viewed as a poor relation to the Alta and Alavesa areas, but it is often propitious for top-quality Garnacha, which La Rioja Alta has in abundant supply thanks to their acquisition of the Finca La Pedriza in Tudelilla. The 2010 release is the third vintage since all the Garnacha in Ardanza has come from this spectacular alluvial-stone site situated at the cool altitude of 550m above sea level. This Garnacha and the 80% of Alta-district Tempranillo representing the remainder of the blend ferment separately in temperature-controlled stainless steel. After malo, the juice descends for its three-year passage in all-American white oak barrels (second- to fourth-use on average). Manual rackings are frequent, though slightly less so with the more oxidative Garnacha. After the final blending is made and the wine goes into bottle, the market is still far away—typically four years or so. Thus is a classic born.
One plot point remains: the labels still haven't been affixed to the bottles, and herein lies yet another point of distinction. Very rarely, when the winery deems the quality of Ardanza to be simply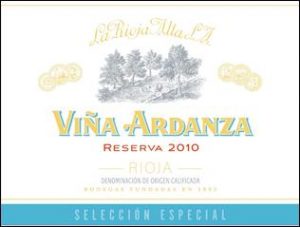 extraordinary, the moniker of Reserva Especial has been applied. There is no in-house nodding and winking here, either—only four vintages in the 77-year history of the cuvée have been so honored: 1964, 1973, 2001, and now 2010. (The 2010, one should note, has been dubbed Selección Especial, as Reserva Especial has fallen out of bureaucratic favor with the appellation.) Finally, a new label design, hearkening back to the pre-2001 aesthetic, has been unveiled.
The critics have been early and unanimous. By June of this year, Spectator's Tom Matthews had already fired a 94-point shot across the bow, boding quite fair for inclusion in the late fall's Top 100 podium. Shortly after, the Advocate's Luis Gutiérrez raved about the wine, awarding its highest score (95 points) in that publication since the twin reservas especiales of 1964 and 1973. But beyond the question of publications and numbers, this is quite simply an epoch-making release of a legendary wine, and quantities—for now—are good. Give your sales rep a call today, and enjoy the bounty while it lasts. Salud.
2010 was a great vintage in Rioja in general and seems to be exceptional here, with a 2010 Viña Ardanza Selección Especial (what used to be Reserva Especial) that can challenge any of the recent vintages and hopefully can develop in bottle to reach the heights of years like 1973 or 1964. The wine is expressive, aromatic, very elegant and clean, with classical Rioja aromas of long aging in barrel and slow oxidation through the years in wood. The palate is polished and sleek but shows plenty of energy, with very fine, mostly resolved tannins and very good harmony and persistence. There is great complexity, and you could start smelling spice and smoke to move to earthy tones, hints of beef blood, cherries in liqueur, curry, diesel, old furniture and forest floor. A great Viña Ardanza! They have managed to produce 600,000 bottles of this—and apparently in one single lot. It was bottled in May 2015.Luis Gutiérrez, Wine Advocate