Kenbishi Shuzo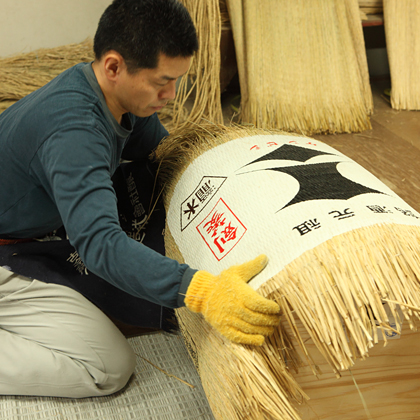 One of the oldest continuously active breweries in Japan, Kenbishi has been making bold and rich sake in Hyogo since 1505. Their iconic diamond logo can be seen in 16th-century illustrations of samurai drinking sake from a barrel for courage before battle.
Kenbishi is located in the heart of Nada, Japan's largest sake producing area just east of the city of Kobe. The mineral rich "Miyamizu" spring water of Nada makes for powerful sake with spine and definition.
Despite the size of the brewery it adheres to many unique and time-honored methods. All their koji is still made by hand, their entire production with the time consuming yamahai method that produces depth and richness, and every release is blended from a mix of 2- to 8-year-aged sake. Unlike much of the rest of the sake industry their style has remained unchanging throughout the years, providing a great example of classic old school sake that bursts with umami and flavor as opposed to light and dry examples.