It takes a two-hour ferry ride aboard the Caledonian MacBraybe to travel from the rocky islet of Kennacraig to Port Askaig, located on the northeastern shore of Islay. This world-renowned, whisky-producing island is situated off of mainland Scotland to the south-west. After pushing off, exiting the narrow West Loch Tarbert, the ferry heads straight across open water before rounding the horn of Jura to the north. Even in summer, the air is chilly and the wind is howling. As the ferry makes its approach to Port Askaig, the view to the east and west is taken up by deeply green and matted hills that have been battered and rounded by wind, rain, and time.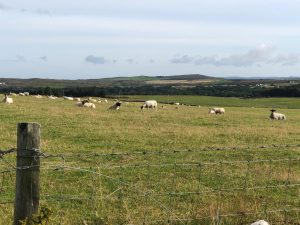 Passengers return to their cars and disembark from the hull of the ship. As you head west, winding along the "A roads" before transitioning to B, C, & D single-track roads (respectively named for their grade of maintenance and ease of traversal or lack thereof), you find yourself "Islay Waving"  to passersby, and find that it is easy to be taken in by Islay's rugged—and at times alien—landscape. Jagged rocks thrust out into the streams, lochs, and ocean. Trees are a rare occurrence and bright, yellow-hued, spiny gorse shrubs, smelling strangely of coconut, grow along the roads and mountainside in barbwire thickets. And the livestock! There are 3,500 human residents on Islay and more than 30,000 sheep.
Thirty minutes, and a hop, skip, and jump away from the western shores of Islay, you will arrive at the islands sole, independently-owned Single Malt Scotch Whisky producer, Kilchoman. Established in 2005 by Anthony Wills, it is the first new distillery on Islay in over 124 years. Kilchoman is nestled within Rockside Farm, a traditional Islay estate of brick & sprawling barley. Kilchoman's barley fields stretch west, to the picturesque beach of Machir Bay, from which one of their flagship whiskies takes its name.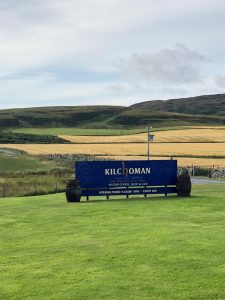 A vatting of 90% bourbon-matured & 10% sherry-matured whisky, "Machir Bay" (photo) is Kilchoman's signature single malt. When nosing Machir Bay, there is no mistake that you are about to delve into a dram, or some other charmingly-phrased volumetric quantity of Islay whisky. Dried stone fruit, toasted graham, and salted chocolate dance together on the palate, striking balance between sweet and savory, high tones and bass, proof, texture, smoke, and sea salt.
There is no better place to sample the whiskies of Kilchoman than in their warehouses. Tours are offered regularly to encourage a better sense of Kilchoman's whiskies and how special they are and currently, roughly 35,000 visitors pay Kilchoman a visit each year during their travels. Standing with Anthony Wills, one of his three sons, or another trusted member of the Kilchoman team, you can't help but feel their pride for every ingredient and aspect of the whisky-making process in which they are so deeply invested.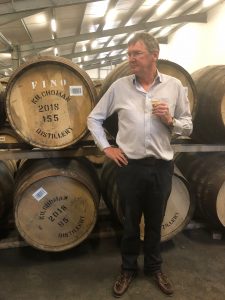 Like many Islay distilleries, Kilchoman sources much of its peated barley from nearby Port Ellen. Heating and peating the barley arrests the germination process while imparting the complex and terroir-specific, sea-kissed smoke for which Islay whisky is famous. The peated barley purchased by Kilchoman arrives at the distillery at 50 ppm (phenolic parts per million). However, Kilchoman's spirit reads lighter and fruitier than most other Islay whiskies, including those peated at a lower level. The peated barley is combined with increasingly warmer water over three separate stages before being drained and dosed with yeast. These three individual soaks lead to a maximum sugar extraction and a supremely clear wort.  This is one of the key factors that sets Kilchoman on the path towards its light and pretty character. The spent grain, known as draff, is used to feed the herd of Aberdeen Angus cattle that graze solemnly on the estate. 85 hours after yeast is added to the wort (nearly double the industry standard) fermentation is complete, leaving behind a highly aromatic beer packed with esters and creamy lactic acid.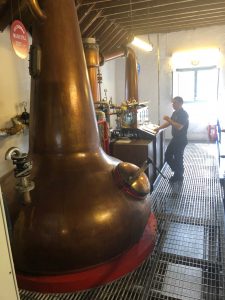 Distillation at Kilchoman takes place on a pair of Forsyth stills. The size, unique shape, tall height, and angle of swan's neck greatly affects the level of reflux within each still. This is one of the major contributing factors which leads to the clarity and lightness of Kilchoman's whisky. The six-man malting and stillman team pumps out the equivalent of 300,000 liters of whisky each year, all destined for maturation at the farm's well-organized, 100-yard-deep dunnage warehouse. In this single-story structure with cement walls and dirt floor, barrels are laid on their side and stacked 1 to 4 levels high on wooden racks. A wall of tan, brown, white, and Kilchoman-blue barrel ends lay out a boozy game of Othello for the eye, all branded and sized with near uniformity. (INSERT PICTURE OF BRANDED BARREL) The barrels themselves are mostly comprised of bourbon barrels (Buffalo Trace, shipped whole and wet, rather than broken down into staves) and Sherry butts, coming from Bodega Miguel Marin in Spain. While these barrels make up the vast majority of vessels being employed, Kilchoman plays around with other types of casks, including Cognac, Port, Fino Sherry, Madeira, Sauternes, red wine, and rum. These special bottlings, along with annual releases such as Loch Gorm (100% Oloroso Sherry Cask matured and bottled in '07, '08' '11, at 46% abv), make their way to market in the form of limited release whiskies, which are gone as quickly as they arrive on the shelf. The first allotment of "Port Cask" was recently received by Skurnik,  and Kilchoman's "Sauternes Cask Finished" expression will arrive later this month…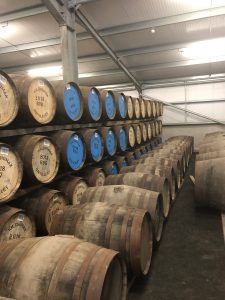 Back in the warehouse you are handed a Glencairn glass. You tilt it towards yourself, examining the light copper bowl and deep amber, polished lip. Sticky toffee pudding, salted nuts, dried red berries, pipe tobacco, and bitter chocolate waft from the glass underneath your nose. You are advised by the guide that this dram is called Sanaig, the second in Kilchoman's core lineup, and is named after a nearby rocky crag on Islay's Atlantic coast. This expression is a vatting of 70% Oloroso sherry cask-aged and 30% bourbon barrel-aged whisky – and much like their geographic counterparts, Sanaig is bolder and more rugged than Machir Bay.
The third bottling of Kilchoman's core lineup is the pride and joy of the distillery, and truly sets the operation apart from the Islay pack. Appropriately named "100% Islay", this whisky personifies everything that the Wills family, the greater Kilchoman team, and the terroir of the island have to offer. Barley is grown on the estate for this expression, and is malted in-house. Octavian & Concerto barley are planted on the farm in Spring, shortly after the 50,000+ geese make their seasonal exit from Islay. Give that fertile soil a gander! 200 tons of barley are harvested in early September in the first of the eight-step process which goes into every bottle of Kilchoman's "barley to bottle" expression. Once a sufficient amount of starch has been converted to sugar during the germination process that is also performed on-site, the newly-sprouted grain is heated using peat harvested from Kilchoman's own bog, which is slightly more sheltered from the harsher weather of the island and therefore exhibits a slightly less briny quality than that of the peat from Port Ellen. There is still no doubt, however, that this peat is comprised of the decomposed maritime fauna and flora that have resided on and around Islay's coast for millennia.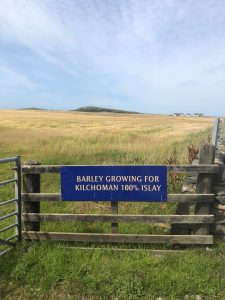 All of Kilchoman's estate-grown barley goes into 100% Islay, which makes up 20%-25% of Kilchoman's total production. All malting for 100% Islay takes place on Kilchoman's malting floor, another part of the process which is almost always outsourced by distilleries today. For this vital step of the whisky making process, Kilchoman's barley is steeped in water for 2-3 days, before being drained and rested. The team is looking for a moisture content of 40% in each kernel, and the barley is continuously raked/turned over for the next 5-6 days to ensure an even germination, without growth of mildew. Next comes peating, which is done entirely in-house for the barley destined for Kilchoman's 100% Islay. While the malted barley from Port Ellen is peated to the previously mentioned 50ppm, Kilchoman's barley is peated to 20 ppm, resulting in a bottling that drinks with just a kiss of salt and smoke.
Following a post-peating, two-week resting period, the barley makes its journey to Kilchoman's still house, whereby it enters the 1.2-ton mash tun. Water, temperature, time, and agitation collectively play their part in coaxing out a sugar-laden wort from the once starchy grain, to be drained and dosed with distiller's yeast. While the yeast used to induce fermentation, and the lengthy fermentation itself, are consistent throughout Kilchoman's overarching process, there is a notably present note of strawberry shortcake which sings out in the final bottling of 100% Islay (50% abv, 7yr). This pretty red fruit and lightness are derived from the collective processes Kilchoman painstakingly undertakes to lovingly usher barley to the bottle.
Scotch Drink – Robert Burns 1785
Let other poets raise a fracas
"Bout vines, an' wines, an' drucken Bacchus,
An' crabbit names an'stories wrack us,
An' grate our lug:
I sing the juice Scotch bear can mak us,
In glass or jug.
O thou, my muse! guid auld Scotch drink!
Whether thro' wimplin worms thou jink,
Or, richly brown, ream owre the brink,
In glorious faem,
Inspire me, till I lisp an' wink,
To sing thy name!
Let husky wheat the haughs adorn,
An' aits set up their awnie horn,
An' pease and beans, at e'en or morn,
Perfume the plain:
Leeze me on thee, John Barleycorn,
Thou king o' grain!