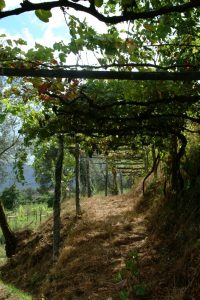 Too much Champagne lately? Sounds crazy, but I feel you. Raventós? Already got a couple cases in the basement. Cider? I like the way you're thinking—but not today. What indeed to pop when the ball drops this year? How about… Vinho Verde???
Follow us to the Minho district of northern Portugal, where a slight fizz has long been a traditional feature of the wines (legend holding the peasant to have added a grain of rice or a raisin to each bottle, ensuring juuust enough continuing fermentation.) The industrial era has largely replaced this natural prickle with mechanical addition of carbonic gas at bottling, but the industrial era is decidedly not our subject today. We're headed to the lush Lima Valley, the southerly subzone where Loureiro and Vinhão – not Alvarinho – reign supreme, and where Vasco Croft's biodynamic Aphros estate produces sparkling wines that could not possibly be further from what most of us talk about when we talk about Vinho Verde.
From a background of architecture and furniture design, Croft came to wine through the side door of Rudolf Steiner's anthroposophical education theories. By 2002, he had come to repatriate his family's 17th-century Quinta do Casal do Paço and inaugurate the Aphros winery. Amid the panoply of offerings (reflective of both the riotous fertility of the region and the compelling palette of indigenous raw material), sparkling wine has always been something of a specialty; the name 'Aphros' itself echoes the Greek word αφρός – 'foam.' (Think of the goddess Aphrodite, born of the sea foam.) Initial efforts included serious, traditional-method bottlings boasting anywhere from a year and half to over two years' aging sur lies. The toasty, delicious fruits of this labor can be enjoyed in the 2014 Loureiro Reserva Brut and the 2013 'Pan' Rosé—both current releases!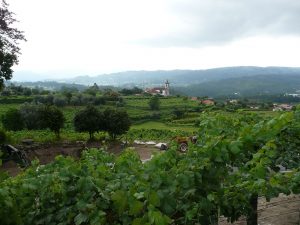 Most recently, emboldened by resounding qualitative mastery of the classical idiom, Croft and team have expanded into the ancestral method with the 'Phaunus' Pet-Nat white and rosé, seeing them as "more in tune both with the spirit of local tradition and with our winemaking philosophy by preserving the integrity of the grapes." The naturally high-acid, low-pH grapes, already well-balanced at low potential alcohol, are hand-harvested in small cases, full-cluster pressed, and partially fermented in tank with indigenous yeasts. Fermentation is stopped via low temperature rather than sulfur addition. Crucially, these wines are disgorged about five months after the primary fermentation terminates in bottle, resulting in a clear, bright wine that beguiles some understandings of the term 'pet-nat' – and, in Aphros' own words, 'is not very good for sales' – but has proven far more stable in bottle. We salute them. What better way to warm your guests' hearts this New Year's Eve?