WHAT'S SCHEUREBE, YOU ASK?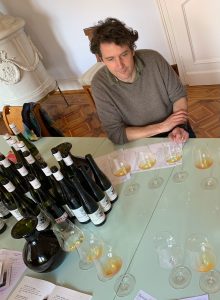 Scheurebe (Sh-oy-Rey-Buh) is an oft-misunderstood and wonderful grape variety. A cross of Riesling and Bukettraube (Silvaner x Trollinger), Scheurebe is highly aromatic with bracing, Riesling-like acidity. In the right hands, it can produce wines in a full spectrum of styles, from dry to sweet, expressing soil and place clearly. It's also a variety that ages beautifully –1989 Müller-Catoir Scheurebe Auslese is a legendary wine and many excellent versions from the 1970s and 1980s can be sampled at Kruger-Rumpf in the Nahe.
Scheu (rhymes with "joy") might remind you of Sauvignon Blanc in its aroma, without the green, grassy, or bell peppery-pyrazine character. It's frequently associated with aromas of grapefruit and gooseberry with a spicy, peppery note. These esters and citrusy aldehydes are often accompanied by a wild, exotic, and somewhat "animal" terpene aroma, found in guava and passionfruit, especially when Scheu is harvested very ripe. The intense aromatics of the variety are balanced by juiciness and acid-driven structure that gives way to more woodsy and non-fruit flavors as the wine moves towards the finish. "I love this variety most when it has one foot in on the fruit side and one foot in the wild, musky side," says Georg Rumpf, whose Scheurebe, planted in the Grand Cru of Dautenpflänzer, may be the oldest in Germany.
Below is a list of excellent 2019 vintage Scheurebe we have in stock, listed from driest to sweetest.
For anyone needing a jolt of bright sunshine this winter, these wines are a perfect escape.
THE WINES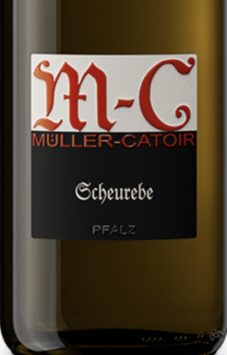 Müller-Catoir Scheurebe 'MC' Trocken
Müller-Catoir, located in the Pfalz, is an estate known for producing outstanding wines from aromatic varieties. The Schuerebe, Muskateller, and Rieslaner from this address are always impressive. Catoir's reputation for excellence was established by Hans-Günter Schwarz, the legendary figure responsible for both vineyards and cellar from 1961, at the age of 19, to 2001. An apprenticeship with Hans-Günter was a reference akin to working in the kitchen with Paul Bocuse or Fernand Point – he was simply the best at what he did. Catoir's reputation for wines of precision and brilliance from all these varieties continued when Martin Franzen took over responsibilities at the estate in 2002. Today, Catoir's Scheurebe (and Muskateller!) are among the very best examples of these varieties to be found anywhere.
In the best vintages for this variety, Catoir makes three different qualities of Schuerebe – a single vineyard from Haart, Madelring, a village level, and a this one, a delicious entry-level and bone dry Scheu.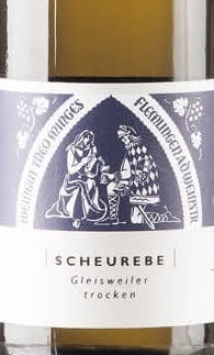 Minges Gleisweiler Scheurebe Trocken
Regine and her father Theo Minges produce certified organic wines in the Süd-Pfalz, the hilly and quieter southern end of the Pfalz. Theo was an apprentice of Hans-Günter Schwarz and took what he learned at Catoir ("controlled do nothing" and "listen to the wines and let them be the guide") and follows in the same footsteps. Theo and his daughter's love of Scheurebe is on display in the many different versions of this wine that they produce, sometimes 4 or 5 different wines in a single vintage! We love both of the selections here from Minges and this the village level dry Scheurebe that captures perfectly the crisp and saline side of the grape variety, even with it's wild aromatics.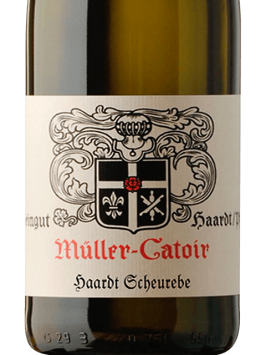 Müller-Catoir Haardt Scheurebe Trocken
This is the village level Scheu from Catoir and more concentrated and longer than the estate quality wine above but doesn't lack charm. It's the kind of wine that walks the line between seriousness and fun to drink with uncanny agility.  In 2019 a single vineyard wine from Mandelring in this village was also produced, another level of depth and quality.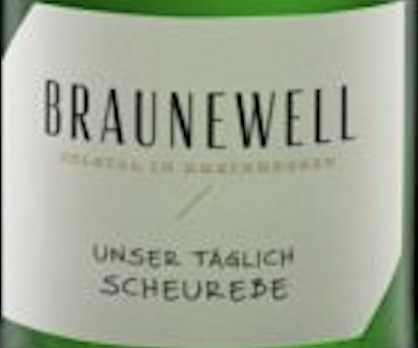 Braunewell 'Unser Taglich' Scheurebe Halbtrocken
Stefan Braunewell makes a drier style Scheurebe "Unser Taglich" – "for everyday use". He loves the variety, feeling that Essenheim, the cooler part of Rheinhessen where he's located is better for producing lighter, easy drinking Scheu than the deeper, elegant versions produced in the Pfalz. "It's a wine to drink every day; it should be delicious and satisfying" he says.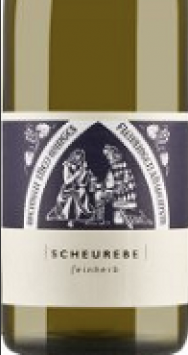 This estate level quality with just a hint of sugar is balanced by lively acidity is lip-smackingly delicious.  This excellent estate in the Süd-Pfalz produces a wide array of delicious wines and this is a loveable everyday Scheu that always seems to be the first one empty.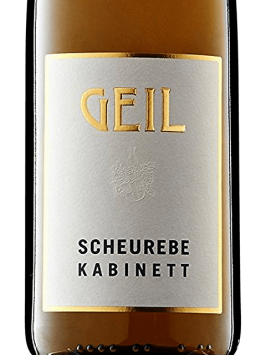 Geil Bechtheimer Scheurebe Kabinett
Johannes Geil's Scheurebe grown on the richer soils of Bechtheim, is produced in a kabinett style, balancing the intense aromatics and lively acidity with a very modest amount of residual sugar. This emphasizes the juiciness of the variety, but it doesn't feel overtly sweet.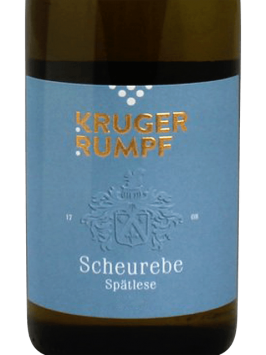 Kruger-Rumpf Scheurebe Spätlese
Georg Rumpf's Scheurebe is planted in the Grand Cru vineyard of Dautenpflänzer in the Nahe. These vines, planted in the early 1950s may be the oldest Scheurebe vines in Germany "certainly in the Nahe" says Georg. This site produces a Spätlese that Georg picks at a high level of ripeness, creating a complex and age worthy wine year after year.