Eight generations have passed since Nicolas Chiquet planted his first vine in 1746. During that time, the Chiquet family founded multiple Domaines, helped create the Spécial Club, and became famous for their unique Blanc de Blancs D'Aÿ.
Today, Gaston Chiquet is a benchmark of quality, with numerous accolades, spanning the last century and beyond.
---
Champagne Gaston Chiquet is one of the most recognizable Recoltant Manuipulant (Grower Producers) imported to the United States. Producing excellent Champagnes for more than one hundred years requires dedication and discipline; Nicolas Chiquet follows in the footsteps of his family, making elegant wines from top terroirs in the Grand Vallée de la Marne. Producing exceptional quality wines through different generations also requires the grower to learn and adapt. The Chiquet family's adherence to making great quality Champagnes means continually looking at ways to improve and to reflect the changing landscape of the region. Today, we look back at the last hundred years at one of the most celebrated Domaines in the portfolio. 
1911-1934
Having already made several bottlings under different Domaines, it wasn't until 1911 that the Chiquet family started to produce their own wines. At this time, Champagne was very different from the highly regulated appellation we know today.
This was a period of crises in Champagne; a fight between Négociant and growers. The Appellation hadn't yet been established, so unscrupulous négociants were purchasing fruit outside of the region. During this period many growers established their production as a way to not fight against the Négociant.Nicolas Chiquet, the 8th Generation of growers in the Chiquet family
By 1919 Nicolas' grandfather Gaston and his brother Fernand established 'Chiquet Freres' a small winery in the village of Dizy focusing on limited production and high quality wine. The brothers were pioneers in Champagne, among the very first winemakers to take the initiative, bold at the time, to keep their grapes, turn them into Champagne and sell their own product. They won their first medal in Paris in 1923, then their gold medal in Epernay, before the area demarking Champagne was even properly defined in 1927 after almost a decade of lobbying and fighting.
1935-1950
By 1935, the two brothers had split, with Gaston founding his own house that same year. "To be two brothers in business can be complicated," Nicolas notes. Gaston had the opportunity to purchase and hold Négociant in Dizy, called Veuve Miltat, where the winery and house stand today. This was the beginning of Gaston Chiquet as a Domaine. 
At the time, the estate was only twelve hectares, however even from the inception of the estate, the location of the vineyards hasn't changed – each successive generation has expanded the vineyard area, but always focusing on the same Premier Cru villages of Dizy, Hautvillers, and later Mareuil-sur-Aÿ and Aÿ Grand Cru.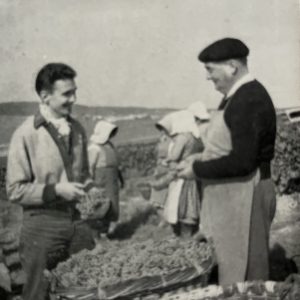 Currently, Nicolas Chiquet farms 23 hectares in the Valle de la Marne in the same villages. For fans of these wines, the estate has become justly famous for its excellent Blanc de Blancs d'Aÿ, 100% Chardonnay from the only Grand Cru in the Marne Valley, and a village most famous for Pinot Noir.    
However, this type of wine is not new. Dating back to the 1920s in the period between the two world wars just before Champagne was granted appellation status in 1936, Gaston had planted Chardonnay in some of the top vineyards in Aÿ. What followed was the invasion of Poland, the start of WWII, and a four-year occupation of Champagne from 1940, when the harvest was lost, to 1944. Unlike World War I, which had been fought in sections of Champagne, the region remained relatively unscathed during WWII.   
Returning to Dizy from the war effort, Gaston started to change the estate. For many years the wines had been vinified in wood, but in 1947, Gaston purchased his first concrete tanks to move away from the influence of wood in winemaking and oxidation. "My Grandfather was making this choice because of the vineyards. Even in the 1940s, we already had a lot of maturity and character from the vines in great places," explained Nicolas.    
Gaston's son (and Nicolas' father) Claude returned home to the estate in 1949 and, in 1950, produced the first vintage of Blanc de Blancs d'Aÿ Brut. "Before this, it was what today we call Coteaux – still wine – called Vauzelle Crohau Vin Nature de la Champagne, named for the specific vineyard," Nicolas said.
1951-1990
In the 1950s and 60s, Claude continued to buy parcels in these vineyards when he could. In this period, the domestic market in France had become saturated and Champagne was being marketed by the Grand Marques as "elegance" which, in Claude's opinion meant neutrality.
The growers were seen differently – with strong wines, too strong without enough finesse. Which was sometimes true, but it was too much of a caricature.Nicolas Chiquet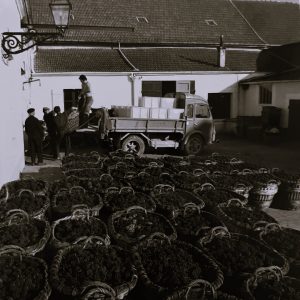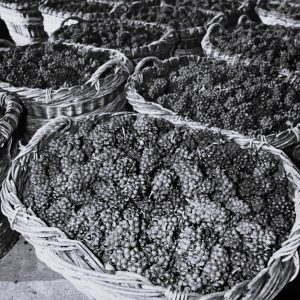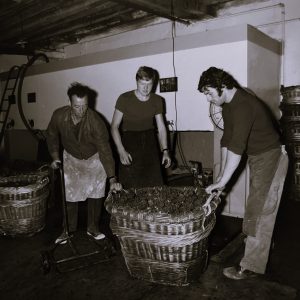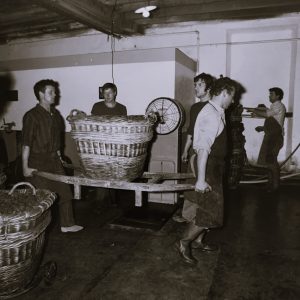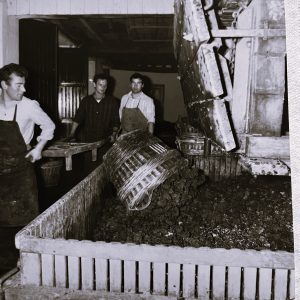 In 1971, Claude became one of the founding members of the Club Tresor or the Spécial Club, a group of growers with the idea to raise awareness of Récoltant-Manipulant Champagnes both domestically and internationally. The Club members decided that they would all bottle their top wines in a special bottle and use a blind tasting system to control the quality, ensuring that the Club wines were uniformly excellent, even if they were all from different growers and different sections of Champagne. "In the 1970s, this was very successful. We exported more wine all over Europe, but especially to Italy, which became a big market. By the 1980s, the group had more than forty members and as the sales became easier, some growers left the group to be on their own. For some, there were simply too many rules – with that many growers, it was hard to make regulations to cover everyone" Nicolas explained.

In 1975, Claude rented three hectares from his in-laws, members of the Philipponnat family in Aÿ and Mareuil-sur-Aÿ, which is the reason for the holdings in Mareuil-sur-Aÿ, the super-Premier Cru and home of Philipponnat's famed Clos de Goisses. Claude had three sons and Antoine, the eldest, joined him at the estate in 1982. Antoine brought new energy, helping his father replant Chardonnay in Aÿ and generally improved viticulture, while continuing on the path that Gaston had laid, replacing oak with concrete and then stainless steel.
1991-2021
Nicolas, the youngest, arrived in 1991, to work alongside his brother. For a year, Nicolas did every job in order to fully understand the Domaine. He then set about improving vinification and investing in stainless steel and helping to develop the markets for Gaston Chiquet. "At the end of the 1990s, we realized that we must change viticulture and completely do away with herbicide in the vineyards. This meant production in the short term suffered, but the quality became even greater," said Nicolas.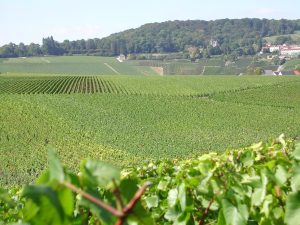 Hautvillers Fond de Beval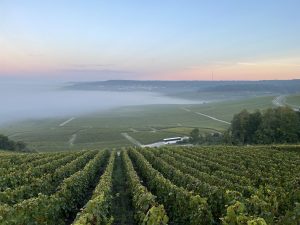 Dizy Les Veilots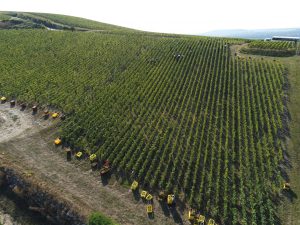 Dizy Les Cerisières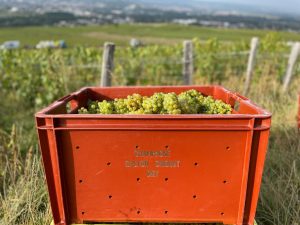 Ay Haut Crohaut

More concrete was changed for stainless steel and when vineyards in Les Cerisieres in Dizy or Vauzelle Crohau became available, Nicolas and Antoine bought what they could. In 2006 they purchased two horizontal PAI presses and in 2012, purchased a part of the rented vineyards from the Philipponnat side of the family. In 2016, the last concrete blending tanks were removed and replaced with stainless steel.  

In the last few years, Nicolas has been selling off sections of his vineyards outside of the Premier and Grand Cru villages (which went into a separate cuvée) and has been concentrating his purchases on the top sites, increasing his ownership of Vauzelle Crohau to just under two hectares.  

Each parcel is pressed and vinified separately at the estate and then blended. "This is part of the DNA of Champagne, blending," Nicolas remarked, "but in 2017, I started to make some more individual wines." There will be a Blanc de Blancs Vauzelle Crohau and a 100% Aÿ Spécial Club from the 2017 vintage. In 2018, Nicolas produced three different wines – the Vauzelle Crohau Blanc de Blancs, the Aÿ Grand Cru Club, and the normal Spécial Club. The Aÿ and the normal Club are based on the same cépage of 70% Chardonnay and 30% Pinot Noir." Nicolas didn't produce a Club wine in 2021, but hopes to release three Spécial Club wines for the 2022 vintage and move the Vauzelle Crohau single vineyard Club to a blend of 70-30 Chardonnay and Pinot Noir, like the other two wines.
2022 & Beyond
In 2022 Antoine retired after 40 years at the Domaine and Nicolas assumed sole ownership of the winery. The future and changing weather patterns are something Nicolas is thinking about constantly:
2022 is an extreme vintage in some way. For us, in Champagne, the evolution will be to find the right way to manage the vineyards. Density may be too high based on the weather and environmental rules. I want to adapt our production to keep the balance in the wines. We can't wait too long to try something because the evolution of the weather is too fast. For my estate, we have been decreasing the vineyard density to 1M x 1.20M for the last 5-6 years. In the next plantings, we will look at 1.10 x 1.20M. This could be a little easier – this is the old method, from when we were using horses and there needed to be larger spaces between vines. There will not be a single answer; we will have to look at many things. One thing that we can see has changed rapidly is the window for harvest. This window is much smaller now and this will be part of the future of finding the right balance. This is becoming the most complicated challenge for me, to find the best date for the harvest. 2022 is a good example – if we follow the samples and the analytics, we don't find the right maturity. We had to wait a long time to achieve the correct taste, which meant higher levels of sugar. I thought that 2022 was maybe the highest level, but in 1959 it was even higher. The future will be very interesting.
Nicolas Chiquet
The future will present new challenges, but with thoughtful growers like Nicolas, we know there will be excellent Champagnes year after year.  
THE WINES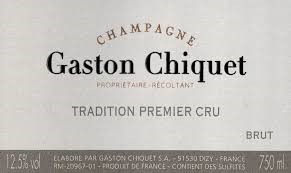 Gaston Chiquet 'Tradition' Brut
cépage 40% Meunier, 35% Chardonnay, 25% Pinot Noir

assemblage 80% 2014, 20% 2013

village/vyd Hautvillers 1er Cru, Dizy 1er Cru,

Mareuil-sur-Aÿ 1er Cru, Aÿ Grand Cru;

Clay and limestone over chalk

malo Yes

élevage Stainless steel

sur latte 48+ Months

dégorgement January 2020, February 2021 (6)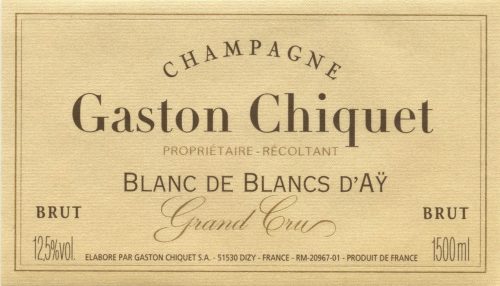 Gaston Chiquet 'Blanc de Blancs d' Aÿ' Brut
cépage 100% Chardonnay

assemblage 2015

village/vyd Aÿ Grand Cru; Clay and limestone over chalk

malo Yes

élevage Stainless steel

sur latte 48+ Months

dégorgement July 2020, November 2020 (6)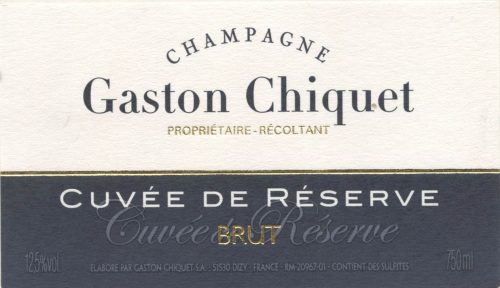 Gaston Chiquet 'Cuvée de Réserve' Brut
cépage 40% Meunier, 35% Chardonnay, 25% Pinot Noir

assemblage 93% 2013, 7% 2009

village/vyd Hautvillers 1er Cru, Dizy 1er Cru,

Mareuil-sur-Aÿ 1er Cru, Aÿ Grand Cru;

Clay and limestone over chalk

malo Yes

élevage Stainless steel

sur latte 72 Months

dégorgement November 2020 (8)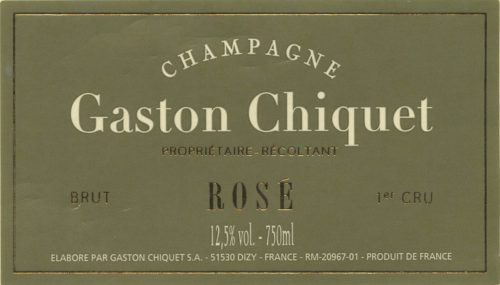 cépage 45% Pinot Noir, 35% Chardonnay, 20% Meunier

(11% vin rouge of Pinot Noir)

assemblage 89% 2018, 11% vins rouge from 2015

village/vyd Hautvillers 1er Cru, Dizy 1er Cru,

Mareuil-sur-Aÿ 1er Cru, Aÿ Grand Cru;

Clay and limestone over chalk

malo Yes

élevage Stainless steel

sur latte 15-18 Months

dégorgement July 2020, November 2020 (9)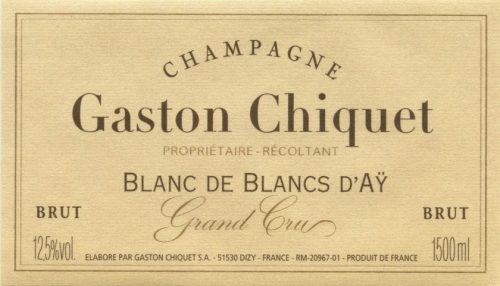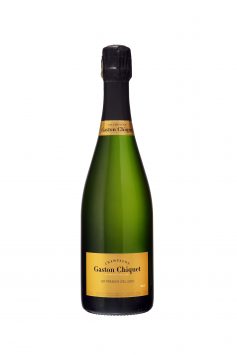 Gaston Chiquet 'Millésime Carte d'Or' Brut
Cépages: 60% Pinot Noir, 40% Chardonnay.

Assemblage: 2007

Vineyard/Village: Vineyards around the villages of Hautvillers, Dizy and Mareuil-sur-Aÿ.

Soil :Clay and limestone on belemnite quadrata chalk. This chalk variety radiates solar heat, maximizes drainage of excess water and retains humidity in summer. It stores the principal minerals that give the grapes their high ester content.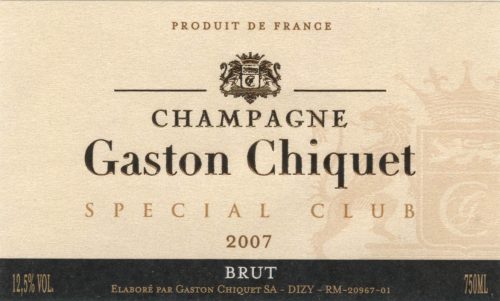 Gaston Chiquet 'Spécial Club' Brut
cépage 62% Chardonnay, 38% Pinot Noir

village/vyd 38% Pinot Noir from Dizy 1er Cru

(Griboury), 52% Chardonnay from Dizy 1er Cru

(30% Cerisières, 22% Crohaut Guillemoinel),

10% Chardonnay Aÿ Grand Cru (Frère & Martin);

Clay and limestone over chalk

malo Yes

élevage Stainless steel

sur latte 78+ Months

dégorgement November 2020 (8)