In May of 2016, Punch magazine published an article by Robert Simonson in which he documented his search for the ultimate sleeper of classic cocktails, the Sidecar—a deceivingly simple brandy daisy from the early 1900's. He posited a number of reasons for the drink's inability to reach the heights of popularity enjoyed by other classics like the Daiquiri or Old Fashioned, citing the lack of a balanced, universal spec as a major culprit. But this discussion took place with an elephant in the room: Brandy, to date, simply has not captured the heart of the cocktail renaissance with the same vigor as other spirits.
The resurgence of cocktail culture has lit new candles on the altars of any number of classic recipes, and virtually every base spirit has enjoyed its triumphant return to the embrace of discerning cocktail fans (even colorful vodka drinks from the wayward days of the late 20th Century have gotten loving overhauls, and spirits such as tequila and mezcal – with little to no foothold in original cocktail provenance – have become mixing must-haves). Aged brandies, however, have often remained on the edge of the cocktail party, so to speak. Perhaps often a staple of well-rounded drink menus but rarely the star, Brandy as a category has relied on its noble mixing heritage to remain relevant, rather than consumer demand.
In its broadest definition, brandy can be any spirit distilled from fermented fruit. And to its credit, the versatility of this category has made it a vital part of any cocktail program in the form of eaux-de-vie and orchard fruit brandies that function as supporting cast members. But when we look back on cocktail history, Cognac was king, and a cursory flip through some of the first drink tomes shows this to be true. In an article for Liquor.com, Dale DeGroff, one of the industry goliaths credited for the modern-day cocktail renaissance, points out that Jerry Thomas and Harry Johnson call for Brandy in nearly a third of the recipes featured in their groundbreaking books. Many of these primordial cocktails were variations on the Old Fashioned, with the Mint Julep standing out as a notable example. As imaginations and ingredients expanded, lexicon pillars such as the Stinger, Coffee Cocktail, Sazerac, and Vieux Carré were invented.
But even before Prohibition put the brakes on US cocktail culture in 1920, the Phylloxera Epidemic of the late 1800's took Cognac out of the mixing game as surely as a knee injury suffered by the star quarterback. As this pernicious little aphid ate its way through all of the great vineyards of France, the world's Cognac supply came to a screeching halt, making way for Bourbon and Rye to inhabit the hearts of American drinkers. By the time Europe recovered from Phylloxera, the damage was done – American cocktail ingenuity would not regain momentum for over half a century, and by then, the nation's tastes had changed.
Simonson's 2016 article hinted at an over-due reawakening of interest for this sleeping category, and he wasn't wrong: Brandy consumption is on the rise. According to the Distilled Spirits Council of the United States, the overall volume of Cognac/Brandy sold in the US between 2002 and 2016 rose 35%.  But perhaps it is telling that when you break that number down, Brandy within the "Super Premium" category ($240 dollars per Liter and above) has increased by a stunning 279%, while Brandies within the "Value" category ($75 and below, ideal for mixing) are up by a vastly disproportionate 14%. Perhaps this indicates a tendency for Cognac to be identified as a Members Only luxury brand rather than an approachable spirit desired in cocktails.
Joaquin Simó of Pouring Ribbons, and the champion of Simonson's article, admits that, historically speaking, his East Village cocktail den has not had great success with Brandy-based menu offerings. He attributes this to the misunderstanding that the category experiences. "Many people think of Cognac as being very high-brow and expensive." says Simó, "Or they associate the spirit with only very specific brands. In reality, of course, the options are vast." In addition, Simó suspects that brandy's broad definition as a category creates confusion when trying to understand what the spirit will bring to a drink. The sweetened brandies made popular in the 1970's and 80's, for instance, are very different from, say, a lean and lively young Cognac.
How, then do you begin to educate drinkers?
For many bartenders, splitting the base of cocktails between Cognac and other, more popular spirits is the answer. The fruity, floral, and spicy profile of a good cognac complements any number of flavors, and can soften the edges of higher-proof ingredients. "You can achieve rich mouthfeel in a stirred drink by adding Cognac instead of sugar, without the risk of a cloying finish," says partner at Subject on the Lower East Side, Brian Grummert. "It's liquid silk."
Subbing out the base spirit in a recognizable drink is an option employed by Demario Wallace of Heavy Woods in Brooklyn, where Cajun fare is the focus, and nods to pre-Prohibition New Orleans made sense for the menu. "There was no way to ignore Cognac as a vital part of the program, even if we're using it as a twist in modern classics we've grown to love." As an example, Wallace subs in a bright, five-year-old Cognac for mezcal in the Naked & Famous, a well-known Last Word variation created by Simó that includes Aperol, Yellow Chartreuse, and Lime.
Simó suggests that an approachable drink description opens a back-door for ingredients that guests may not understand. On the current menu at Pouring Ribbons, it just so happens that the most popular menu item is a mostly Brandy-based drink, but Brandy is not listed first of its ingredients, instead following Mezcal as the primary descriptor. When the cocktail is received favorably, an opportunity exists in which the bartender can open up a dialogue about what brandy brings to the drink and perhaps pour a taste, supplying an education in the wrappings of elevated hospitality.
For Tom Macy of Brooklyn's Clover Club, at the end of the day, it's all about respecting the ingredient. "I think people understand and appreciate the value of Brandy on its own," he says, "but in cocktail terms they aren't exactly sure what to do with it.  Speaking for myself, I've had success by rethinking my approach to Brandy. Before, I think I was trying to work around that softness – which I saw as weakness – by adding other ingredients to compensate.  Now, partially because I have a little more reverence for the category (research will do that!), I try building cocktails around its strengths like the aromatics and that delicate – and decadent – richness, which I do by pulling things back, and allowing the brandy to be front and center."
These approaches pave the way back for Cognac – back to the fold of a full-speed-ahead American cocktail culture where the tide of consumer awareness inevitably rises along with the bartending community's passion for any particular ingredient. In Brandy's case, perhaps it has always just been a question of time.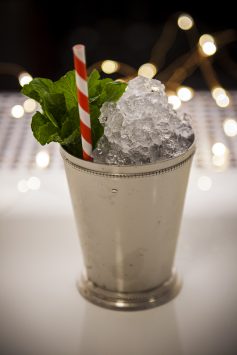 Prescription Julep
Combine all ingredients in a Julep tin and add crushed ice. Agitate with a swizzle stick or barspoon to incorporate. Top with more crushed ice and garnish with a bouquet of mint. Add 5 drops of Rumfire Jamaican Rum to the bouquet.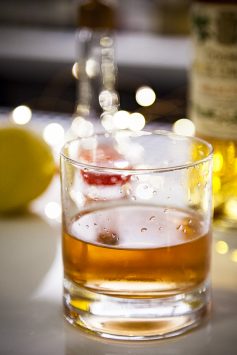 Sazerac
1 tsp cane syrup
3 dashes Peychaud's bitters
Prepare a chilled rocks glass by putting it in the freezer ahead of time. Combine all ingredients in a stirring glass and stir with ice until very cold. Take rocks glass from freezer and rinse with Absinthe. Strain the contents of the stirring glass into the rinsed rocks glass and garnish with a lemon peel expressed, then discarded.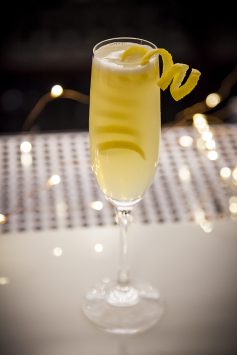 Borderies 75
.75 oz simple syrup
.75 oz fresh lemon juice
5 drops Bittermens Celery Shrub
Shake all ingredients with ice and strain into a flute. Top with bubbles. Garnish with a Lemon Pigtail Twist.