Above: Janet, James, & Westley Moss.
---
This small, hands-on family winery is the result of 50+ years of combined experience in the wine industry between James and Janet Moss. James' dream has always been to produce quality Napa Valley wines, which he considers to be the ultimate region for producing Cabernet Sauvignon.
---
James and Janet Moss began pursuing their dream of making artisanal, small production lots of Cabernet Sauvignon in Napa in 1998, beginning with a tiny plot of grapes grown on the Carneros property they had made their home. Their first vintage made its debut at their wedding in 2000, and the excitement around those bottles from friends and family further solidified James' interest in winemaking, Cabernet Sauvignon, and eventually production in Napa Valley; it was one of a few pivotal moments where the Moss' knew they were onto something special…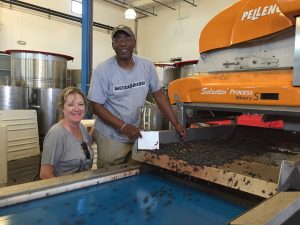 James actually hails from the distribution side, having worked as a sales rep in Texas in the '90s (more on that, later). The connections he made in Texas, then in California, helped shape his interest and education in winemaking; he learned the intricacies of enology by working alongside names like Mark Jessup, former winemaker from Jessup Cellars, Robert Mondavi, and Opus One, and Gustavo Brambila, former winemaker for Chateau Montelena and Grgich Hills.
And just when you think you've figured out where the 'J' in J. Moss comes from, James will tell you about his wife, Janet, a 30-year wine industry veteran, and, as James would smile and also tell you, is truly a bedrock for the business today and since the beginning.
After searching for a new, hidden gem to add to our Napa Valley portfolio, we could not be more proud and excited to have come across J. Moss wines earlier this year. These wines are exactly what we were looking for; well-made, thoughtful Cab from a family-run winery.
We recently interviewed James Moss, Winemaker & Proprietor of J. Moss, to talk about the winery's beginnings, the 'Napa Valley' and 'Steffenson Vineyard' Cabs, and Napa Valley at large — please enjoy the full Q&A below!
---
TELL US ABOUT YOUR EXPERIENCE PRE-J. MOSS. WE KNOW YOU WORKED WITH GUYS LIKE MARK JESSUP AND GUSTAVO BRAMBILA — WALK US THROUGH ALL OF THAT.
---
SO WITH MARK, IT WAS MORE ABOUT LEARNING THE METHOD. AND THEN WITH GUS, IT WAS MORE LEARNING ABOUT THE SCIENCE AND PROCESS… WHAT OTHER EXPERIENCES HELPED SHAPE YOUR WINEMAKING STYLE TODAY?
---
TELL US ABOUT YOUR PAST LIFE — BEING A SALES REP IN TEXAS.
---
GIVE US THE STORY J. MOSS — THE BEGINNINGS.
---
WAS THE PLAN TO ALWAYS BE A FAMILY AFFAIR?
---
COMPARE 'NAPA VALLEY' TO 'STEFFENSON VINEYARD'. HOW ARE THEY DIFFERENT?
---
TELL US ABOUT HOW NAPA IS CHANGING AND WHERE IT'S GOING.
---
As of the date of this article's publishing, James has visited the Big Apple only once and Janet was born and raised on the East Coast. They are looking forward to the market work that's on the horizon, meeting our team, customers, and hitting some cool steak houses! James and Janet — we can't wait to have you!