The stories of wine are concerns of proximity. "This glass here," we might start: "its story begins in a land far away." And then we step closer. We tightrope borders – those lent to us by millenniums of tectonic undulations, and those we've drawn in pen and law – eking out a sense of placeness. We seek commonality at this distance: the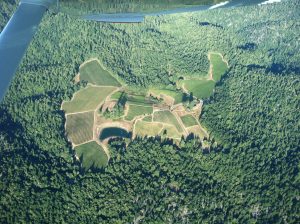 unifying "why" of an appellation's singular beauty, answers sought in investigations of climate and geology.
Then we step closer again, now to see what is different. "Nobody else has my fifty-one acres," Andy Peay exclaims – a statement of pride that appears to humble him as he says it. In the surety of this exclamation there must be relief, too. Because Andy has long strived to tease out identity from the haziness of wine's borders – and not alone.
A founder of West Sonoma Coast Vintners, a regional organization of likeminded wineries, Andy champions an image of California wine rendered by mountainous terrain and marine exposure. This delineation is broader still than a host of constituent viticultural areas – some legally recognized, some not – but resolutely discrete from the Sonoma Coast, a hulking and diverse swath of some 500,000 acres.
Still, today the wines of Peay Vineyards carry a Sonoma Coast designation – a testament to the glacial movement of politics, even in the mere labeling of fine wine. But these stories are in the details. To share the nuance of a place some 10,000 times smaller than its regional designation immediately belies, Peay Vineyards first celebrates its estate title.
As it should.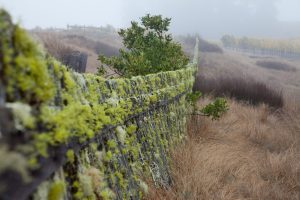 Peay Vineyards presents a remarkable story of place, replete with a distinct mesoclimate, geological history, and – of course – the narrative of its cultivation by a small pioneering family. In 1996, just east of the small community of Sea Ranch, Andy arrived at a south-facing clearing on the second ridge of the coastal range.
A hilltop capped by uplifted seabed, four miles from the Pacific, it is closer still to the San Andreas Fault – the heart of the region's tectonic convergence – from which the Coastal Range's topographical nuance arose. Here, high above the Wheatfield fork of the Gualala River, cool marine air laces fog among redwoods. This coalescence of qualities leant by the Earth's movement and the neighboring ocean promised Andy, at the very least, a compelling opportunity to study and engage a singular place. What's more, in short order this place would display its heights within the canon of American wine.
Two years after Andy's first visit to this clearing, he was joined by his brother, Nick, and together they planted their first thirty acres of vines. Their early bounty was largely sold to neighbors of considerable pedigree – Failla and Williams Selyem, among them – as the brothers further familiarized themselves with their home. And in 2001 they began to make wine. To do so, the brothers looked to Nick's former UC Davis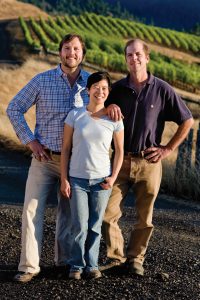 classmate, and future wife, Vanessa Wong. Vanessa had long worked with wineries for whom the estate vineyard was integral: Lafite-Rothschild, Jean Gros – and closer to home, Hirsch Vineyards. To begin winemaking at Peay, Vanessa left the helm of Peter Michael, a California estate largely unparalleled in its meticulousness.
Vanessa's presence in the cellar afforded Nick the opportunity to wholly engage with winegrowing. The Peays have farmed organically since 2003, mechanically managing weeds, utilizing estate-produced compost, and implementing integrated pest management. They make use of bio-diesel and solar power in the vineyards and at the winery. Now, with the experience of two decades, the Peays are pursuing CCOF organic certification.  The estate vineyard spans fifty-one acres: thirty-four of Pinot Noir, eight of Syrah, seven of Chardonnay, and a touch of Viognier, Roussanne, and Marsanne. Among the Pinot Noir there is a baker's dozen heritage selections and genetic clones, across some twenty-five picking blocks.
Each block is ultimately vinified and aged separately; the three estate Pinot Noir bottlings effectively begin as two dozen discrete wines. In early blending trials, it soon became evident to the Peays that their estate possessed myriad voices. Their task, then, was delicate: the Peays could not merely muffle one expression in the service of another, but were compelled to draw out and celebrate each individually. Vanessa's artful blending is complemented by the family's patiently-earned knowledge of clonal and block-specific character; in concert, these approaches encourage honesty and humility.
It is here in the blending process that we are offered the final component of an image of place: the untiring presence of its stewards. Ownership and cultivation of an estate are not required to dependably bottle a transparent vineyard-designate wine. In fact, Peay's fruit has found its tenor – with beauty and finesse – in other cellars. But, as illustrated by the Peays' unique approach to blending, an estate bottling may offer an otherwise-unattainable glimpse of a place's singularity, hidden in its stewards' aspirations. This, in the story of wine, is as close as we can get.