The evening started with a simple question, "Meursault, Puligny, or Chassagne?" Sitting in a near empty restaurant in the middle of Beaune with some of Burgundy's brightest stars, opinions came fast and furious. "Meursault has the best terroir, but too many mediocre producers". "Puligny has the Grand Crus but too inconsistent". "Chassagne is the most exciting, with the best young talent". As the night wore on, the question continued to hang in the air, until finally a semblance of consensus emerged. As one vigneron put it, "Meursault is able to walk the line between seduction and contemplation." The table erupted in a wave of nods, everyone taking a moment to reflect on a time when a bottle of Meursault did just that for them. For a village as historic and downright famous as Meursault, any dose of additional praise can seem like gilding the lily (cue the petitions to make 1er Cru Perrières a Grand Cru), but for those who have ever walked through the winding streets to emerge onto the perfectly exposed slopes of Chardonnay vines, few names in wine inspire more deserved idolatry.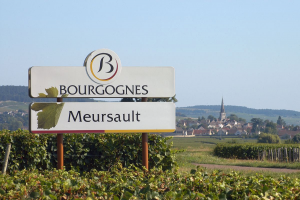 Bordering Volnay to the north and Puligny-Montrachet to the south, Meursault (or Murisault as it used to be called) is one of the largest villages in the Cotes d'Or, alongside Beaune and Gevrey-Chambertin. Compared to its neighbors to the south, Puligny and Chassagne, Meursault generally has less humid soil due to the low water table. Consequently, the crop is usually smaller, lending the power that many people see as the classic calling card of Meursault. When it comes to the number of domaine bottlers, Meursault dwarfs every other village in the Cote d'Or. The reason for this is not only land size, but also the historical fluctuations of fashion. Even as recently as the 1980s, Meursault's popularity was dwarfed by that of Puligny-Montrachet, mainly due to the prestige that the Grand Cru Montrachet bestowed. In fact, there were times when Meursault prices were even lower than village level Chablis. Negociants, in turn, refused to purchase casks from growers, leaving the vignerons to, as Clive Coates put it, "go it alone." While the sheer quantity of individual domaines is an enviable trait of Meursault that allows for endless exploration, it also inevitably leads to the proliferation of mediocrity, wherein dozens of producers leech off the reputation of their more talented neighbors. Among those recognized leaders, who for decades have helped raise the image and advance the reputation of this sacred village are the Boyers and the Jobards; two domaines who remind us why there may be no better place to grow Chardonnay in the world.
Domaine Rémi Jobard
"Chardonnay has always been in my blood," says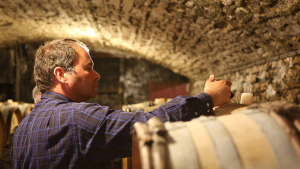 Rémi Jobard as he walks through his freshly ploughed, organically farmed Meursault 'Chevalieres' parcel. A tall, broad-shouldered man with a stocky build, his slight hunch and calloused hands give him away as a lifelong man of the vineyards. Rémi is the son of Charles Jobard and nephew to Francois Jobard. Growing up and learning from these legendary brothers inspired Rémi to follow in their footsteps and eventually take the helm at this remarkable domaine. As is normally the case in Burgundy, with a famous last name comes an enviable assortment of vineyards. When Rémi took full control in 1996, he found himself presiding over Meursault and Puligny based Bourgogne Blancs, four high altitude Meursault lieu dits, and three of the best-situated parcels of Meursault 1er crus.
Farming has always mattered to the Jobards – since 1994, the domaine has not used any herbicides or pesticides. After Rémi took over, he decided to take the quality of farming even further, converting to completely to organics and eventually getting certification in 2011. All of Rémi's wines show a breathtaking clarity of terroir, which comes from the impeccable farming and a simple hands-off approach in the cellar; all of the wines are aged in a mixture of barrique and large older foudre. When asked about his philosophy Rémi says, "We are very privileged to have tremendous sites in Meursault. Everything I do in the vineyard and in my cellar is to make sure that the terroir is transparent and completely unobscured." Tasting through the lineup is a true masterclass of Meursault – a sensual tour of rock and vine.
Domaine Yves Boyer-Martenot
Vincent Boyer is never on time. Since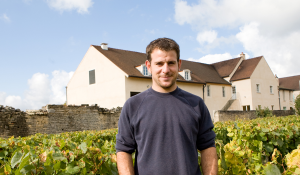 taking over full time at this historic property in the heart of Meursault in 2003, every visit at Domaine Boyer-Martenot starts the same way. A pleasant chat in the courtyard with Madame Boyer, a check of the watch, a stroll through the backyard vines, another check of the watch, until finally Vincent pulls up the driveway in his tractor, fresh dirt still caked on the tires. As he jumps off, he smiles and extends his hand in apology. After working with Vincent for all 15 of his years since taking over at the domaine, it's hard to be annoyed with someone as dedicated to their vines as Vincent is. That is simply who he is, and the reputation he holds among his contemporaries –  a man of the vineyards.
Domaine Boyer Martenot is a 4th-generation property that boasts a lineup of remarkable, high-altitude lieux-dits and premiers crus that have few equals in the village. The modern history of the domaine can be traced back to just after the second Word War when André Boyer took over the family estate from his mother Lucie who had been running the domaine by herself through the war. He soon married a local girl from Puligny and had a son Yves who took over in 1976. Yves' son Vincent took over from his father in 2003 and continues to run the domaine to this day. Vincent's dedication to old vines and tireless work in the vineyards is clearly evident in his wines, even though his decision to shy away from the limelight has kept these beauties under the radar for years. Vincent allows only indigenous yeast in the cellar, using little new wood and bottling his whites with low levels of SO2 and minimal to zero filtration. The results are crystal pure Chardonnay from some of the top holdings in all of Meursault. For those in the know, there is no doubt that is emerging as one of the elite estates in all of Burgundy.