Estate Argyros is a benchmark producer of gorgeous, structured Assyrtiko from the fabled island of Santorini. As the island's largest owner of vineyards, Argyros has an unparalleled array of raw materials to work with. On top of that, the average age of their vines is more than 70 years old (their most sought after cuvees come from vines exceeding 200 years of age)!
THE DISTINCT LANDSCAPE OF SANTORINI
Modern-day Santorini is a circular archipelago, formed as a volcanic caldera over 3,600 years ago. The area remains an active volcanic region, and as such the soil is a unique blend of sand, basalt, pumice, and volcanic ash. The soil is completely free of clay, which means the vines are immune to phylloxera – one of the reasons why there are so many ancient vines on the island.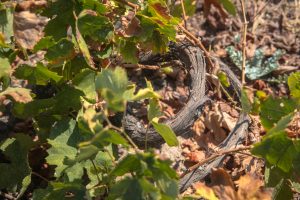 The climate is harsh; hot summers average around 80 degrees Fahrenheit with very little rainfall. The morning fog that forms in the caldera is the only way plants can get water, so yields are notoriously low. Additionally, the island sees fierce winds, which led to the development of koulouri (or "basket") training. The circular, low to the ground vine system helps protect the fruit from the winds, and also traps humidity – acting as a natural irrigation system. Many of these koulouri are centuries old!
The grape of choice on Santorini is Assyrtiko, native to the island. It thrives in the volcanic soils and produces concentrated grapes that maintain their acidity levels even when very ripe. As a dry wine, it has mineral rich aromas reminiscent of flint, and on the palate flavors of citrus and melon mix with sea salt to create a rich and complex wine. While examples of Assyrtiko are starting to pop up across the globe, nowhere else does the grape reach its full potential than on its native island home.
ESTATE ARGYROS: A LEADER OF OLD-VINE SANTORINI WINE
Estate Argyros was established in 1903 as a 5-acre vineyard and winery. Several generations later, the estate has grown to 65 acres (the largest on the island). The estate took an upward turn in 1974 when Yiannis Argyros took the reins. Not only did he work tirelessly to improve and promote the estate's Vinsantos, but he also shattered the perception of the island's dry wines by showing how well the native Assyrtiko could age.
The fourth generation is now at the helm – Matthaios Argyros has been instrumental in acquiring new vineyard land and further promoting Argyros and Santorini as a whole. Their vast vineyard holdings ensure that only high-quality grapes go into their wines, and also protects the future of the estate – development is more lucrative than grape-growing, so having your own vineyard land is of the utmost importance!
A RANGE OF UNPARALLELED QUALITY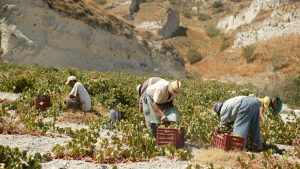 The character of Estate Argyros is best experienced with their flagship wine, the Santorini Assyrtiko. Here Argyros' generational care for old-vines is on display – the vineyards used for this wine are 100 years old (at least!) Fermentation and aging occurs in steel tanks, giving a precise expression of grape and place. The resulting wine is rich, ripe and built to last. These wines can age for at least a decade, growing in complexity with each year.
The Atlantis white is the Estate's entry level bottling – showcasing Santorini in a more approachable package. Sourced from younger vines (though still reaching 60 years of age), this is a blend of mostly Assyrtiko, combined with a splash of Athiri and Aidani, two more native grapes of Santorini. This blend is lighter than the flagship, a fresh wine meant for drinking young. It elevates all manner of light vegetable and seafood dishes.
On the higher end, Argyros produces a number of extremely limited special cuvees meant for cellar aging. Cuvee Monsignori is sourced from the oldest vineyards on the property – here the vines are over 200 years old! The aging is still done in steel to put the emphasis on the terroir. On the other hand, Cuvee Evdemon sees a quarter of its blend aged in French oak barriques, adding another level of richness and structure. Finally, the estate's Nykteri takes this production to the next level. Produced with late-harvested grapes, the wine is fully fermented in French oak and further aged for 12 months in barrel. A truly powerful expression of Santorini.
VINSANTO: LUSCIOUS GEMS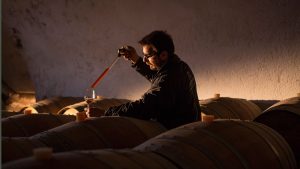 Estate Argyros is equally celebrated for their sweet wines – in fact you might call them a Vinsanto specialist. Assyrtiko, along with blending partners Aidani and Athiri, are harvested from 200-year-old vineyards a full month after the harvest of the dry wines. These super-ripe grapes are then left to dry in the sun for 10 days, further concentrating their sugar content. The wine naturally ferments and ages three years in concreate, followed by four years in old wooden vats.
The estate also produces a late-release version, that sees an additional twelve years of aging in oak! The yield for this wine is an astonishing 60ml per square meter of vineyard! This is easily one of the great sweet wines of the world and the only wine in its class from Santorini.
We couldn't be more excited to add Estate Argyros to our already prestigious Greek portfolio, and we encourage you to discover this iconic producer for yourself!
THE WINES