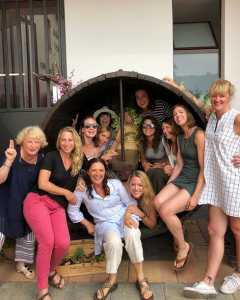 Chiara Boschis: rock star, rebel, feminist, pioneer, entrepreneur, iconoclast—these are just a few terms that come to mind when considering this prestigious Barolo producer. Chiara was born into wine; her ancestors founded the Giacomo Borgogno estate in Barolo in 1761 and her family stewarded that winery until its sale in 2008. She and her brothers Giorgio and Cesare grew up working in the family business, but the expectations at the time were that the boys would one day run the family winery, while the daughter would be married off—but Chiara had other plans for herself! She left home to study business and economics in Turin, and after graduation went to work for a consulting firm. But she knew her destiny was back home in Barolo.
In 1980, the legendary Gigi Pira, owner of the E. Pira winery in Barolo passed away with no heirs. Gigi's two sisters were close friends of the Boschis-Borgogno family, and asked them to give a hand in making the wines. In 1981, Chiara, though still studying in Turin, convinced her mother and father to take out a mortgage to purchase the E Pira cantina and vineyards.  While Chiara finished her studies and her professional experience in Turin, her family looked after the production at Pira. By 1990, however, after spending a few years tasting and discovering wines with Giorgio Rivetti and the Barolo Boys, Chiara's determination had crystallized. She took over the reins at the E. Pira winery, and in contrast to her family's centuries of traditional winemaking, she took a daring and provocative path, employing green harvesting, shorter fermentations, and the use of small French oak casks, known as barriques.
Her very first wine, 1990 Barolo Riserva Cannubi, was a smash hit. She earned the coveted Tre Bicchieri award from the Gambero Rosso in Italy, and international attention soon followed.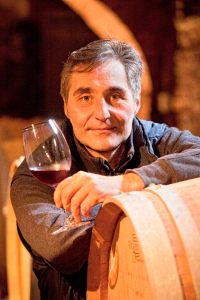 Chiara now has eleven hectares of vines under cultivation in the communes of Barolo, Serralunga and Monforte d'Alba. She retains the honor of the first female winemaker in the Langhe, and though she came from a family of Barolisti, she braved incredible obstacles in the 1990s to earn that title. She is, by necessity, of unquestionable confidence, determination, patience and charm. She ran the estate essentially by herself for twenty years, but after the sale of Borgogno in 2008, her brother Giorgio became a free agent. In 2010, he, his wife Daniella and their three daughters joined Chiara at E. Pira, which provided not only a welcome division of labor, but also a next generation of female successors: Beatrice, Elena and Vittoria Boschis, Giorgio and Daniella's daughters, are already enjoying their experiences at the "new" family winery!
With the pending arrival of Giorgio Boschis at Pira, Chiara was able to purchase a beautiful old vines vineyard in Monforte in the Mosconi cru, and they also added several other small parcels between Monforte and Serralunga: Ravera di Monforte, Le Coste di Monforte as well as Gabutti and Baudana in Serralunga. Chiara's Barolo Via Nuova, which up until 2008 had been a single vineyard expression of the Terlo cru, became a classic Barolo blend of all of her holdings (with the exception of Cannubi). 2009 also saw the first release of Chiara's single vineyard Mosconi Barolo, from an old vines parcel of this cru just south of the Ginestra cru in Monforte. Current total production at the estate has grown, but even now they top out at a minuscule three thousand cases!
Giorgio's arrival also brought along other developments at Pira: Since the early aughts Chiara had been decreasing the amount of new oak on her wines, first to 80%, then to 70% and then only 50%, but Giorgio's classical influence pushed this even further. By 2008, the oak regiment for the Barolo had become 1/3 new, 1/3 one year old, and 1/3 two years old, and then in 2010 the first large casks arrived. Alcoholic fermentation takes place in temperature-controlled stainless steel tank with indigenous yeasts, and generally lasts up to two weeks. Malolactic also happens in steel, following which the wine is racked into oak for 24 months. The Barolo are not fined or filtered prior to bottling to keep the wine as whole as possible.
In her vineyards, Chiara has always worked without chemical fertilizers, herbicides or pesticides, preferring the sustainable path of integrated pest management. But in 2010 she decided to make it official and began conversion to be certified organic. The 2014 vintage was her first as certified; but she did not stop there. She started a project called Cannubi Bio, and as of 2015, had convinced 80% of the 26 growers in Cannubi to work organically!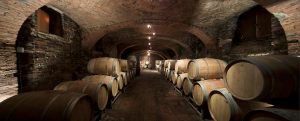 A word on Chiara's three Barolos… Fermentation is done in stainless steel with indigenous yeasts for about two weeks. Malolactic happens in steel, and then the wine is transferred to oak for 24 months. Since 2008 aging for her three Barolos has been of 1/3 new, 1/3 one year old, and 1/3 two years old oak. She does not fine or filter her wines in order to best preserve what nature has given her. The Barolos rest about a year in bottle before release.