We're obsessed with mezcal these days.  (It seems like an awful lot of people are.) In our growing passion for the category, we've developed a love just as deep for the raw ingredient of the spirit: the agave plant. And we're not alone. Throughout the history of Mexico, particularly in Oaxaca, maguey has been critical to indigenous peoples for millennia. Used to make food, drink, clothing, shoes, buildings, medicine, paper, tools – and booze – the plant has long been considered holy among the Tolteco, Zapoteco, Mixteco and Mexicas peoples (the Mexicas, for instance, give us the enduring goddess of fertility and agave, Mayahuel).
Today is hardly different. In Oaxaca alone, around 60% of the state's 146 rural localities take their principal source of income from its cultivation. Tens of thousands of families depend directly or indirectly on agave. However, a large percentage of these families are indigenous, and do not speak, read or write Spanish – putting them at a distinct disadvantage. While the production of agave has created new national and international markets for Oaxaca, industrial and economic growth, even improved infrastructure, the quality of life for many who cultivate it is dire, and exploitation is rampant.
Here at Skurnik Wines and Spirits, we work closely with our producers in everything we do. Agave is no exception; we visit the mezcaleros at their palenques regularly, and nearly all our agave distillates are owned by people of the indigenous Mexican communities who produce them (still sadly a rarity among exported mezcal and tequila brands). Labels like Agave de Cortes, El Jolgorio, and Tosba are not just "giving back" to the community – they are the community. See the Vasquez family up top!
This is critically important: the quality of life among those in the agricultural industry of agave in Oaxaca is precarious, at best. We're not talking about brand owners, here  — we're talking about the people responsible for the labor. In 2016, of the indigenous peoples producing agave 40% did not have drinking water, and 90% did not have sewer drainage. Less than 50% had electricity or access to medical services. Some isolated communities lack the infrastructure of communications and transportation to participate in the growing agave industry; according to a 2015 study on Socioeconomics in the Agave Subsystem, around 44% of Oaxacan communities lack roads suitable for motor vehicle transit. Only about 10% of Oaxacan roads are paved – many rely on burros to carry their mezcal from town to town.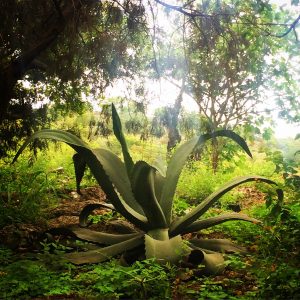 Furthermore, as demand for agave distillates increases, these plants – which can take 6 to 25 years to mature for a single harvest – are consolidating into a troubling monoculture. Espadin — the quicker, most productive variety — is rapidly replacing many of the formerly diverse wild varietals (which often took much longer to grow). This process runs the risk of homogenizing the species until many go extinct – along with much of the traditional culture that surrounds the agave plant. If such a large percentage of the rural community relies on these plants both financially and spiritually, what happens when those rare, mysterious varieties (like the massive Tepeztate, or the confounding Jabali) have their population decimated?
These conditions are why it is critically important that we support producers who remain rooted within the community – rather than consolidating wealth in the coffers of conglomerates who have little responsibility to the agrarian society producing mezcal – either to the people or the plants – the  proceeds directly impact the future of the Oaxacan families whose labor brings us these delicious spirits.
CASA CORTES
The Zapoteco family behind Agave de Cortes, El Jolgorio and Nuestra Soledad, the Cortes clan have been making mezcal since at least 1840 in Santiago Matatlan (quite literally, the heart of mezcal in Oaxaca).
When the recent "mezcal rush" began, the Cortes family wisely saw the writing on the wall: they could sell their distillate to someone else's brand, receiving pay in the moment but with no real security for the long term … or they could start their own brand, and retain agency, autonomy and the full economic gain within their family and the larger Zapoteco community of Matatlan.
They chose the latter option.
Founded by Valentin Cortes and his brother-in-law, Gregorio Martinez Jarquin, Casa Cortes began with the family brand, Agave de Cortes. Focusing on cultivated espadin agave, distilled at family palenques in Santiago Matatlan, the brand's success eventually allowed them to bring more satellite palenques from Matatlan into the project, spreading the wealth among the larger community.  All farming, harvesting, milling, distilling, bottling, labeling, even design – everything is done together by the people of Matatlan.
Expanding upon that model, the family developed two more brands: Nuestra Soledad and El Jolgorio.
Nuestra Soledad again focuses on cultivated espadin, but the new brand operates as a collaboration with legendary mezcaleros from major producing communities all around Southeastern Oaxaca – San Luis del Rio, Miahuatlan, Ejutla, San Baltazar Guelavila, Santa Maria Zoquitlan, and of course Santiago Matatlan, where the Cortes family distills. Tasting your way through the lineup of Nuestra is like taking a tour of the geography and flora of the greater Oaxacan valley – by scent and flavor alone. Each maestro mezcalero involved in the project reaps the benefits directly, and each is an intensely traditional, artisanal craftsman generations deep in the local indigenous agave heritage.
Take Ignacio "Don Chucho" Parada, for example. His palenque is a landmark in Santa Maria Zoquitlan (neighboring the iconic producing community of Candelaria Yegole). When he began working with the Cortes family, he was an example of the struggles detailed above: perhaps most difficult of all, his son Jose had been forced to migrate north to send money home, rather than carrying on the family trade and tradition, because there simply was no money in distilling mezcal. Today, less than a decade since the dawn of Nuestra Soledad, Jose has been able to return home and resume distilling with Ignacio – so much so, that new bottles of their family palenque release bear Jose's name on the back label instead of Don Chucho's.  The heritage lives on, and the family is able to build a new and brighter future, in part because they have agency in the commercial production of their spirit.
El Jolgorio, meanwhile, is a similar collaboration with (many of the same) mezcaleros all around Oaxaca producing rare mezcal – be it distilled from a wild varietal (like their highly limited Coyote) or with unique method and purpose (like the Cortes family's Pechuga). Selecting limited batches from a rotating cast of mezcaleros in different locations allows not just for diverse expressions, but also reduces growth pressure on the agriculture of any one community (the Cortes family is never going to say to Don Chucho, "Last year's yield of 25-year-old Tepeztate was great, can you double that harvest for this year?") and again allows them to spread the financial remuneration directly among the people of these small mezcal communities.
Increasingly, it becomes difficult to be certain we are not contributing to exploitation (both economic and environmental) when we drink mezcal – drinking with Casa Cortes, we can rest assured our impact is positive and helps to support a sustainable future in Oaxaca.
MEZCAL TOSBA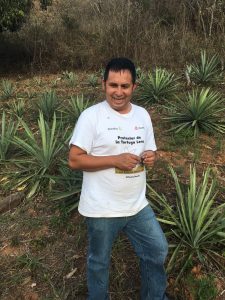 Mezcal Tosba is a Zapoteco family-owned brand, created by maestro Edgar Gonzalez Ramirez & his cousin Elisandro Gonzalez Molina.
Nearly all the mezcal being made commercially in Oaxaca is from the Southeast of the state today. Though there is a strong history of mezcal all around OAX, much of the tradition has disappeared in many areas (like much Oaxacan agriculture, post-NAFTA). There are very few Northwestern palenques left, and when Mezcal Tosba began there were zero palenques left in the Northeast. (Their name, Tosba, is Zapoteco for "only one" — Elisandro says it's a pun on both "the only one"… as the only Northeastern Palenque… and "have only one" … tongue in cheek drinking advice.)
Edgar's father was an aguardiente distiller. Much of what is cultivated in the region, the Sierra Juarez mountains on the northern tip of Oaxaca, is coffee, fruits, and sugarcane.  Edgar and Elisando were raised with the knowledge that they needed to do something to bring jobs and industry back to their collapsing Sierra Juarez ghost town community of San Cristobal Lachirioag. While working service jobs in Silicon Valley and sending money home (Edgar was making sandwiches at a Subway), the boys were inspired by – of all things –  the Keanu Reeves movie A Walk in the Clouds, where Keanu is a winemaker in California. Edgar said to himself, "this is what we have to offer our community, too."
Returning home to Oaxaca, Edgar began building a new palenque with his father, and purchased all the agave hijuelos and seeds he could find. He also harvested as many wild hijuelos and rizomas as he could from the mountains around San Cristobal, while taking stints training under Delfino Martinez Cruz, a maestro in Santa Domingo Albarradas.
Because he and his father were starting the palenque over from scratch, they were able to rethink a few things. For example, they built an adobe lip that curls inward onto the top of their oven, AKA horno (think of it like this: most horno are shaped like a martini glass inside — this is more like a champagne coupe). The lip refracts heat back down, into the oven, allowing them to cook to a higher temp with less wood (and so less smoke interaction). They also primarily use driftwood (they're situated at the juncture of two major rivers in the mountain) to smoke the agave, and biomass like peat moss to heat the stills.
Edgar also has been very conscious about how his agave is cultivated in terms of drainage and spacing. For example, while he would get a quicker turnaround on his plants with more drainage and steeper inclines, he built many water-retaining terraces which slow the maturation rate but dramatically reduce the erosion associated with agave farming. He explains that while it means he makes less money and grows less agave in the short term, he is guaranteeing he can give the same land to future generations to work.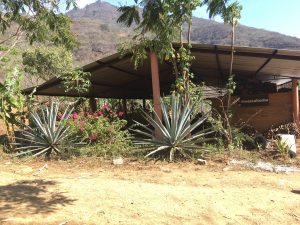 To keep jobs in the community, all bottling and labeling is done by San Cristobal locals. They are celebrities in town — they really are helping to save their community — and two of the fellows who worked for Edgar for the past few years just started their own palenque across the river valley from him. Edgar will release their mezcal (adding mezcalero names to future bottlings) under his Tosba label and share proceeds with them — he also gave them one of his four stills to start their work with.
They're like the Cortes family, in many ways: that unicorn of a Zapoteco Mezcalero -owned brand that operates on its own terms, without financial dependence on foreign bottling / branding / ownership / co-ownership. Elisandro stays part-time in the US still, working as a bartender and sending money back to the project. Edgar and his wife Andrea have invested everything they have into the business.
"We were only able to do this because I migrated and have access to the market, which are opportunities that most mezcal producers don't have," says Elisandro in the book, The Mezcal Rush. "The reason why maestros mezcaleros, just as in any other underdeveloped country, haven't been able to enter the economy is because they lack access to resources like education and money. And at the same time, people who do have access to those resources come and take advantage of them, which is more than unfair, it's unethical.
I often think of what we're doing with Tosba as a political statement. My fellow indigenous peoples look great in pictures, but I want my people to have access to the technology, education and financial services that would help them to get ahead. We're a lot more things than just images in magazines. Tosba could not only be used as an economic source to combat poverty and lack of employment, but also to help uphold our strong cultural values, and our traditional respect for the land and community."
Here at Skurnik Wines and Spirits, we say: Right on.