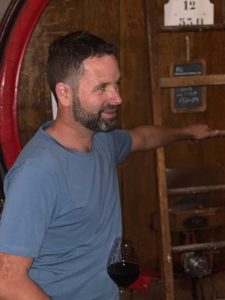 I can often find Thierry Sabon with a pick and hoe, working his vines by hand in and around Châteauneuf-du-Pape. However, this time I headed out to his latest love – Lirac. He and his cousins have always recognized the potential of the best sites in the neighboring towns of Saint-Geniès-de-Comolas and Saint-Laurent-des-Arbres.
It was around the end of 2016 that they first started to craft a strategy to make their mark in the Cru of Lirac, as they began to assemble some fifteen hectares. The proximity of these vineyards, a fifteen-minute drive from Châteauneuf-du-Pape, was a factor in their decision to invest, but it was above all the untapped potential that attracted Thierry!
Lirac has been a cru in the Rhône Valley since 1947, which makes it older than Gigondas. Thierry notes:
Most people don't harness the untapped magic of this AOC. What I love is the individuality and the wilder side of the terroir here. There is a distinctly floral and rustic southern side to the wines that you don't have in nearby Châteauneuf-du-Pape.
Our Lirac vineyards are on a gently sloping plateau that is a remarkably complex combination of clay, sand and small galets. Despite the warmth, the terroir produces wines of density, minerality, and balance.
Taking over winemaking at Clos du Mont-Olivet in 2001 from his father Jean-Claude (who is still a force in the vineyards early each morning at age 80), Thierry has always loved a challenge.
I know Lirac can be special and will achieve the importance it deserves. I make it like all of our wines – in large, older wood. A lot of outside money want to make the wines here more modern, extracted, and wooded. My goal is to harness the spice, weight, and power of the old-vine Grenache (70%) and use the Cinsault to give it lift, while adding some spice with the Syrah.
The yields were nothing in 2017, but we still ended up with gorgeous black and red fruits that stayed balanced even in a severe drought year. The explosive aromatic and floral notes remind me a bit of Bandol. Everything I learned from my father and grandfather has helped us continue to produce classic Grenache-dominant wines from the Rhône that display a controlled power, finesse, and freshness. I know we can do very special things in Lirac with that same old school Sabon approach in the vines and the cellar.
Amazing start in 2017!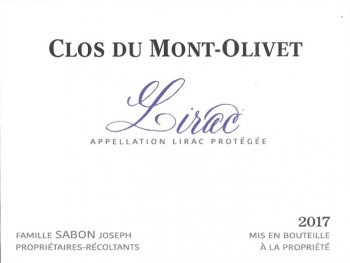 Lirac Rouge, Clos du Mont Olivet
• 60% Grenache, 20% Syrah, 20% Cinsault
• Grown on yellow-grey sand with galets roulés
• 60+ year old vines
• Indigenous yeast
• Aged in 80% foudres, 20% older barrels
---
We're excited to share two videos from Thierry Sabon's most recent trip to our NYC HQ in early December 2019.
Thierry sits down with Chief French Officer David Hinkle to discuss the history of the estate and the family's latest project in Lirac.