Many know rice as one of the great staple crops of the world; it provides essential calories for more than half of the world's population, and outside of Asia it is one of the fastest-growing foods. Japan has a particularly strong history with rice which dates back 3,000 years, and since its introduction from mainland Asia rice has become an integral part of Japanese culture. From daily meals to Shinto religious ceremonies to sake itself, rice touches every part of life in Japan. Even tax payments were once made directly with rice!
Throughout the country rice agriculture is everywhere; any trip on the bullet train will take you past hundreds if not thousands of small rice fields. You may even see rice paddies in the middle of cities on very small plots. Japan currently grows over 300 varieties of rice and of those, about 100 are used for sake brewing. Of those 100, there are four that are used in sakes all over the country. In the sake world these are the "big names": Yamada Nishiki, Gohyakumangoku, Miyama Nishiki and Omachi.
While more tropical countries can have two harvests in a year, Japan typically has just one (Okinawa, Japan's southernmost island is the exception). Field preparation and planting begins in the spring and harvest is in the fall.
One element that is unique to Japanese rice production is the growing of rice seedlings in greenhouses before planting in the fields. This requires more work overall, but results in healthier plants in the field that don't require as much pesticide or herbicide.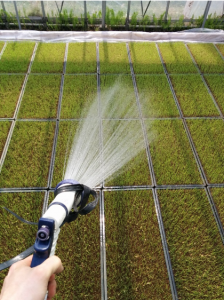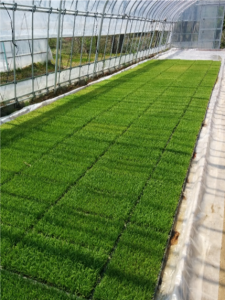 Once the seedlings are ready to plant, a special kind of tractor called a "taueki" places them in neat rows in the fields.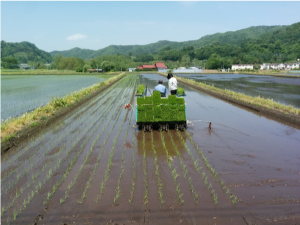 This machine mimics hand planting, but some fields are still tended to by hand. If you want to know if the fields were planted by hand, look for boot prints! Also, the rows are usually not as straight as the machine-planted ones. This more traditional form of planting rice is still passed down to younger generations by regular school trips to the fields!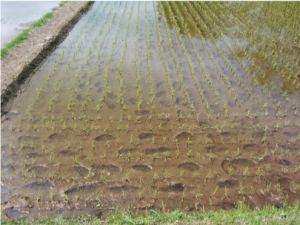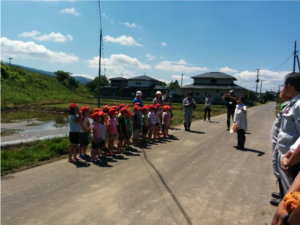 Summers in Japan are hot and humid, so working outside can be very taxing. Farmers may need extra breaks on the hottest days. The upside to this work is being able to take in constant views of Japan's natural beauty; rarely are the mountains not in view, and if you're lucky you can see the ocean as well.
Towards the end of summer and into the fall, many cities have their annual festival ("matsuri"), which coincides with harvest time. The grains on the stalks have grown heavy causing the stalks to bow, and the vast green fields turn to amber.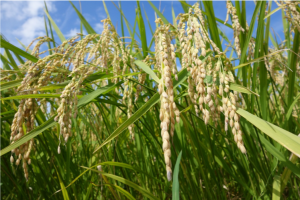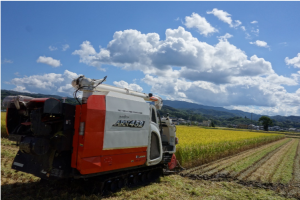 From here, all rice including sake rice is harvested and sent to rice mills. Some brewers opt to utilize their own milling machines, which allows for more control over the process, but there are many milling companies that do an amazing job harvesting sake rice as well.
After harvest, brewing begins!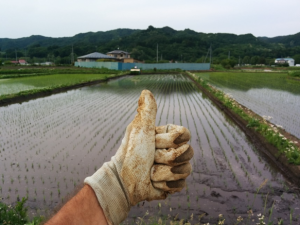 Rice is fundamental to sake as a beverage, but only recently have local varieties and "estate grown" status become emphasized in the sake world.
Here are some of the breweries at the vanguard of featuring local and estate-grown rice in their sake: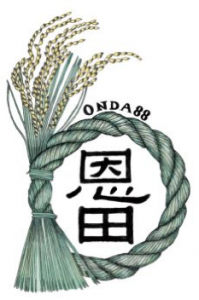 Fifth-generation owner and brewmaster Norio Onda has one hectare of land he grows rice on.  That small amount of rice is used for their signature Onda sake, of which only a few hundred cases a year are produced. It is sold exclusively around the brewery and a small amount that we are lucky enough to see in the US.
Made from the unusual rice varietal Ippon-jime milled to 88% and estate grown by the brewery. A small team of about five individuals carefully grows the rice throughout the summer then brews sake from their rice in the winter.
Savory and earthy, big aromas and a touch of sweetness.
Color of golden hay. Aromas of salted toffee and bananas flambee. Medium-rich body with notes of carob, finishes on a note of white pepper.
Excellent at a range of temperatures but shows very well at room temp or slightly warmed.
---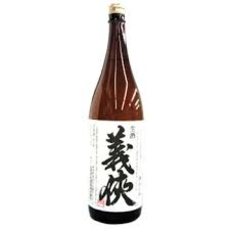 One of just 12 breweries from across the country who are members of "Frontier Tojo 21", a group formed in 1994 that has exclusive use of Yamada Nishiki rice grown in the Tojo district in Hyogo prefecture, widely considered the greatest premium sake rice in the world.
This Junmai Ginjo brings out the gorgeous subtleties of this Yamada Nishiki, with an initial sensation of melon moving into savory notes of cereal grains and toasted wheat and finishing dry with an appealing tingle of spices. After brewing the toji has skipped the standard addition of more water to retain the impact and power of the original brew.

After graduating from Tokyo Agricultural University with a degree in brewing science Iwao Niizawa returned to take over his family's brewery as owner and brewmaster.  Niizawa-san completely rethought sake from the inside out, eventually settling on the Hakurakusei series, which he crafted to be the "ultimate food sake". At the time premium sake was generally made for flash and impact with bold aromas and layers of exotic flavor as opposed to restraint and clean acidity to match with food.
For his Junmai Daiginjo Niizawa-san has chosen to use heirloom Omachi rice milled to 40% which gives this graceful sake a slightly herbal and savory quality. A light bodied sake with a delicate balance of flavors and textures, this is the pinnacle of the Hakurakusei series, an elegant premium sake ideally matching a range of cuisine.