Nothing impressed me as much in 2015 as my visit to [Alberico] run by the dynamic and utterly compelling Alessia Antinori…  With great passion she told me about the long history of the estate and her commitment to continue in the winemaking tradition that started here with her maternal grandfather [the] Prince [of Venosa].
Alessia refers to him as a 'charismatic man who drove his tractor every day in his tweed jacket.' But the Prince is also remembered as a difficult and temperamental man who ripped out most of his vineyards in a sudden and unexplained gesture.
His last wine made was in 1995 but [the wines] had already become a cult success among the top Italian wine collectors. Since the founding of the estate in the 1930s, farming has always been organic and the two wines made were a blended Rosso with Cabernet Sauvignon and Merlot and a 100% Sémillon-based Bianco. When Alessia and her two sisters inherited the property, she found four rows of Cabernet Sauvignon and four rows of Merlot. She has used those original vines to bring the wine back to life.Monica Larner, The Wine Advocate
---
As happens all too often, the wines of Alberico passed into legend only after their creator, the prince of Venosa, had left this earthly world behind. The prince was an eccentric recluse who had planted Bordeaux varieties on his estate at the gates of Rome in Lazio in the late 1940s. To quote Eric Asimov of The New York Times,
The prince practiced organic agriculture in an era when others embraced chemical sprays. He kept his yields ridiculously low, resulting in minute quantities of intense, concentrated wines, and he did not filter them. He aged the wine in large numbered barrels, which he reused year after year.
All of these techniques put the prince ahead of his time, even though he was steeped in the traditions of the old world. The resulting wines, though difficult to find—if not damn near impossible—created a buzz among the cognoscenti that continues to this day. When the prince retired because of his ill health, he tore up ALMOST every vine he had ever planted. As his son-in-law Piero Antinori explained,
He is so in love with this estate, and when you are very much in love, you are also a bit jealous… When he was not able to do it himself in the old way, probably he preferred to give up.
T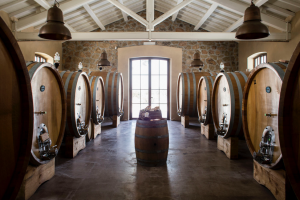 his is what happened until 2005 when the estate passed to the prince's heirs. The prince's daughter had married Piero Antinori; and Piero's daughters Alessia, Albiera and Allegra took on the inherited property as their personal project. They found four rows each of old vine Merlot and Cabernet, as well as three rows of Sémillon grapes planted by the prince that had survived. They make a minuscule 500 bottles of red wine and about 1000 bottles of the Sémillon. Both wines are called 'Alberico' to honor their grandfather and the traditions he passed down to them. Two entry-level wines came to us in 2016: known as Appia Antica 400, the address of their grandfather's villa and their mother's birthplace, they are great value-priced windows into this unique terroir, jealously fostered for so many years by the Prince of Venosa!
For more information about the rebirth of this estate, please read Eric Asimov's profile in the NY Times.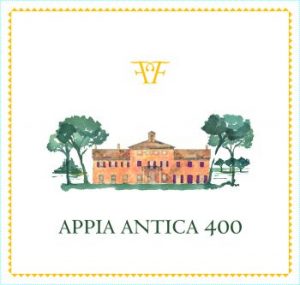 Lazio Bianco Appia Antica 400, Alberico 2017
80% Sémillon, 20% Malvasia from a massal selection of the prince's original vineyards. When the prince ripped up his vineyards before his retirement in 1995, a parcel that he had sold to a former caretaker remained, and it is from this plot that the Antinori sisters sourced the genetic material of the prince's original 1940s plantings. Fermented and aged in stainless steel tanks.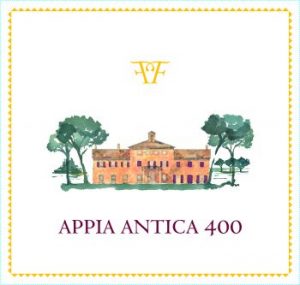 Lazio Rosso Appia Antica 400, Alberico 2016
50% Merlot, 40% Cabernet Sauvignon. 10% Cabernet Franc from a massal selection of the prince's original clonal material. It was said the prince tour up his vines when he retired in 1995, but four rows of Cabernet and four rows of Merlot were left behind, and the new plantings that Appia Antica sources come from these original plantings that date to the 1940s. The grapes are destemmed and fermented in temperature controlled concrete tanks. The wine spends 6 months in concrete and then 10 months in bottle before release.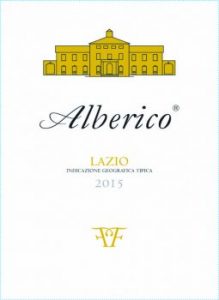 Lazio Bianco 'Alberico', Alberico 2015
100% Sémillon from an old vine parcel planted by the Prince of Venosa in the 1940s. Fermented in cask and aged 6 months in cask. The wine matures for 24 months in bottle before release.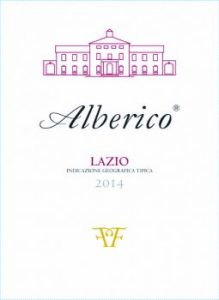 Lazio Rosso 'Alberico', Alberico 2014
Merlot and Cabernet Sauvignon from the last 4 rows of these vines remaining after the prince tore up his vineyards in 1995. Fermented in cement tank and then aged 24 months in tonneaux. Further aged two years in bottle before release.