It's May 8th, 2020, and the end of our eighth full week working from home.
Today we're sharing how five of our Skurnik staff finished their days with life's simplest pleasures: meals made with love and special wines that we can think of no better reason to open.
Reporting from five different 'bunkers' – Jared, Carolyn, David, Cody, & Gabe share their wine picks from this week: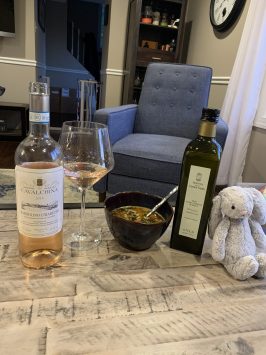 JARED MCGUIRE
Bardolino Chiaretto Rose, Cavalchina
May flowers are peeking open, but today is all April showers.  Forgive me for begging for warmer weather with this saline, sapid and vibrant
Cavalchina
Chiaretto rosé – from the estate that put Custoza on the map.  This paired surprisingly cheerfully alongside chickpea ribollita soup with cashew pesto.
CAROLYN DEFIR-HUNTER
Vermut Blanco, Lustau
Lustau
Vermut Blanco is really everything in one glass.  A Vermouth made from two sherries Fino and Moscatel, Lustau Blanco has intoxicating orange and chamomile notes at the beginning but is dry and perfectly bitter on the finish with hints of rosemary.
This would be fantastic in a cocktail, of course, but I love drinking it on its own with a big chunk of ice and an orange peel and salty snacks like nuts or olives (or potato chips! It's a pandemic, no one is judging there are no rules anymore…you do you!)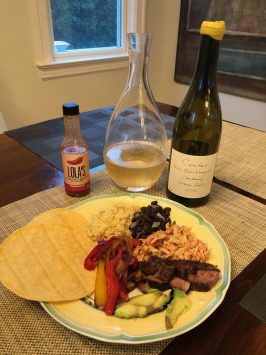 DAVID SKURNIK
Chardonnay, 'Porter-Bass Vyd', Ceritas
While not your typical pairing for a taco night, we improvise in these quarantine days. This week, I drank the Porter-Bass from
Ceritas
because I am a big fan of the acid and balance in this Chardonnay, and because I had been thinking about John & Phoebe Raytek and their young twin girls during this tough time.
This wine is bright, with great texture, and downright Chablisien. It is a Chardonnay that shows you the versatility of this excellent, if sometimes misunderstood, noble grape. Shout out to the parents out there enjoying a glass of wine to unwind after a long day.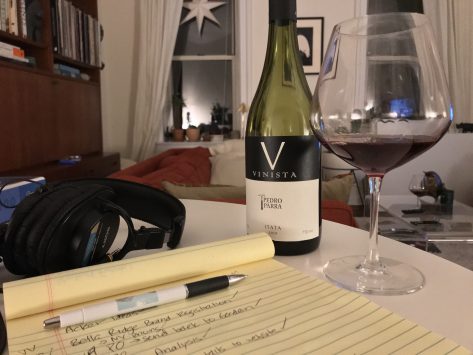 CODY STEPHENSON
País 'Vinista', Pedro Parra
With leftovers of my Tex-Mex inspired Instapot red bean and quinoa soup needing to be eaten on a cold rainy night, I reached for a bottle of
Pedro Parra's
new 'Vinista' País which I hoped would offer a nice counterpoint to an otherwise rich dinner.
Thankfully, I was right! I was greeted by an herbaceous nose and dark red fruit, but the minerality from the granitic soils of Chile's remote Itata region and its low alcohol made for an incredibly refreshing glass of red wine. The País grape variety has a reputation for producing wild, earthy wines that polarize some consumers, but this example is decidedly delicate and clean.
While Pedro Parra is far more famous for his work as a consultant and for his PhD in terroir than his vineyards in Chile, his family winery focused on small-production, minimal intervention expressions of Cinsault and País continues to deliver some of my favorite wines in all of South America vintage after vintage. The most exciting part is that they're still getting better.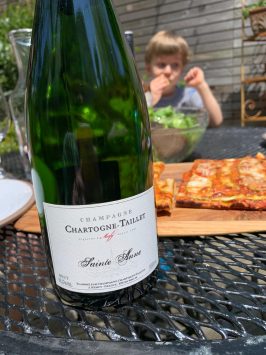 GABE CLARY
Chartogne-Taillet 'Cuvée Ste.-Anne' Brut
This is a non-vintage wine, meaning it comes from multiple vintages, but it's mostly from 2016. It's a blend of Chardonnay, Pinot, and a little bit of Pinot Meunier.
This disgorgement is really a turning point for Alexandre. The first wine I ever presented professionally to Skurnik Wines was the 2007-based Sainte Anne, which was the first vintage that Alexandre Chartogne, the current proprieter in Merfy, in Champagne, produced on his own, after working with Anslem Selosse.
The '16 base of this wine is a little different than past disgorgements; it includes a bit more oak in the blend. Alexandre has said that he wants to show the non-vintage wines in the sort of way that his single-parcel wines have become so famous for. So this is a blend of all of the different parcels in Merfy that he produces in.