Above: Grapes during harvest at Schloss Gobelsburg in Kamptal, Austria.
AUSTRIA 2021: EXTRAORDINARY BALANCE
The 2021 vintage in Austria is outstanding, blending ripe fruit, good extract, and crisp acidity. As Michael Moosbrugger from Schloss Gobelsburg said,
This is an astonishing vintage. I have been doing this for more than 25 years and this is a vintage I have not seen before, with such a balance between sugar and acid.
A cold winter and spring followed by summer with adequate rainfall were followed by a long, dry, and picture-perfect harvest period. Growers didn't need to rush the harvest but could wait for the perfect time to pick.
A TIMELINE OF THE VINTAGE
THE START
In a departure from recent vintages, 2021 started not with a bang, but with a chill. A relatively cold winter started with a bit more snow than normal in some areas, though overall precipitation was lower than average. These dry conditions and the relatively cold weather pattern held until Spring.
It was again a very relaxed winter, and a calm 'corona' spring, where we stayed at home and concentrated on our work. This allowed us to take time in pruning and spreading compost.
Ludwig Hiedler Jr.
A COLD, DRY SPRING & A WARM, HUMID SUMMER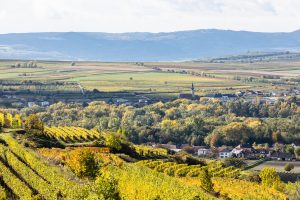 Budbreak was delayed until the end of April due to the cold and relatively dry conditions, a few weeks later than normal. This weather pattern continued through the springtime which led to later than normal flowering in mid-June. Then in June, the weather turned and temperatures rose, which sped up flowering.
A few growers have noted that the flowering period was more rapid than normal and worried a bit about uneven fruit-set. The hottest months were June and July, a different weather pattern than the previous year where late summer was the hottest period. Both July and August had quite a lot of rainfall, which brought relief after a very dry first half of the year. This was greatly needed; the replenishing water supply helped keep vineyards in balance.  Overall, the precipitation was about average for the past ten years and significantly lower than 2020.
RAIN & HAIL IN AUGUST
Significant rainfalls in August created some work in the vineyards but it was the hailstorms in the Weinviertel and Wachau which caused damage for many growers:
Unfortunately, we got another hailstorm at the end of July, which was luckily a bit later than in 2020. This reduced the total amount of damage, which was influencing Riesling more than Grüner.
Despite the humid and warm late summer, conditions dried up towards the end of August and from September through the end of the harvest in late November.  The weather was picture perfect with warm days through September and increasingly cool nights which lasted through the entire Autumn period. This gentle end to the year allowed the grapes to reach their full potential, with excellent ripeness and acidity.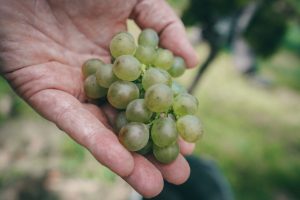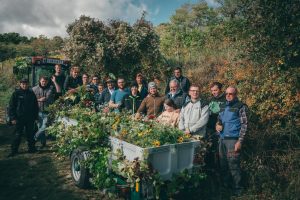 REFLECTIONS ON HARVEST 2021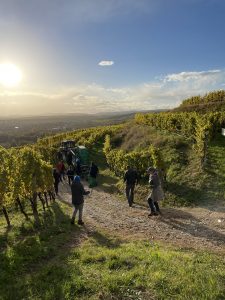 Harvest began late, much like in 2020, but it was worth the wait. Though the wines are still in their early days, the team at Bründlmayer noted that "Musts do not only reveal stupendous analytic parameters, they also taste incredibly fresh, pure, highly aromatic, and multi-layered while showing even more profoundness than the charming 2020s."
In both Germany and Austria, the generalizations about the vintage made here overall should be taken into account. Each region had a slightly different set of weather patterns and adversities. We encourage you to view some of the vintage reports we recorded with the growers to give a more precise explanation of what happened in each region.
COMPARISONS TO PAST VINTAGES
Again, we heard comparisons to cooler vintages, though growers were quick to point out that the overall ripeness was slightly higher, and acidity was quite a bit higher than 2020.
Comparisons to the 2013 vintage (one of the finest in the last twenty years), 2008, and 2010, were most common, though Leo Alzinger remarked that 2021 was like a wine from the 1990s: "Medium alcohol levels, high acidity, and good ripeness. If you want to compare it to a vintage, like 1999," he said.
HEAR STRAIGHT FROM THE GROWERS
ALZINGER
Video Length: 8:08
---
BRÜNDLMAYER
Video Length: 11:27
---
GOBELSBURG
Video Length: 18:11
---
HEIDI SCHRÖCK
Video Length: 6:49
---
HIEDLER
Video Length: 14:17
---
OTT
Video Length: 11:27
---
---