Tosba Mezcal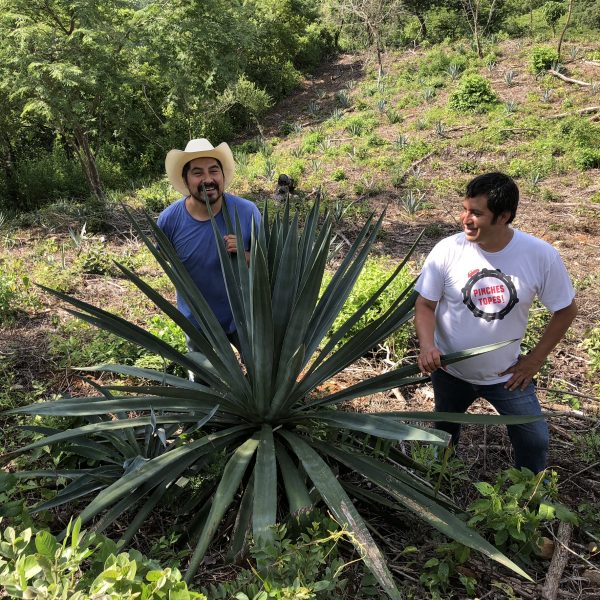 As migrants living in Silicon Valley, CA, in 1999, Edgar González Ramírez and his cousin Elisandro González Molina were inspired and influenced by the entrepreneurialism that surrounded them. Concerned by the increasing rate in which people were leaving their village of San Cristobal Lachirioag, in the Cajonos-Villa Alta region of the Sierra Juárez mountains, they decided to start Mezcal Tosba. The creation of the brand represents an attempt to rescue the disappearing local culture of distillation, in turn bringing economic opportunity back to the area.
Mezcal Tosba employs traditional methods of production, but the cousins are also paying close attention to sustainability, understanding that agave by its very definition is unsustainable. At Tosba, the team has been harvesting the flowers and hijuelos of wild varieties like the prized Tobalá, Tepextate, and even Agave Durangensis from the state of Durango. These babies are carefully raised in Tosba's greenhouse nursery before replanting into their fields.
Attention to sustainability doesn't end there. During the rainy season, the Rio Cajonos floods, taking down countless trees in its turbulence. 90% of the wood used for Tosba's production is retrieved from the river, cured and used in the roast. Tosba is also beginning to source alternative fuels like biomass (local peat) to fire their stills, another attempt to leave as light an environmental footprint as possible.
The lands around the Villa Alta are rich in biodiversity. The agaves used for Mezcal Tosba's production grow among coffee, mango, wild fruit trees and sugarcane, contributing to the surrounding area and subsequent natural balance and health of the terroir. The water is pure, clear, and slightly sweet (referred to locally as agua dulce), taken directly from natural springs flowing in the mountains around the distillation site.
As Elisandro explains, in author Granville Greene's The Mezcal Rush: "I often think of what we're doing with Tosba as a political statement. My fellow indigenous peoples look great in pictures, but I want my people to have access to the technology, education and financial services that would help them to get ahead. Tosba could not only be used as an economic source to combat poverty and lack of employment, but also to help uphold our strong cultural values, and our traditional respect for the land and community."