Chateau de Pellehaut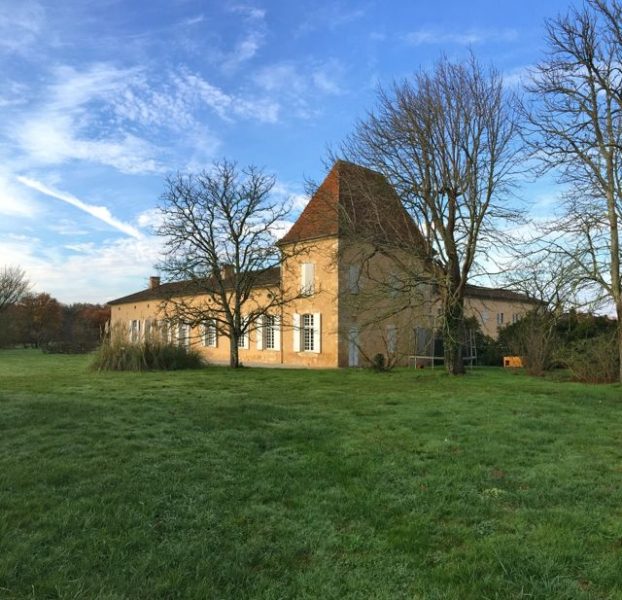 Château de Pellehaut is located in the center of Armagnac, where the terrain sees a slight rise in altitude as well as a shift from the sand of the Bas-Armagnac to clay and limestone of the Ténarèze. With additional nutrients and better water retention, the Ténarèze has soil much better adapted to the production of quality table wine.
Pellehaut sits at the top of a hill at 180 meters of altitude overlooking the quaint village of Monteal-du-Gers. In fact, the name Pellehaut comes from the Roman "pila haut", or high point. The château itself, constructed in the 18th century, faces the Pyrénées which, although 90 kilometers away, can be majestically seen in the distance on a clear day.
The Pellehaut estate covers 550 hectares, many of which are planted with grains or sunflowers, or used as grazing grounds for their herd of Blonde d'Aquitaine cows, whose compost helps to limit synthetic fertilizers. For their Armagnacs, Pellehaut uses only grapes grown on parcels covered with primarily sand, helping to give their spirits unusual finesse for the region. Pellehaut is a true farming estate, run with traditional practices, first by Gaston Béraut and now by his sons, Martin and Mathieu.
Until 1997, Pellehaut's Armagnacs were made with solely Ugni Blanc. That year, a transition was made to distill Armagnacs with Folle Blanche. The chateau's wine is distilled by Patrick Michalouski in one of his traveling column stills in November, afterwards going into new 400-liter oak barrels fabricated by the region's top cooper, Gilles Bartholomo. With excellent terroir, annual investment in new oak barrels, and a maître de chai actively monitoring and aerating barrels, it is no surprise that Pellehaut's Armagnacs now stand as a benchmark in the Ténarèze.