Tuscan legend has it that when Catherine de' Medici of Florence was married to King Henry II of France in 1533, they exchanged important wedding gifts. The Medici family gifted the French royals forks, which were already widely used in Italy, but unknown in France; and the French gifted the Medicis Cabernet grapes, which were subsequently planted in their vineyards at Carmignano! The wines of Carmignano at the time were already quite famous—documents going back to the 1300s attest to them as the most prized and costly wines available in Florence. And it's no wonder. Protected from the cold of the north by the Apennines, and from the vagaries of coastal weather by the Montalbano hills, the area still boasts great thermal excursion, with soil rich in clay and schist. In short, it's a perfect growing area for Sangiovese.
In the 1700s, Carmignano's fame became such that Grand Duke Cosimo III de' Medici issued two revolutionary proclamations; one specified the borders in which Carmignano could be produced, and the other formed a commission to assure the integrity of the wines destined for export. After all, it's fame had reached far beyond the borders of Tuscany– Queen Anne of Britain was serving it at court! Cosimo III's edicts were the very first examples of a protected designation of origin for wine, preceding France's Appellation Controlee system by almost 200 years!
And though today Carmignano may not be the first DOCG that comes to mind when you envision the wines of Tuscany, it really should be. It's tiny size— only 110 hectares in total, compared to Montalcino's 1200 hectares, or Vino Nobile's 1300 hectares—allows it to remain a hidden gem. But consider this: Carmignano was cultivating Cabernet to blend with Sangiovese for hundreds of years before the moniker "Super Tuscan" was born. When the rest of Tuscany was desperate to be taken seriously as a producer of quality wines, they looked to Carmignano's model (whether they knew it or not). And even Bolgheri, for which the critics all swoon, can't claim the deep history or profound terroir that Carmignano enjoys.
In 1974, Mauro Vannucci was looking to build a house outside of Prato in which to raise his family. His friend Count Contini Bonacossi, owner of the historic Villa Capezzana estate, sold him some property in Poggio a Caiano with 2.5 hectares of vines in the Piaggia cru vineyard. In his spare time, Mauro began experimenting with wine production, convinced that his vineyard could produce world-class wines. In 1991 he bottled his Carmignano, naming the estate Piaggia, after the eponymous vineyard. In 1993, at VinItaly, he met the fabled team of consultants Alberto Antonini, enologist extraordinaire, and Federico Curtaz, the former on-staff agronomist of the Gaja family for twenty years. They were both impressed with Mauro's efforts and agreed to come on board to assist the following year. It was with the 1994 vintage, a most challenging growing season, that the Piaggia Carmignano Riserva received the prestigious Tre Bicchieri award from Italy's Gambero Rosso guide. By all accounts, the partnership was a match made in heaven: Mauro's dedication to quality and the consultants' reputation for excellence brought Piaggia to the forefront of Italian viticulture in a relatively short period of time. By 2002, Robert Parker himself declared the Piaggia Riserva 1999 "Perhaps the finest Carmignano in the appellation." Not bad for an estate born only 10 years earlier, but Mauro's ambitions were not yet satisfied.
Being the best in Carmignano was one thing… but Mauro has never shied away from comparing his wines to the best in the world—and on a visit to Chateau Margaux several years ago he did just that! When he met Paul Pontallier, managing director of the storied chateau, he smiled and said, "Your wine is very good, but so is mine." Pontallier, intrigued, asked him which wine he made. Mauro, not skipping a beat, pulled out a bottle of Piaggia for him to taste. Legend has it that Pontallier complimented him on the wine, and asked to share the bottle with his colleagues over dinner that night! "Je suis arrivé!"
Mauro has a few secret weapons in his arsenal… The first is his raw material.  The vineyard he purchased from Capezzana had been planted with cuttings of Cabernet Sauvignon, Cabernet Franc, and Merlot taken from Chateau Lafite Rothschild in Pauillac! All subsequent plantings of these grapes at Piaggia were made with a massal selection of the Lafite cuttings! The second is Mauro's uncanny ability to find the best of everything: when he needed help deciding how to plant or care for a vineyard, he relied on Federico Curtaz, whose expertise is second to none. When he wanted advice on fermentations for the best possible resulting wine, he had Alberto Antonini by his side. When his winery took off and he needed staff to manage the day to day business, he also found the best: his wife Rita, her brother Paolo, and Mauro's daughter Silvia came on board to complete the team. Silvia, who graduated with a degree in law in 2003, started working full time for her father in 2006, and she is now the owner and the face of the estate.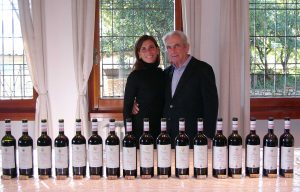 Piaggia's vineyards, now totaling 20 hectares, run from 190 to 250 meters above sea level in the Piaggia, Sasso and Poggio de' Colli crus, with clay, schist, and galestro soil types. Almost as a rule, fermentations are done with indigenous yeast in temperature-controlled stainless steel with up to four weeks of maceration on the skins. Malolactic takes place in barrel, and with regards to aging, Piaggia has much evolved in the last 15 years. Having started by using mostly new oak, by 2004 they reduced to 50% new and 50% used casks. Since they were pleased with the results, they cut the new oak even further in 2006 to 25%, and nowadays it's stable with only 10% new oak each year on the top wines, and no new oak for the Il Sasso Carmignano.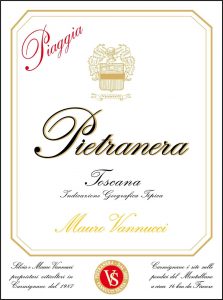 Piaggia Sangiovese 'Pietranera' 2016
90% estate-grown Sangiovese with 10% other varieties cultivated in the Pietranera cru at 250 meters above sea level in clay and galestro soils. Fermentation takes place in stainless steel using indigenous yeasts. Maceration occurs over the course of 18-20 days, followed by aging in used French oak barrels for 3 months. Wine rests in bottle for 6 months prior to release.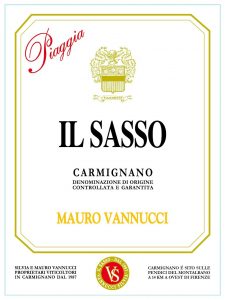 Piaggia Carmignano 'Il Sasso' 2015
70% Sangiovese, 15% Cabernet Sauvignon, 10% Merlot & 5% Cabernet Franc from 30 year old vines in 2.5 hectares in the Sasso cru in Santa Cristina a Mezzana. Fermentation occurs naturally with indigenous yeasts. Maceration on the skins in steel tanks lasts up to 3 weeks. Aging takes place in French-oak barriques of 2nd and 3rd passage for 12 months. The wine is cellared in the bottle for 6 months prior to release. Approximately 3000 cases produced annually.
VM:95 "Piaggia's 2015 Carmignano Il Sasso is rich, ample and voluptuous in what is a very representative expression of the year. Black cherry, plum, lavender, spice, tobacco and dried herbs develop in the glass, but the 2015 is all about fruit intensity and texture. There is not much subtlety here, but wow, is the 2015 gorgeous."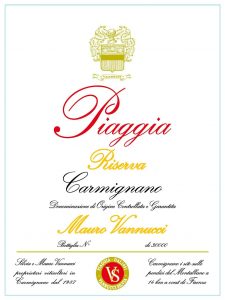 Piaggia Carmignano Riserva 2014
The Carmignano Riserva is the flagship wine of Piaggia, first made by Mauro Vannucci in 1991. All of the grapes are from the family's 50 year old vines in 2.5 hectares in the Piaggia cru near Pogetto, over clay and galestro soils on a south-west facing exposure at 250 meters above sea level. Made from 70% Sangiovese, 15% Cabernet Sauvignon, 10% Merlot and 5% Cabernet Franc (the French varieties were propagated from cuttings made at Chateau Lafite Rothschild in Pauillac). Fermentation on the skins lasts up to 4 weeks with indigenous yeasts. Aging occurs in French oak (no more than 10% new) for 24 months. The wine is racked occasionally during aging but is otherwise unfined and unfiltered prior to bottling. The wine rests six months in bottle before release. Approximately 2500 cases produced annually.
VM:94 "A wine of explosive energy and power, the 2014 Carmignano Riserva Piaggia possesses an unreal level of concentration for the year. A rush of red cherry, pomegranate, orange peel and exotic spice makes a strong statement. Quite simply, the 2014 is a total knock-out. Don't miss it."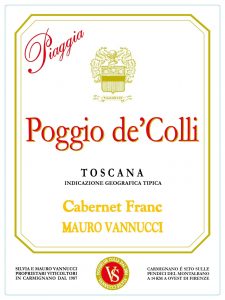 A selection of the best Cabernet Franc from 15 year old vines in the Poggio de' Colli cru vineyard at 250 meters above sea level.  Fermentation with indigenous yeast takes place in open top wood fermenters, with manually punch downs and pump overs for two weeks. Aged 12 months in oak and at least 6 months in bottle prior to release. Approximately 800 cases produced annually.
VM:95 "The 2015 Cabernet Franc Poggio de' Colli is another compelling wine from Piaggia. Silky, aromatically precise and wonderfully nuanced, the 2015 has it all. Lavender, blueberry jam and spice are some of the many notes that develop with time in the glass. This powerful, resonant Franc from Piaggia is deeply satisfying from the very first taste."