We are very excited to introduce these unique Rieslings, Pinots and sparkling wines to the United States!
Braunewell is located in the village of Essenheim, not far from Nierstein in the Rheinhessen hinterlands. Just 12km southwest of Mainz, Essenheim is in the Setztal, an area just south of the Rhein, which is marked by a persistent wind. This is the coldest area of the Rheinhessen: "you could be in Mainz in a t-shirt and just 12km away in Essenheim you might need a jacket," says Stefan Braunewell, the 3rd generation at the winery, who manages the property with his brother, Christian.  The estate is a family-run enterprise, with 27 hectares, and operating with wisdom, sentiment and competence. The family is serious about what they do, making wines with care and craftsmanship – it's not an estate operated by amateurs. Braunewell is contemporary, but not "modern"; it has soul and character.
---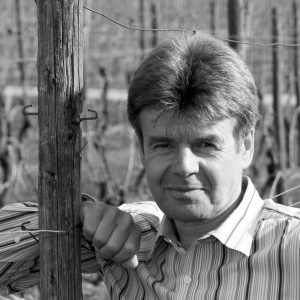 THE BRAUNEWELL FAMILY
The family looks back on 350 years of grape growing history and has been estate-bottling wines for the last three generations. The family was of French Huguenot extraction, settling in Essenheim from the Loire valley in 1655. "Breiniville" was originally the family name, changed after François Breiniville married a German woman and baptized their two children as "Braunewell."  Today, the domaine is run by two brothers Stefan and Christian Braunewell in the same village where Breiniville originally settled. In 1967, Stefan and Christian's great grandfather, Adam, started the estate with 5 hectares. His son, Axel Braunewell – Stefan and Christian's father – attended Geisenheim University in the late 1970s, concentrating on winemaking and vineyard management. Axel finished his studies and returned home at the age of 22 to take over the estate as his father was injured.
Stefan Braunewell is the older of the two brothers, born in 1982, and followed in his father's footsteps, attending Geisenheim. He studied a year with Gregor Messmer in the Süd-Pfalz, and a year with Rebholz. Stefan also spent a harvest in Bordeaux, at Chateau Citran, on the Left Bank, before coming home in 2009. Christian, four years younger, followed his brother to Geisenheim where he studied with Wittman for a year, as well as Knipser in the Pfalz and Stierschneider in the Wachau, before returning home in 2012.
---
VINEYARDS
Driving up from the south, one can see that Essenheim is home to a steep and imposing hillside, jutting out from the generally rolling landscape. In general, the soils are very unusual for Rheinhessen; limestone and limey marl and loess, sand and only a little clay. Stefan and Christian aim to produce wines that are "salty and quivering," and "less relaxed" than many other Rheinhessen wines. There are no forests to block the wind and this is a major component of what separates these wines from the rest of the region.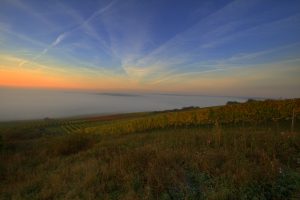 To the east of the village, Teufelspfad (pronounced Toi-fells-phad) is an extraordinarily varied vineyard site and different varieties are planted based on the parcel and soils. The vineyard is a single hillside, starting at 130 meters above sea level where a small creek, originating from the Rhine, has made this small valley. The hillside rises to 240 meters above sea level, and the difference in temperature and exposure from the base to the top is striking – the top is much cooler, overall, with a persistent wind.  The exposition faces southeast, due south to southwest, a perfect set of diverse exposures for different varieties. The Southeast is perfect for Riesling and Pinot Blanc, which see more morning sun and maintain a crisp, snappy structure. The Southwest part of this hillside is warmer, so here is where Pinot Noir is mostly planted, with the afternoon sun providing ideal conditions for ripe – but not overripe – fruit.
Riesling is grown mainly in three parcels: the south facing "Reitenberg," with 30% incline and loess and sandstone soils, "Zu Morruff" and "Am Klopp", which have Terra Fusca, the limestone-rich soils most commonly found in the Mediterranean. These parcels are steep (30%) and allow for good drainage, perfectly suited to Riesling.
A bit to the west and further down the hill are calcareous parcels "Am Stadeckerweg," "Am Millesand" and "Am Teifelspfad," where Pinot Noir and Pinot Gris are planted. Further west are "Im Brinkel" and "Am Holler," where Pinot Noir is also planted, producing stronger and more powerful Pinot.
Blume (pronounced Blu-muh) is adjacent to Teufelspfad but is a bit warmer and richer soils. It's sandier, with more loam and faces only southwest, capturing the afternoon sun. It rises only to 170m and ripens earlier. The soil is characterized by loam and sand, but with a high proportion of fossil-bearing limestone here. The site was too steep for tractors, so to make working the vineyard easier, terraces were created. Blume is planted mostly to Riesling and Pinot Noir which express a juicier, fuller expression of both Riesling and Pinot Noir.
---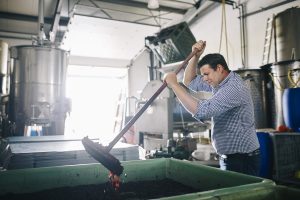 PHILOSOPHY & CELLAR
In the cellar, natural fermentations are the norm. Used oak casks are employed for red wine as well as white, though each wine has a different regimen, determined by the sites and the vintage.
In general, all red wines are fermented naturally in oak, spend between 12-18 months in oak on the full lees until they are racked off, then they spend another 6 months in oak resting before bottling.  The estate uses 228-liter barrels for the red wines, a mix of German (from Pfalz and Franken) French and Slovenian oak. There is no filtration for the red wines. The Estate Pinot (basic quality) is 100% in oak, all used. The village-level Essenheim Pinot sees 20% new oak whiled the single vineyard wines see between 25-30% new oak.
White wines, including Riesling, are fermented naturally, with a proportion of the élevage done in 1200L Stückfass, mostly from Germany. Basic Riesling sees 10% used oak, village-level Essenheim Riesling sees 50% used oak and the single vineyard wines are 100% in neutral barrel. All Rieslings see a very light filtration before bottling.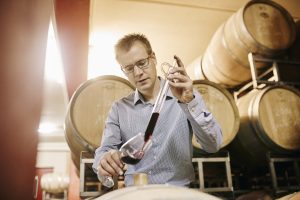 Sparkling wines are made at the winery and see no filtration at all – they are produced start to finish at the domaine.
A majority of what they produce is dry wine: "We don't want to hide the climate with sugar," Stefan says. "We shift our production to what nature gives us, putting in a lot of hard work. If we have a cooler vintage, we'll make more sparkling wine, in a warmer vintage we may focus more on ripe red wines and fuller-bodied dry Riesling."
The brothers share the same goal and philosophy for their wines – to make wines that are expressive of the vineyards and their unique climate. We hope you'll enjoy these excellent wines and join us in welcoming the Braunewell family to the United States.