The USA Portfolio at Skurnik Wines was thrilled to launch our partnership with Sean Minor Wines at the start of this year. As a true négociant, Sean can craft high-quality wines at affordable price points from California and Oregon. He and his wife Nicole work closely with their small team of employees — just six people in total — to create consistent, enjoyable, ready-to-drink wines year after year.
Allison Rahill, a member of our USA portfolio, recently spoke with Sean and Nicole, about their background in wine, their inspiration to create this brand, and what aspects of their business makes Sean Minor Wines unique.
SKURNIK WINES: Tell me about your early experiences in wine and what inspired you to be a winemaker.
SEAN MINOR: My first job in the wine industry was with Beaulieu Vineyard in Napa. I moved to California with a finance degree from Arizona State University but went back to UC Davis as soon as I realized I wanted to make my job into a career in the wine industry. After completing courses with the Enology and Viticulture program, we moved up to Oregon – to run King Estate Winery.
After some time, I moved over to Benton Lane Winery (also in the Willamette Valley) but we eventually came back to California, where I worked for Renwood Winery making cool stuff like Barbera, old-vine Zinfandel, and Syrah, as well as develop skills in operations and marketing. After about four years at Renwood Winery, Nicole and I decided to go out on our own and in 2005 we started Sean Minor Wines.
Walk me through your background, the business, and how you hatched the idea for "Sean Minor" wines.
SEAN MINOR: I've been in the business for 30 years and we wanted to produce wines that were geared toward restaurants, specifically BTG, and independent fine wine retail. Today, our wines are poured at 11,000 restaurants around the country. We decided to put our money into growers and establishing those relationships rather than a "brick-and-mortar" winery – so we have a unique situation in the sense that we lease our facility.
I work closely with Will Bucklin, our consulting winemaker, who has been with us since the start. He graduated from UC Davis' enology program and worked several harvests at Chateau Lafite Rothschild, Thomas Hardy in Australia, and Navarro Vineyards in Mendocino before we met at King Estate in Oregon. We work together to apply the techniques of "small lot sourcing" and our fruit is grown by a few second- or third-generation growers that employ sustainable farming practices. That's really been our focus – we want to produce wines the exceed expectations in terms of price to quality.
Do you feel your business model is replicated by any other brands of a similar scale? And is this a unique philosophy in winemaking?
SEAN MINOR: Yes, so I think there are other people that recognize from a business standpoint and an economic perspective that owning a bottling line or a certain amount of equipment that sits idle in a winery for most of the year can be a capital-sucking factor. In my previous experience – a bottling line (which costs $2.5 million dollars or more) being used only 85 days of a year didn't make a lot of sense.
We've always been conscious on doing the right things with the wines without feeling the burden of owning a chateau. We didn't want to be in the hospitality business – we don't have a tasting room; we are not open to the public. We go out to accounts to introduce the wines. Our primary focus is on our growers and then our distribution network. Favorable press is what put us on the map, but it is the consistency of quality and style that we produce which has allowed us to grow profitably over the last fifteen years. In an industry that has seen so much consolidation and commercialization, from the ground to the bottle – we are still a small-minded, lean operation.
We are recognized for our "house-style" in that we embrace the idea of having lower alcohols than most in California, so we harvest a little earlier. You see the acidity that provides length and structure to the wines – and my experience in Oregon helped to shape this approach. Quite a few people come out of UC Davis thinking there's a recipe to follow – you hit a certain brix level, so you harvest. It's easier to reach the optimal sugar level in California, so harvesting sooner allows the consumer to find a tremendous amount of balance on the palate when it comes to acidity and structure.
What's the major difference between the "4B/California Series" line and "Signature Series" bottlings?
SEAN MINOR: The company itself is called "Four Bears Winery, LLC" which is named after our four kids. It was important to promote the fact that our business is family-owned and operated, so we keep the initials of our four children on the back label of every bottle. As the winery grew, we further emphasized my name as the winemaker and proprietor.
We created two bottlings – the "California Series" which is value-oriented and sourced from various AVAs throughout California such as Paso Robles, Mendocino, Monterey, Sonoma, and Lodi. The "Signature Series" wines are sourced from Sonoma County and the North Coast – and much of this fruit is farmed by the Sangiacomo family.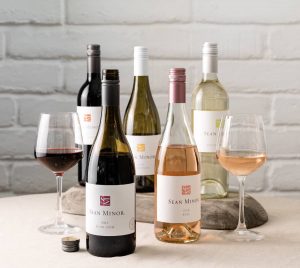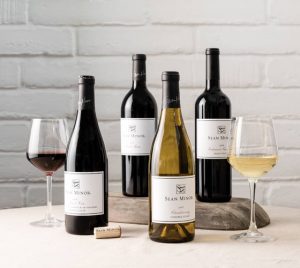 You spoke earlier of investing your capital and resources in long-term grower contracts in order to maintain this consistency of style. Can you talk openly about your relationship with the Sangiacomo family and how that's evolved over the years?
SEAN MINOR: Sure – they are a dominant player in the region of Sonoma. We are fortunate to work with someone of their caliber and reputation as well as with someone that's a leader in the industry, especially when discussing sustainable farming practices. They understand the importance of being strong stewards of the Earth and obviously the result is fantastic fruit. They are a third-generation grower, they are a family-owned business just like we are, and this is truly a relationship and a partnership that has really worked well over the years.
Tell us the story of how you two met and what's it like to work with your significant other?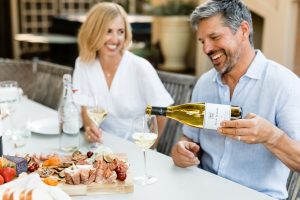 SEAN MINOR: We met at Arizona State University – she was a freshman and I was a sophomore and we met at a fraternity party of all places. We were 18 when we met, and we were married at 25. Working together is easy. As you know there's such a passion behind those that work in this industry, so it really helps to share this passion with my wife and my business partner. Most of the time – it's the experience of building a brand and showing people our passion for what we do. Nicole has the "calm, cool, and collected" approach whereas I think everything is on fire – so it works.
NICOLE MINOR: It's fun because we can talk about it 24/7 if we choose to do so, but we can also turn it off. We have four kids and plenty of other things to talk about, which keeps us occupied. It's great – he has a work style that is completely opposite of mine and as they say, opposites attract. It sounds contrite but it's true. He plans far out into the future and loves financial models in complex spreadsheets. On the other hand, I like to think about our consumer, what feelings our wine leave them with, how can we connect on a deeper level with our customers, so they feel a loyalty to our brand.
SEAN MINOR: Since the beginning, we had a goal to create an enduring relationship with our customer. We're in a business that can be commoditized very quickly, so staying relevant and hitting certain price points was and still is crucial. We try to overdeliver with the impact and interaction with our customers just as much as with the quality of our wines.