Despite having only released six vintages, David and Nadia Sadie of David & Nadia Wines are beginning to be recognized as not only one of the Swartland's most exciting new producers, but as one of its top producers – period. After years of praise from both Neal Martin of Vinous and Jancis Robinson, the couple has just been awarded 'Young Winemakers of the Year' in MW Tim Atkins' 2020 South Africa Report.
David and Nadia Sadie met at the University of Stellenbosch when he shifted his focus to viticulture, after a rugby injury sidelined him from his first love. Following two vintages on his own, David's wife Nadia joined him in 2016 and it's been a family affair ever since. Nadia oversees viticulture for their project and manages the vineyards that they lease. She employs biological farming, which is to say she avoids the use of any herbicides, plants cover crops, and she's begun experimenting with a conversion to organics.
While they don't own any sites just yet, many of the vineyards they've chosen to work with are certified by Rosa Kruger's Old Vine Project and this South African preservation initiative is something that the couple is exceedingly passionate about. So long as their vines are older than 35 years old, members of the project are able to certify their wines with the Old Vine Project (OVP) seal as of 2018, which even includes the planting date.
David and Nadia have graciously offered us a firsthand look at three of their certified, old vine Chenin Blanc parcels spread out across the Swartland's diverse terroir – which they also choose to bottle as single vineyard designates to highlight the individuality of each site.
Chenin Blanc 'Skaliekop', David & Nadia Sadie
Planted in 1985, David and Nadia have been farming it since 2013. The vineyard's shallow shale-rich soil offers a unique contrast to the richer, more structured wines produced from their Hoë-Steen vineyard. Despite the difficulties of working such a rocky site, they love this area's terroir so much that they began to release the neighboring Plat'Bos as its own wine as well.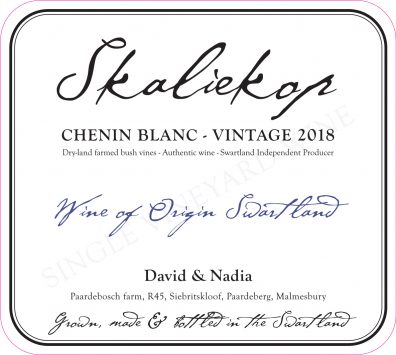 Chenin Blanc 'Skaliekop', David & Nadia Sadie
35-year-old dry land farmed bush vines
Whole bunch pressed
Minimum sulphur during short, cold settling before being racked to barrell for spontaneous fermentation
Aged in 300L French barrels
Chenin Blanc 'Plat'bos', David & Nadia Sadie
First bottled as a single vineyard in 2018, the vines here were planted in 1981. While it's consistently their warmest site each vintage, the couple find it to produce some of their most energetic, acid-driven Chenin Blanc fruit – in part because they know to pick early and the granitic soil encourages a linear, mineral quality.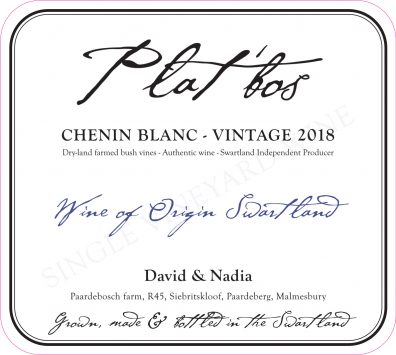 Chenin Blanc 'Plat'bos', David & Nadia Sadie
39-year-old vines
Decomposed granite soils on the Paardebosch farm
Planted right next to 'Skaliekop'
The wine has a directness with a fresh, saline-like linearity and amazing tension and length, something so typical of the Paardeberg
Plat'bos, like with the other two single vineyards, are true to the local dialect of the people from the Siebritskloof: "Plat" means low or flat and "bos" means bush (vines), referring to the small, low bush vines, true to the mountain and typical of the Swartland dialect
David & Nadia's fourth wine qualifying for the Old Vine Project (OVP) seal
Chenin Blanc 'Hoë-Steen', David & Nadia Sadie
The name for this particular vineyard is derived from Afrikaans word meaning "high" and it's so named due to the unusual height of the bush vines in this plot. Defined by its deep, iron-rich soils with great drainage, David has been working with it since 2014. They employ no-till farming, apply compost, and utilize organic mulching material. The fruit from Hoe-Steen is the main component in their Chenin Blanc and Aristargos white blend.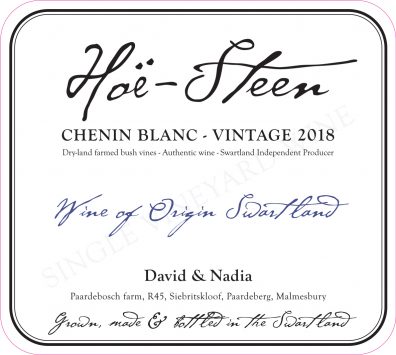 Chenin Blanc 'Hoë-Steen', David & Nadia Sadie
52-year-old vines
Deep, red iron and clay-rich soils
Located just west of Malmesbury towards Darling
Whole bunch pressed
Harvested in February's second half
Aged for one year in old French oak barrels.
David & Nadia's third wine qualifying for the Old Vine Project (OVP) seal