It's been a while since we trained our eye on one of the very nearest and dearest of all estates to the collective Skurnik heart: Raventós i Blanc (aside, of course, from the adorable periodic cavorting of their farm animals across our Instagram feed). This not to say that things have been quiet at the estate—au contraire. The new high-altitude Penedès project, Can Sumoi, is up and running; Mas del Serral, the 'dream wine' of Pepe Raventós, the twenty-first (!) generation to guide the estate, has been unveiled; and, just as happily, the old classics are better than ever in the Conca del Riu Anoia.
CAN SUMOI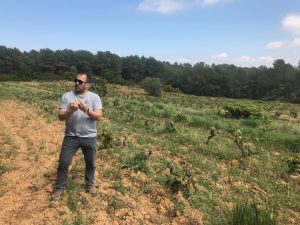 "Up here, it's four degrees cooler on average than at Raventós," explains Francesc Escala. We're almost six hundred meters up in the Serra de l'Home at Can Sumoi, the new project specializing in vi natural d'alçada: high-altitude natural wine. Escala, one of Pepe Raventós' oldest friends, is at the helm. It's a beautiful day in the Baix Penedès, but we still strain to hear Escala as the wind whips through the pine trees overhead. (There are a lot of trees around—the estate, centered around a 17th-century farmhouse, is a 30-hectare island of old bushvines in a 400-hectare sea of forest.) It's a breathtaking vista; in one sweep, we take in the jagged sawblade of Montserrat to the east, the Mediterranean azure of the south (Mallorca and Menorca are always just out of sight, it seems), and the looming peaks of Montmell to the west. Thanks to this temperate exposition, the organically-farmed vines around us yield Xarel-lo and Sumoll grapes of marked acidity, a key preservative factor in the additive-free (no yeast, enzymes, or sulfur) vinifications of Can Sumoi. There's a still white Xarel-lo done in tank which sees malo and just a bit of batonnage to balance the brilliant acidity with a rich, enveloping texture and also an ancestral-method rosé sparkler from Sumoll that is dangerously drinkable at a bone-dry 10.5% alcohol.
MAS DEL SERRAL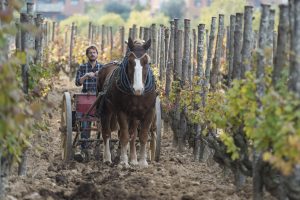 Back at HQ in the Alt Penedès in Sant Sadurní, another project has come to fruition– certainly one of the most ambitious wines ever produced in the region, 'Pepe's dream': Mas del Serral. Its inspiration lay in the land itself, in the Clos del Serral, a choice single 2-hectare plot of Xarel-lo with a smattering of Bastard Negre (Graciano!) planted in 1954 by Pepe's grandfather on an outcrop of very pure fossiliferous limestone. Farmed biodynamically and plowed by horse, these vines bore the fruit that over a decade ago now was harvested and sorted berry-by-berry before indigenous-yeast fermentation and laying down for a stunning one hundred months of aging on the lees. The result of this wildly quixotic and deeply personal project has been compared by some of the lucky few to taste it to the most exalted têtes de cuvées, but the majesty of Mas del Serral stands alone, both in the uniqueness of its origin and the painstakingly manual nature of every facet of its production.
THE CLASSICS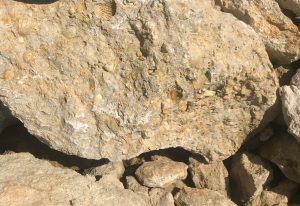 Descending from these empyrean heights to the everyday wines that should be the benchmark of every estate, it's clear that Raventós i Blanc are firing on all cylinders. The entry-level white Blanc de Blancs and the "rosé" (although not labeled as such) De Nit are now in the 2016 vintage, and they have never been better. The 2016 vintage in the Penedès was quite dry but relatively cool overall, leading to a small crop of concentrated, small-berried fruit which nevertheless retained great natural acidity. These wines positively crackle with the limestone energy always so surprising to those who equate Mediterranean environs with sunny, easygoing wines. It's worth a detailed look at the stringent quality guidelines observed at the estate which continue to separate Raventos' French-style 'micro-appellation', the Conca del Riu Anoia, from the rest of the Cava DO:
100% estate-produced and bottled (including vinification of base wines)
Minimum 80% of estate fruit (and a high price per kilo offered for purchased fruit, ensuring organic cultivation and higher quality)
100% indigenous varieties
100% biodynamic viticulture in the estate vineyards (Raventós is Demeter-certified)
Minimum sur-lie aging of 18 months
Only vintaged wines
Specific geographical origin: the Anoia River Valley.
And for all Raventós' serious bona fides as one of the top (if not the top) working wineries in the Penedès, it can't be denied that, in a pinch, the cellar ain't a bad place to get married, as a good chunk of the Skurnik crew recently discovered…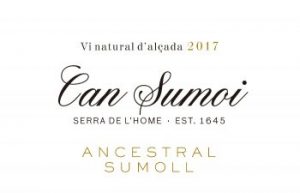 Sparkling Sumoll Rose, 'Ancestral', Can Sumoi
100% Sumoll fermented with indigenous yeasts partially in tank and finished in bottle. The finished wine comes out at 10.2% alcohol at bone dryness with 6.2 atm of pressure. Made entirely without additives; unfined and unfiltered.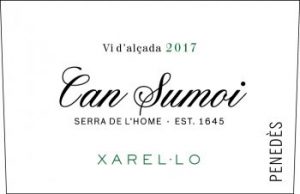 100% Xarel-lo fermented with indigenous yeasts in tank. Twice-weekly batonnage for a further 3 months in tank before bottling. No additives; unfined and unfiltered.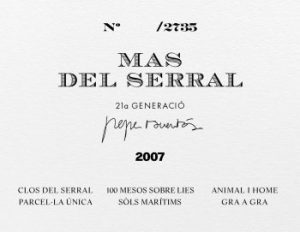 Vi Escumos De Qualitat, Mas Del Serral
From the Clos del Serral, a coplantation of Xarel.lo and Bastard Negre dating to 1954. Biodynamic viticulture and horse-plowing between rows. Manual harvest and manual, grape by grape selection. Aged for 100 months on the lees. No dosage.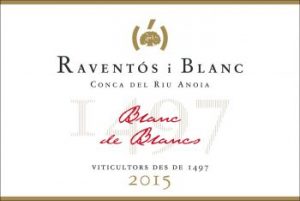 Conca Del Riu Anoia Brut Blanc De Blancs, Raventós i Blanc
Blanc de Blancs is a sparkling wine marked by the typicity of its place of origin, the Vinya del Llac, a vineyard over 40 years old,
which allows us to obtain a structured, fresh and complex sparkling wine.
42% Xarel-lo, 38% Macabeo, 20% Parellada.
The grapes enter the winery by gravity. At each stage, the atmosphere is controlled by dry ice. Slow pressing at low pressures. Static sedimentation at low temperatures. First fermentation in stainless steel tanks at a controlled temperature. Assemblage and second fermentation in the bottle with a minimum ageing period of 18 months in a horizontal position. Disgorging date stated on the back label.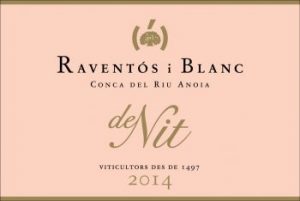 Conca Del Riu Anoia Brut Rose 'De Nit', Raventós i Blanc
'De Nit' is a blend of 42% Macabeo, 37% Xarel.lo and 14% Parrellada with the addition of 7% Monastrell for complexity and its pale pink color. All grapes come from estate-owned, biodynamically-farmed vineyards in the Anoia River valley. The primary fermentation is in stainless steel with the secondary fermentation in bottle. It is aged for at least 18 months on the lees before release. 'De Nit' means 'Of the Night' in Catalan.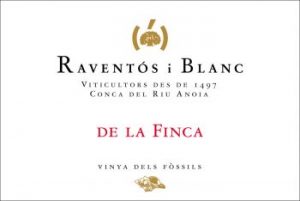 Conca Del Riu Anoia Brut, 'De La Finca', Raventós i Blanc
45% Xarel.lo, 42% Macabeo and 13% Parellada from estate-owned, biodynamically-farmed vineyards in the Anoia River valley. This zero-dosage sparkler undergoes primary fermentation in stainless steel and secondary fermentation in bottle. It is aged for a minimum of 36 months on the lees.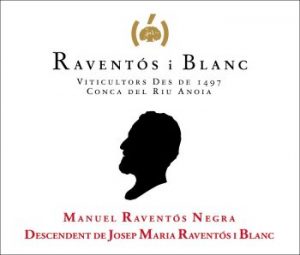 Conca Del Riu Anoia Brut, 'Manuel Raventos', Raventós i Blanc
70% Xarel.lo with 15% Parellada and 15% Xarel.lo from estate-owned, biodynamically-farmed vineyards in the Anoia River valley. Primary fermentation in stainless steel and secondary in bottle (zero dosage) followed by a minimum of 72 months lees aging. This is certainly among the finest sparkling wines produced in Spain and could stand toe-to-toe with the great references of Champagne.